If you love to Build A Bear in real life, now you can become a Build A Bear Tycoon in Roblox too! Set up your own huge and glitzy Build A Bear workshop online, but also collect and customize your own furry friends as you watch your personal Build A Bear empire grow! And, of course, as they're virtual, you can watch as your furry friends come to life and assist you in your empire.
Entering Build A Bear Tycoon codes will either get you a free furry friend, in-game cash, or a booster of some kind. Pets are purely cosmetic at this time, but you can have them run around with you and change their appearance by dressing them! While money and boosters will let you build up your store faster, allowing you to make more furry friends faster. Love to build toys? Also, check out Anime Plush Tycoon.
All Build A Bear Tycoon Codes List
Build A Bear Tycoon Codes (Working)
These are all the working Build A Bear Tycoon codes.
KITTYCORN—Redeem for an exclusive furry friend! (New)
BEAREMY—Redeem for Bearemy pet (New)
Build A Bear Tycoon Codes (Expired)
These are expired codes for Build A Bear Tycoon.
There are no expired codes for Build A Bear Tycoon
How to redeem codes in Build A Bear Tycoon
Follow the instructions below to redeem codes in Build A Bear Tycoon.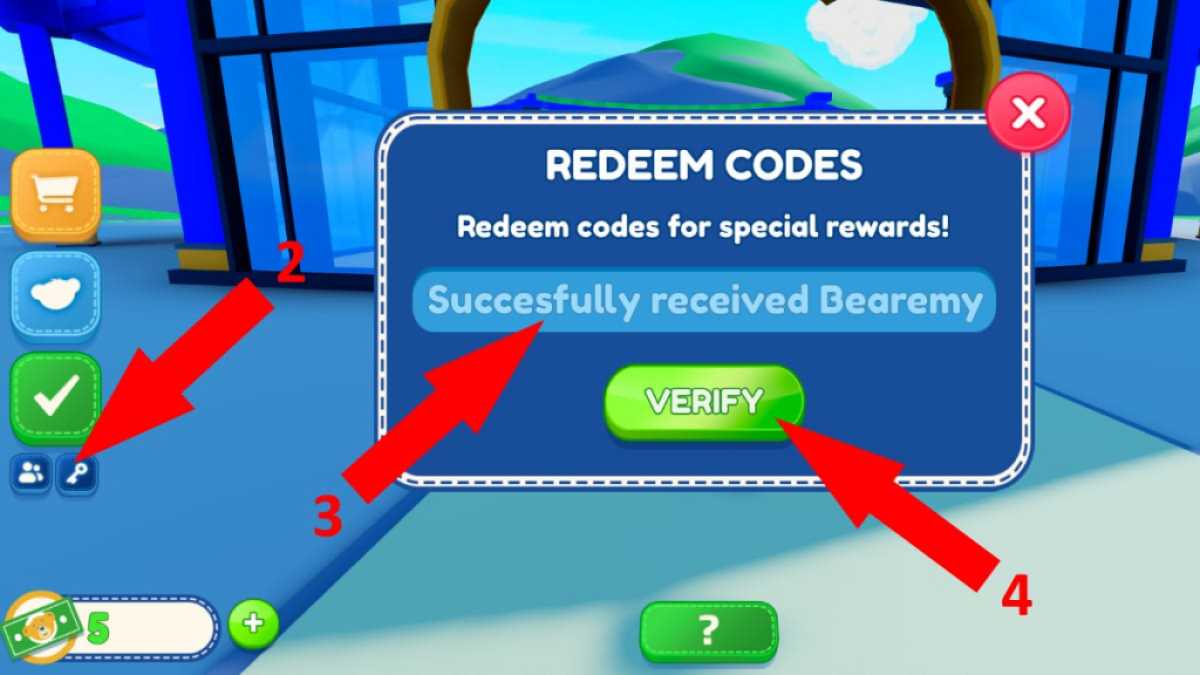 Launch Build A Bear Tycoon on Roblox.
Press the blue button with a Key on the left of the screen.
In the light blue text box in the pop-up, enter the code exactly as it appears above.
Press the green Verify button underneath to claim your reward!
How can you get more Build A Bear Tycoon codes?
To find more Build A Bear Tycoon codes, you should start by joining the Build-A-Bear Entertainment Roblox Group. You can also follow @buildabear on Twitter and @Buildabear on Facebook, as well as join the Build-A-Bear Discord channel. The Discord channel has a dedicated Information channel that includes a codes section.
Why are my Build A Bear Tycoon codes not working?
If a Build A Bear Tycoon code you find above won't work, first, see if there may be a typo. We suggest you always cut and paste codes directly from here because that avoids the chance of mistakes in capitalization or mistaking a number for a letter. If it still doesn't work, unfortunately, it may have expired. In this case, we can't help but check back for more codes soon as we update them regularly.
Other ways to get free rewards in Build A Bear Tycoon
As this is the official Build A Bear Roblox game, it makes sense that there are some real-life tie-ins too. Once you start playing Build A Bear Tycoon, you can go to your favorite Build A Bear Workshop in real life to unlock a free gift in the game! You can also run into the town, where you may find other free items and the Build A Bear Hospital (currently under construction), then teleport back with the touch of a button.
What is Build A Bear Tycoon?
Build A Bear Tycoon is a standard but good-looking and well-made tycoon-style Roblox game. Once you build the first item, the cash generates itself, so you only have to collect it from one machine. The more units you build in your store, the closer your first furry friends come to being able to be built. Once done, you can customize them with a variety of costumes.
If you're looking for codes for other games, we have a ton of them in our Roblox Game Codes post! You can also get a bunch of free stuff via our Roblox Promo Codes page. And in the meantime, take a look at the latest news to stay up-to-date on all things entertainment.