Roblox Dragon Blox, previously known as Super Saiyan Simulator 2, is a Dragon Ball Z-inspired action game. In this game, you aim to become the strongest Saiyan in the universe by hitting the maximum power level of 600 million! So, unleash powerful, well-known ki-blasts on your enemies and level up. But to become Ultra Instinct in this Dragon Ball Z-inspired world, you'll need some help.
This is where our Roblox Dragon Blox codes come into the fight. Use our codes below to train free Rebirths, Skill Points, and Skill Resets. All three of these go hand in hand to become the strongest in Dragon Blox. As you Rebirth in Dragon Blox, you'll gain buffs but also lose your current power. Fortunately, you'll have a bunch of codes to use.
If you love Dragon Ball Z-themed games, you must try these other awesome Roblox games. We also have codes for these to get instant free rewards, Roblox Dragon Orbz, Roblox DBZ Adventures Unleashed, Roblox Dragon Ball XL, Roblox Dragon Ball Hyper Blood, and Dragon Ball Rage.
All Dragon Blox Codes List
Updated June 3, 2022

Added new codes
Dragon Blox Codes (Working)
Here's a look at all the active Dragon Blox codes.
JUNE2022FREEREBIRTH!—Redeem for 2 Rebirths (New)
JUNE2022FREESKILLRESET!—Redeem for 3 Skill Reset points (New)
1MGROUPMEMBERS!—Redeem for free rewards
Dragon Blox Codes (Expired)
These Dragon Blox codes no longer work.
MAY2022FREEREBIRTH!—Redeem for 2 Rebirths
MAY2022FREESKILLRESET!—Redeem for 3 Skill Reset points
APRIL2022FREEREBIRTH!—Redeem for 2 Rebirths
APRIL2022FREESKILLRESET!—Redeem for 3 Skill Reset points
200MVISITS!—Redeem for 2 Rebirths and 3 Skill Resets
MARCH2022FREEREBIRTH!—Redeem for 2 Rebirths
MARCH2022FREESKILLRESET!—Redeem for 3 Skill Reset points
FEB2022FREEREBIRTH!—Redeem for +2 Rebirth (NEW)
FEB2022FREESKILLRESET!—Redeem for 3 Skill Reset points (NEW)
January2022FREESKILLRESET!—Redeem for 3 Skill Reset points
January2022FREEREBIRTH!—Redeem for +2 Rebirth
HAPPY150KLIKES!
DECEMBERFREESKILLRESET!
FREE2REBIRTH!
FREESKILLRESET!
UPDATE7FREESKILLRESET
Dragon Blox FAQ
Here's everything you need to know regarding Dragon Blox codes.
How to Redeem Dragon Blox Codes
It's easy to redeem codes for free rewards in Dragon Blox.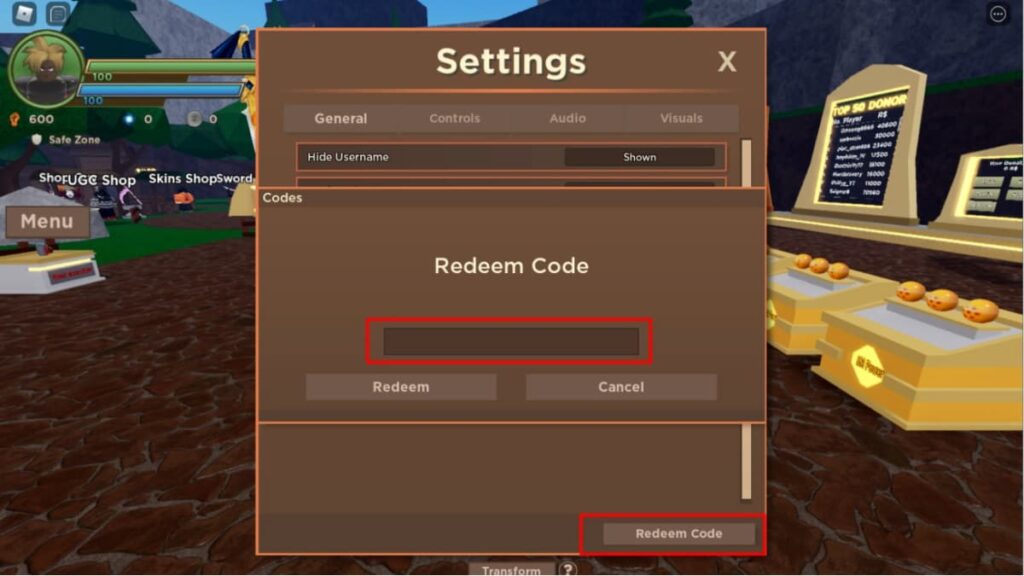 In the game, press Menu on the left side of the screen.
Press Settings, and then Redeem Code at the bottom right corner.
Enter the working code into the text box
Press Redeem to receive your free reward
How to get more Dragon Blox codes
An easy way to get more codes is by bookmarking this page and checking it often to get the latest Dragon Blox codes. You can also join the Discord community and visit the developers' Twitter page. Also, if you join the G RBLX Games Roblox Group, you will get a free +2x Power Boost!
Why aren't my Dragon Blox codes working?
If your Roblox Dragon Blox codes aren't working, ensure you have typed it exactly how it is written. Also, keep attention to the exclamation mark included. To avoid mistakes, copy and paste the code from the list above into the redeem text box.
If you've typed the code correctly, and it still doesn't work, there is a chance that it has expired. Codes generally appear with every Dragon Blox update, and most codes feature the month. So, if you try using a code from a different month than what we're in, it will most likely not work.
What is Dragon Blox?
Dragon Blox is a Roblox game inspired by the anime and manga Dragon Ball Z. Punch, kick, and fire ki-blasts to power up your character. At specific increments of power, you can transform and become stronger. When transformed, you will gain more power when training, so don't forget to keep changing into your best transformation to grow stronger quicker!
Learn new skills, and equip various swords to increase your fighting prowess as you travel to different worlds. Complete quests to earn more Zeni and purchase more things upgrades. Use the Dragon Blox and become the best Saiyan of them all!
If you're looking for codes for other games, we have many of them in our Roblox Game Codes post! You can also get a bunch of free stuff via our Roblox Promo Codes page.