When I was a kid, I believed I could dig to the center of the Earth. I was sure I'd find something special there. I never had a chance to go that far, but Drill Simulator made that dream alive again. In this Roblox experience, I had an opportunity to go as deep as possible. So did I find anything? Well, you'll have to check that for yourself. I recommend you use Roblox Drill Simulator codes to speed up the process.
I use Roblox codes often, allowing me to skip the annoying grinding process. This way, I can jump straight to the drilling action. One of the best examples of how Drill Simulator codes can be helpful is the opportunity to equip the Dark Drill. This tool is 125 times more efficient than your default drill. If you like mining games, you'll need Mine Wall Simulator Codes for improved gameplay.
All Roblox Drill Simulator Codes List
Roblox Drill Simulator Codes (Working)
These are all the working Roblox Drill Simulator codes.
5000LIKES—Redeem for Potions and a Drill (New)
2500LIKES—Redeem for Potions and a Drill
500LIKES—Redeem for x2 Win Potions and Dark Drill
Roblox Drill Simulator Codes (Expired)
These are expired codes for Roblox Drill Simulator.
There are no expired codes.
Related: 2PGFT Remastered Codes
How to redeem codes in Drill Simulator in Roblox
Follow the instructions below to redeem codes in Roblox Drill Simulator.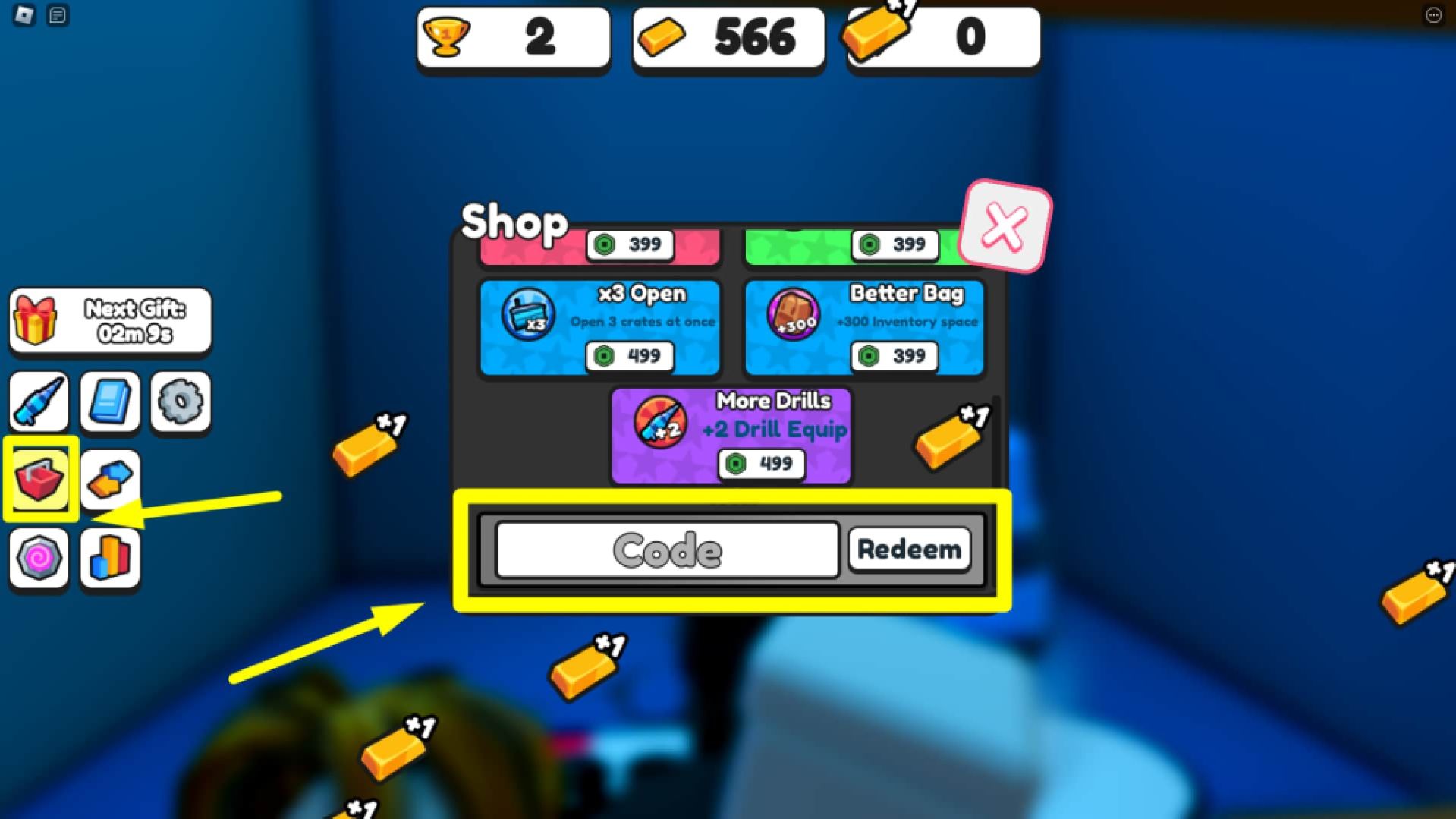 Launch Drill Simulator on Roblox.
Click on the Shop button on the left-hand side of the screen.
Scroll down to find the Code text box at the bottom.
Enter working codes into the Code text box.
Click on the Redeem code button to claim your free prize.
How to get more Drill Simulator codes in Roblox
Check this page frequently for the most recent Roblox Drill Simulator codes. We will update the page as soon as new rewards become available. While you wait, you can stay up-to-date on codes and game updates by following the game's developers on their Drill Simulator Discord Server and Twitter account @RiftStudioRBLX.
Why are my Drill Simulator codes not working?
It's important to note that Roblox codes have a short expiration period. To avoid missing out on freebies, claiming them as soon as possible is best. Also, if Drill Simulator codes are not working, they may be due to a grammar error. To resolve this issue, a helpful solution is simply copying and pasting the codes from the list above directly into the text box.
Other ways to get free rewards in Roblox Drill Simulator
When I start to play new Roblox games, I always first explore developers' socials. Often they organize giveaways as a way of promoting their experiences. Drill Simulator is no different, as its developers reward players often via events and giveaways. Head to their official Twitter accounts to get attractive in-game rewards.
What is Roblox Drill Simulator?
Drill Simulator is a Roblox mining simulation where your main job is digging as deep as possible. While I quickly found my footing, I realized I wouldn't go far default drill. Fortunately, Roblox Drill Simulator codes got me covered with a nice new tool that helped me a lot at the start. Long story short, redeem codes often, as they'll give you that extra edge.
If you're looking for codes for other games, we have many in our Roblox Game Codes post! You can also get a bunch of free stuff via our Roblox Promo Codes page. And in the meantime, take a look at the latest news to stay up-to-date on all things entertainment.