Ever fancied diving deeper into the Flappy Bird universe? Well, now you can with Flappy Clicker! Sit astride your favorite flappy bird and watch as you sail past those pesky pipes on the way to riches. Can you click your way to faster times than your friends and climb up the leaderboards, or will you concentrate on rebirths, collecting cool new pets, and exploring new landscapes?
When you use one of our Flappy Clicker codes can you receive free coins! Coins can be spent on hatching new pets, which will help you speed along the courses and earn even more coins. Alternatively, you can save up your coins to use for a rebirth which will open up new trails and permanently improve your speed. If you love Flappy Clicker, you should also check out our Flappy Bird Race page.
All Flappy Clicker Codes List
Flappy Clicker Codes (Working)
These are all the working Flappy Clicker codes.
10KLIKES—Redeem for 3,000 coins (New)
Release—Redeem for 5,000 coins
Flappy Clicker Codes (Expired)
These are expired codes for Flappy Clicker.
There are no expired codes for Flappy Clicker
Related: Clicker Run Codes
How to redeem codes in Flappy Clicker
Follow the instructions below to redeem codes in Flappy Clicker.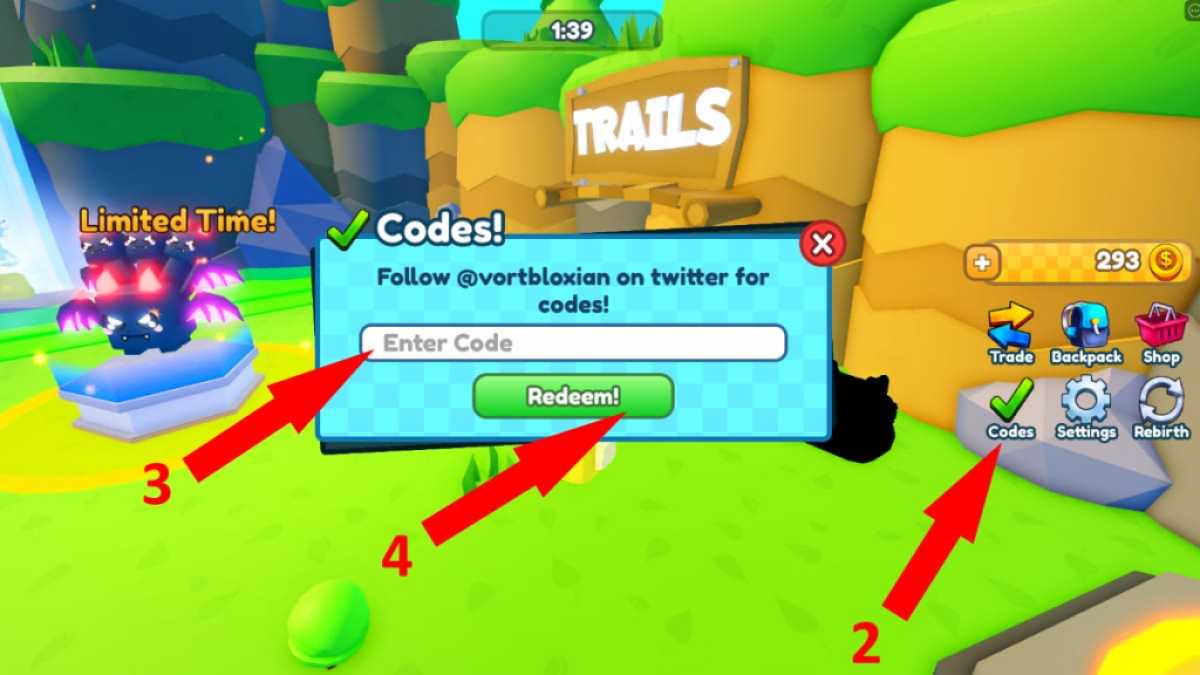 Launch Flappy Clicker on Roblox.
Press the green codes tick button on the right of the screen.
In the white pop-up text box, enter the code exactly as it appears in the list above.
Press the green Redeem! button to claim your reward!
How can you get more Flappy Clicker codes?
If you want to flap up some of your own Flappy Clicker codes, why not head over and join the Infinite Fun! Roblox Group? You might also want to follow @vortbloxian on Twitter, which is where the first code for the game can still be found.
Why are my Flappy Clicker codes not working?
The first thing you should do if one of our Flappy Clicker codes isn't working for you is to check it for typos. They will be made invalid as something as simple as missing a capital letter, while it's easy to mistake a letter for a number if you don't cut and paste the code in directly from here. If you've checked that and it still doesn't work, it has probably expired. This is a shame, but it happens to most Roblox in the end. Don't worry though, as we'll soon find you more codes!
Other ways to get free rewards in Flappy Clicker
If you're flapping desperately for more Flappy Clicker free rewards, you should definitely join the Infinite Fun! Roblox Group we've linked above. Simply joining the group makes you eligible for a daily reward in-game. While you're in the main lobby area, float over to the large gold chest in the corner. If you're in the group you can claim a free reward each day, which will be gold, a booster, or a special unique prize!
What is Flappy Clicker?
Flappy Clicker is your standard (auto)clicker Roblox game with cute graphics and the nice twist of being in the iconic Flappy Bird universe. You start out riding the traditional yellow flappy bird along the course, but can soon find faster pets and earn enough coins to rebirth, opening up new trails to explore.
If you're looking for codes for other games, we have a ton of them in our Roblox Game Codes post! You can also get a bunch of free stuff via our Roblox Promo Codes page. And in the meantime, take a look at the latest news to stay up-to-date on all things entertainment.