Our Roblox Hanma Codes has the most up-to-date list of OP codes that you can redeem for lots of free rewards. Although Hanma codes are yet to release, we've created this page in anticipation of developer Frostbyte Games's forthcoming code releases.
All Hanma Codes List
We'll keep you updated with additional codes once they are released. You should make sure to redeem these as soon as possible because you'll never know when they could expire! All of these codes have been tested on the date that this post was released. If you find one that is expired, please let us know the exact code in the comments below so we can remove it!
Make sure to enter the code exactly as it is listed or it might not work correctly!
Hanma Codes (Working)
There are no working codes at the moment. But, there is a strong possibility that Frostbyte Games will release codes in the near future. While browsing the in-game menus, there is a Twitter Code Redemption textbox within the Settings. Although players do not have any codes to redeem at the moment, we can assume the developers will release codes for free rewards at a later date.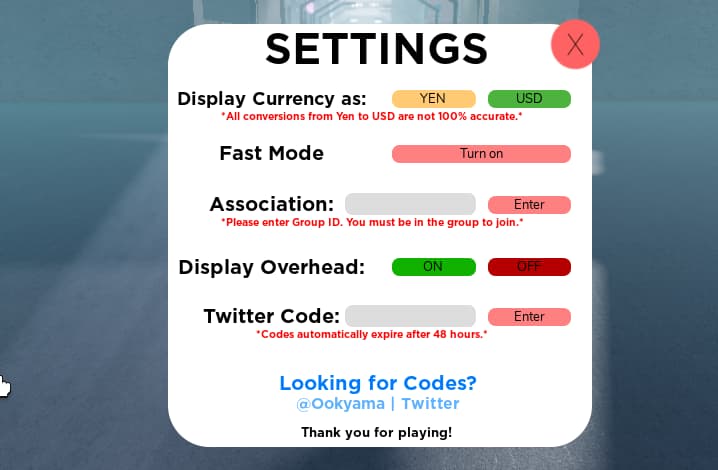 Below the Twitter Code Redemption textbox is a note that says Looking for Codes? with the Twitter user @Ookyama specifically named. Although Ookyama does not have any codes posted on Twitter yet, we recommend following them since Ookyama is the founder of Frostbyte Games.
How to Redeem Hanma Codes
When codes officially release for Roblox Hanma, follow these steps below:
Launch Roblox Hanma
Create your character
Press Menu found left on your screen
Press the Settings (gear cog) button
Enter your working code into the Twitter Code textbox
Press Enter to redeem.
Game Description & Recent Update
Based on and inspired by the popular manga, "Baki the Grappler" by Keisuke Itagaki.
Credit to the author, Yashichiro Takahashi, of the manga, "Shakugan no Shana" for the inspiration for Tokyo.
Sequel to Project: Grappler.
"Nice stats, man. Wanna see how little they matter?"
Controls:
RMB to heavy/block break.
LMB to attack.
F to block.
F plus Q to counter.
Q to dodge/evade.
M to open menu.
W x2 to run.
Reality Orbs spawn every 30 minutes - 2 hours and despawn in 20 minutes.
If you're looking for codes for other games, we have a ton of them in our Roblox Game Codes post! You can also get a bunch of free stuff via our Roblox Promo Codes page.