Updated: September 25, 2023

Added a new code today!
If you love to shoot some hoops, get ready for plenty of accuracy practice with Roblox Hoop Simulator. Step up to the line, then release the throw button at just the right time to hit the target. The more baskets you hit in a row, the more your multipliers, rewards, and level will increase. Then you can spend your Coins on opening new areas to explore, new balls to play with, as well as upgrades.
Hoop Simulator codes can give you both of the currencies used in the game, Coins and Gems. Use Coins to open new game areas and spin for new basketballs. New areas have new options, such as ways to spend Gems to upgrade your ball. I hope that later other codes will introduce exclusive items such as classic basketball jerseys. If you love shooting hoops on Roblox, also check out Hoops Life 2 Codes.
All Hoop Simulator Codes List
Hoop Simulator Codes (Working)
These are all the working Hoop Simulator codes.
25KLIKES—Redeem for 5k Coins and 5k Gems
5KLIKES—Redeem for 2,500 Coins and 2,500 Gems
RELEASE—Redeem for 2,500 Coins and 2,500 Gems
Hoop Simulator Codes (Expired)
These are expired codes for Hoop Simulator.
There are no expired codes for Hoop Simulator
Related: Simple Basketball Codes
How to redeem codes in Hoop Simulator
Follow the instructions below to redeem codes in Hoop Simulator.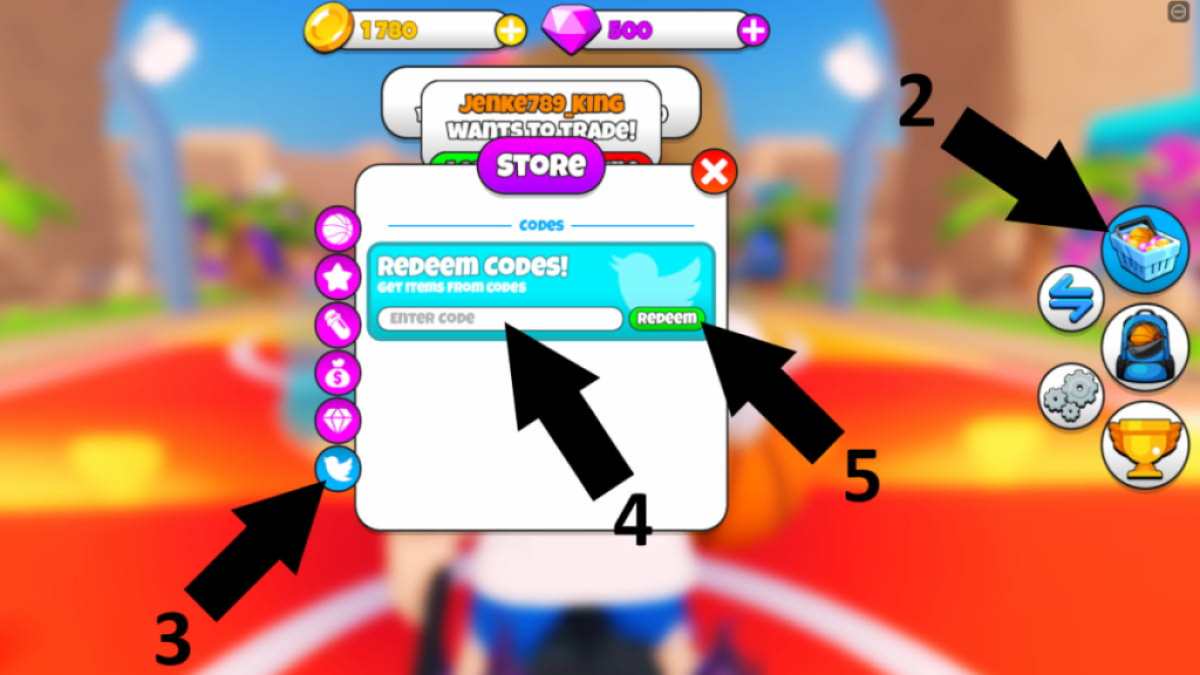 Launch Hoop Simulator on Roblox.
Press the Store button on the right of the screen.
Click the blue Twitter bird on the left of the pop-up or scroll to the bottom.
In the text box saying Enter Code, do so as it appears above.
Press the green Redeem button to claim your reward!
How can you get more Hoop Simulator codes?
If you're looking for more information about Hoop Simulator codes, head over and join the Tetra Games Roblox Group. If you want to continue your search outside of Roblox, you can follow @TetraGamesNews on Twitter and become a member of the Tetra Games Discord Server. There you can find areas for announcements, game updates, giveaways, and more.
Why are my Hoop Simulator codes not working?
Having trouble with a Hoop Simulator code? First, check you haven't made a typo, as most codes need to be exact to work, including all capitalization. If you cut and paste the code into Roblox, it guarantees you get it right. If that doesn't fix one of our codes above, let us know, as it has likely expired. Keep checking in with us regularly, though, as we're hunting for new codes all the time.
Other ways to get free rewards in Hoop Simulator
There are several ways to get more free rewards while playing Hoop Simulator. First, make sure you nail all the Achievements, as each one is going to earn you Free Coins (I got 1,000 free coins just for hitting the hoop 10 times). You'll also be rewarded just for staying in the game via the blue Gift Box on the left of the screen. You'll be able to click it for your first bonus after five minutes, with eight more free rewards, including free Gems and Potions, opening up over the first two-and-a-half hours you're in-game concurrently. Then you can log back in, and the clock will start again!
What is Hoop Simulator?
Hoop Simulator is a clicker-style Roblox experience with a few interesting twists. Firstly, you need to actually shoot those hoops by clicking and timing it correctly for bigger rewards rather than being allowed to play idle. Also, you level up individual balls by shooting them, giving them better rewards. But if you want to give them upgrades, you risk losing them completely.
If you're looking for codes for other games, we have a ton of them in our Roblox Game Codes post! You can also get a bunch of free stuff via our Roblox Promo Codes page. And in the meantime, take a look at the latest news to stay up-to-date on all things entertainment.