Roblox Imposter is based on the popular game Among Us. You are on a ship where your crew members are killed off. Everything and everyone is now suspect number one. Avoid being killed and find out who the killer is before they take you out, and you have to take that secret to a spacey grave. Calm down and don't be sus.
Our Roblox Impostor Codes has the most up-to-date list of working codes that you can redeem for some free cosmetics for your character! While you won't be able to be a better crewmate or imposter, at least you'll be looking good as you run around the map.
If you enjoy Roblox games about finding out who the murderer is and looking for clues to call out other players then we have games and the codes for you! These codes will get you one step closer to figuring out who the killer is. Roblox Among Us Zombies Codes, Roblox Amongst Us Codes, Roblox Among Sus Codes, Roblox Flicker Codes, and our guide for fans on How to play Among Us in Roblox.
All Roblox Impostor Codes List
Updated July 12, 2022

New info added.
Roblox Impostor Codes (Working)
ilikeyacutg—Redeem for a free reward.
ROCKTOBER—Redeem for a free reward.
GAMER—Redeem for a free reward.
BETA—Redeem for a free Animal Hoodie.
Roblox Impostor Codes (Expired)
socialdistance—Redeem for a free Mask.
sorryforthedelay—Redeem for a free reward.
halloween2020—Redeem for a Circus Attendee hat.
Roblox Impostor FAQ, Answered
Follow our guides for all your questions on Roblox Impostor.
How to Redeem Codes in Roblox Impostor
If you want to redeem codes in Roblox Impostor follow our guide below.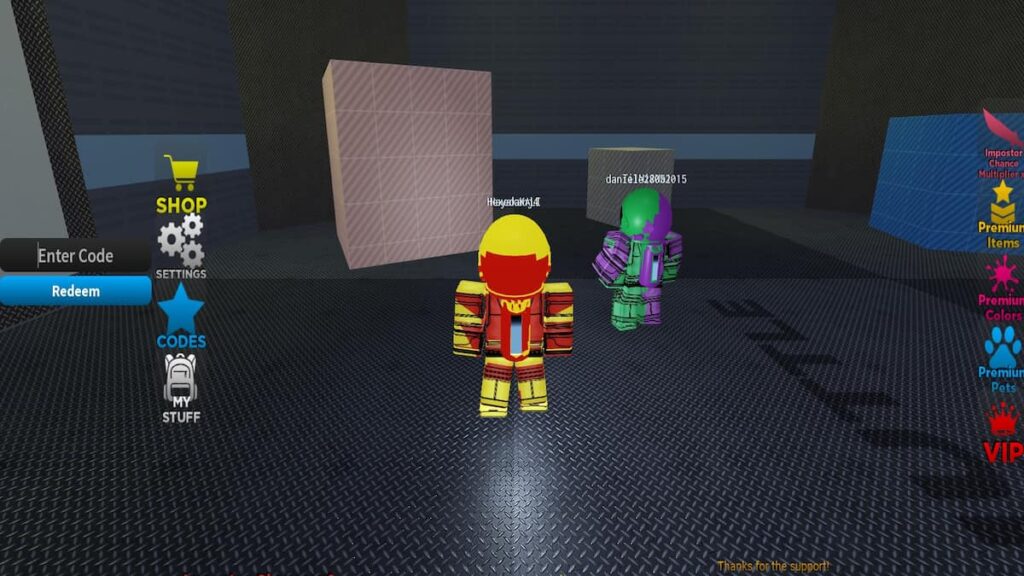 Wait until you get to the lobby screen.
You will sometimes join up in the middle of a game as a ghost and you can't enter codes yet.
Once you are in the lobby, you can then hit the codes button on the left of the screen.
Copy a code from our list, and paste it into the text box.
Hit the redeem button for your reward.
How can you get more Roblox Impostor Codes?
To get the latest codes from developer Nightcrawler, follow them on Twitter @ArcadeRockstar. You can always return here and redeem the latest codes because Pro Game Guides have you covered!
Why are my Roblox Impostor Codes not working?
There could be several reasons why your codes for Roblox Imposters codes could not be working. Make sure that when you claim your codes, you do so the moment the code is released because most codes expire quickly. Your codes, if not spelled out correctly, could be a problem. Make sure that grammar and punctuation are correct. Copy and paste the codes from our list to avoid these mistakes.
What is Roblox Impostor?
In Roblox Imposter, you will be on one of two teams. A crew member or an Imposter. Using your wit and clues left behind by the imposters, you need to point them out for being suspects. If you are an imposter, you are going to have to try and kill all the crew members in a way where the crew members won't suspect you!
For the most up-to-date free codes to help you in all your Roblox adventures by going to the Roblox Promo Codes page. We have you covered when it comes to all things Roblox!