Developer Badimo adds regular updates to Roblox Jailbreak, one of the most popular Cops vs. Robbers games on the platform. Whether you're new to the game or just need a spot to keep track of the most recent updates, tweaks, and more, you've found the right spot.
Roblox Jailbreak Updates and Patch Notes
The latest update to Roblox Jailbreak adds a nostalgic twist with the return of orange skies and desert floor. Season 3: Looking Back reminds players of the game's 2017 origins with these returned elements on the map. Additionally, players may purchase brand new Homes & Apartments for brief reprieve from the daily challenges of fighting/causing crime. Furniture is also destroyable, which should help make Jailbreak feel more like a living, breathing world.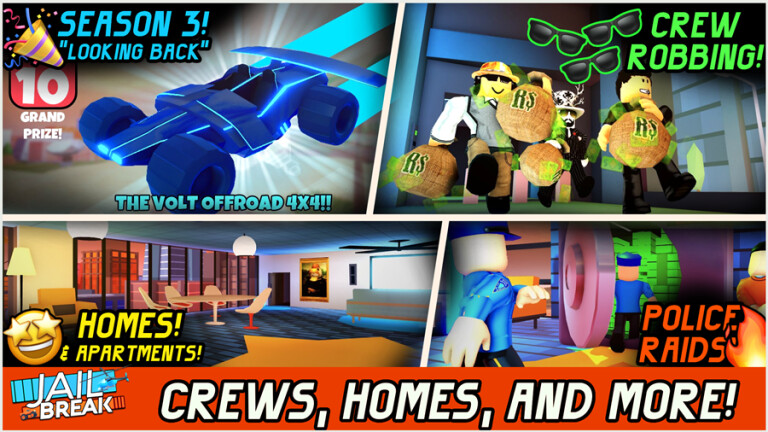 Gameplay Updates
Increase the max amount of cash in Vaults a bit.
Two players opening a Vault at the same time will cause the 2nd player to arm and shut the vault. The timer starts over. Potential solution could be to prevent arming if cash is inside. [Thanks Username]
Prevent placing furniture items over doorways in apartments.
ALL Furniture should be destroyable. Give them all health.
Slightly reduce E hold time on Raids.
Allow placement of wall items inside the red skyscraper.
Mechanics
Boost acceleration and top speed of the Volt 4x4
Re-center the mass of the Volt 4x4 to prevent some "UFO"ing
Reduce Turret Damage a little.
Add a wait between Raids.
Widen a space in each Garage for large vehicles like the Volt 4x4
Settings
Don't save shadow settings in the gear menu, and default to on.
Update our Chat.
Add a [None] Gun Skin Option!
Remove/Replace Car Brands.
For more Jailbreak content, check out the Best Cars in Roblox Jailbreak (2021). Looking for free Roblox rewards? We have a ton of them in our Roblox Game Codes post! You can also get a bunch of free stuff via our Roblox Promo Codes page.