Time to turn that chore into a satisfying adventure in Roblox Lawn Mowing Simulator. You can mow the lawns of several different biomes and unlock new pets and mowers to become the best mower in the game. More relaxing and satisfying than mowing a real yard, this game will keep you entertained for hours as you neglect your actual chores!
These codes will give you new Pets. Pets are what you need to get added perks while mowing the lawn. The better the pet, the more currency you will earn in the game. Grab these codes now before they get cut off!
If you want to unwind then satisfying Roblox games are what you need in your life. However, you might feel like you would like to do something constructive too. Claim these codes in these Roblox games to make the start of the game easier so you can sit back and let that currency start rolling in. Roblox Sizzling Simulator Codes, Roblox Airplane Simulator Codes, Roblox Epic Miner Simulator Codes, Roblox Tornado Simulator Codes, and Roblox Fishing Simulator Codes.
All Roblox Lawn Mowing Simulator Codes List
Updated August 18, 2022

Searched for codes.
Roblox Lawn Mowing Simulator Codes (Working)
superfavorites—Redeem for 525k Favorites Slime Pet (New)
ty4favs500k—Redeem for 500k Favorites Slime Pet (New)
ty4favs450k—Redeem for 450k Favorites Slime Pet
manylikes275k—Redeem for 275k Slime Pet
manylikes250k—Redeem for 250k Slime Pet
jimboishere—Redeem for Jimbo the Farmer Pet
daisytime—Redeem for Daisy the Florist Pet
cybertime—Redeem for The Cyber Slime Pet
partyslime—Redeem for Party Slime Pet
pinky—Redeem for Pink Slime Pet
flowerpower—Redeem for Sunflower Pet
tweetybird2020—Redeem for Blue Bird Mount
Roblox Lawn Mowing Simulator Codes (Expired)
Petsomanyfavs—The 250k Favorites Slime
ilikeslimes150k—The Liked Slime Pet
lotsofvisits30m—The Visitors Slime Pet
Roblox Lawn Mowing Simulator Frequently Asked Questions
Want more information on Roblox Lawn Mowing Simulator codes? Then you've come to the right place!
How to Redeem Codes in Lawn Mowing Simulator
It's a very simple process to redeem your codes in Roblox Lawn Mowing Simulator. Follow our guide below.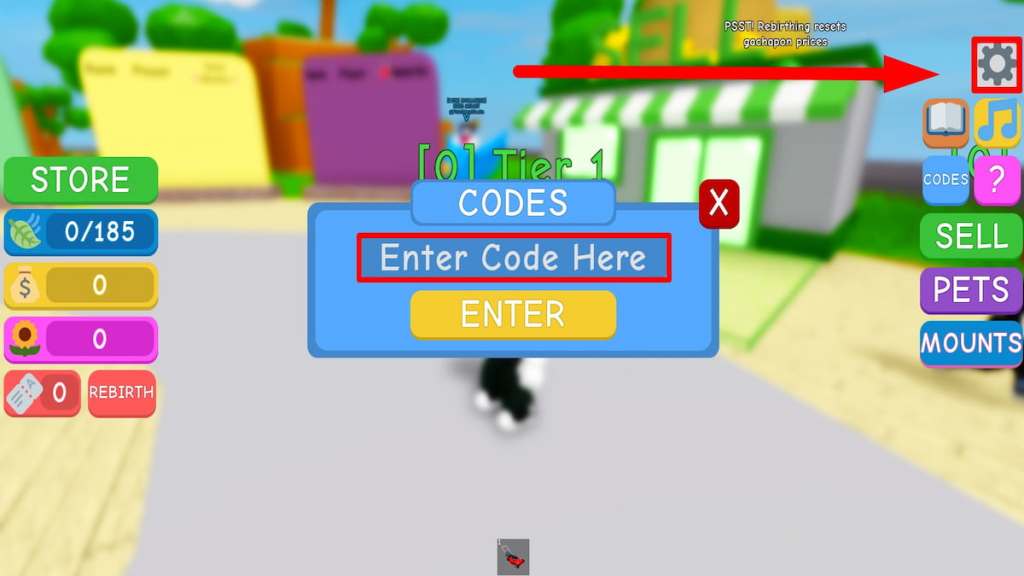 Launch the game.
Click on the cog on the right-hand side of the screen.
Click on the area that says "Enter Code Here" and enter one of the codes from our list.
Once you've got it entered incorrectly, you'll just need to hit the Enter button and you will be given the reward.
How to get more Roblox Lawn Mowing Simulator codes
To get the latest codes from the developer Pink Slime Studios, follow them on their social media pages like Twitter @PinkSlimeStudio and their Pink Slime Studios Discord Server. We here at Pro Game Guides have all the latest codes for you, so make sure to save this page and return to see if there are any new codes!
Why aren't my Roblox Lawn Mowing Simulator codes working?
There could be a few things that you could be doing wrong while trying to redeem codes for Roblox Lawn Mowing Simulator. You could be mistyping the code to the text box. To avoid these mistakes, copy and paste the code from our list. The code could already be expired as codes from the developer only last for a certain time. Redeem new codes that are on our list to avoid disappointment.
What do Pets do in Roblox Lawn Mowing Simulator?
Pets will increase the amount of grass, flowers, and money you can collect. Make sure to have the maximum amount of pets equipped at all times so you can level up faster and earn more currency. Pets can be equipped by selecting the Pets tab on the right-hand side of the screen and then clicking on any of the available Pets. Click Equip once you are done choosing your Pet so that you can get a Pet to help you with those extra bonuses for grass and money. You can equip up to five different Pets with their perks, so make sure to equip all the available slots for them.
What is Roblox Lawn Mowing Simulator?
Roblox Lawn Mowing Simulator is a simulator game where you will mow as much lawn as possible. The more lawn you mow, the better Pets you can unlock. The higher you will score, and the higher you can climb on the leaderboards. Unlock new biomes as you mow the whole town and neighborhood. You can unlock new mowers, too, as you progress through the game and gain more currency.
If you're looking for codes for other games, we have a ton of them in our Roblox Game Codes post! You can also get a bunch of free stuff via our Roblox Promo Codes page.