Updated November 14, 2023

Hunted through Mad City for new codes but couldn't find any.
Mad City lets me live out my super-powered fantasies, whether I'm chucking cluster grenades at enemies or I'm exploring the latest bank floors and casino heists. With so many players and so much action, Mad City can get hectic, to say the least. Since I like my avatar to stand out, I always use Mad City codes to get the latest cosmetics and skins. That way, when things start getting crazy, I can at least see my character on screen!
Our Roblox Mad City Codes feature up-to-date codes that players for vehicle and weapon skins, and some even give rare emotes. Codes in Mad City don't often upgrade your ability in-game, but they do make weapons and vehicles stand out a bit more. Make sure to add these codes to your account as soon as possible to avoid missing them!
For more on Roblox codes, visit Roblox Anime Guardian, Roblox Soda Simulator X, Roblox Block Defense, Bad Business, and Roblox Mining Simulator.
All Roblox Mad City Codes List
Working Roblox Mad City Codes (Active)
There are currently no active codes.
Expired Roblox Mad City Codes
Datbrian—Redeem for DatBrian Vehicle Skin
BILLYBOUNCE—Redeem for Billy Bounce Emote
0MGC0D3—Redeem for Green Dots Vehicle Skin
Ryguy—Redeem for Ryguy Vehicle Skin
D1$C0—Redeem for Vehicle Skin
Napkin—Redeem for Vehicle Skin

RealKreek—Redeem for Vehicle Skin
5K37CH—Redeem for Vehicle Skin
Bandites—Redeem for Vehicle Skin
uNiQueEe BACON—Redeem for Vehicle Skin
KraoESP—Redeem for Vehicle Skin
0N3Y34R—Redeem for Birthday Fireworks Vehicle Skin
M4DC1TY—Redeem for Black Hex AK47 Skin
W33K3NDHYP3—Redeem for Monochrome Vehicle Skin
T4L3N—Redeem for Talon Vehicle Spoiler
B3M1N3—Redeem for Hearts SPAS Skin
B34M3R—Redeem for Sunbeam Vehicle Skin
S33Z4N2—Redeem for Frosty Vehicle Skin

STR33TL1N3—Redeem for Streetline Vehicle Skin
S34Z4N3—Redeem for Plasma Vehicle Skin
TH1NKP1NK—Redeem for Pink Vehicle Skin
S34Z4N4—Redeem for Purple Zebra Vehicle Skin
100KCash—Redeem for 100,000 Cash
Roblox Mad City Frequently asked questions
Here's everything you need to know regarding Roblox Mad City codes.
How to Redeem Codes in Roblox Mad City
To use codes in Roblox Mad City, follow our guide below.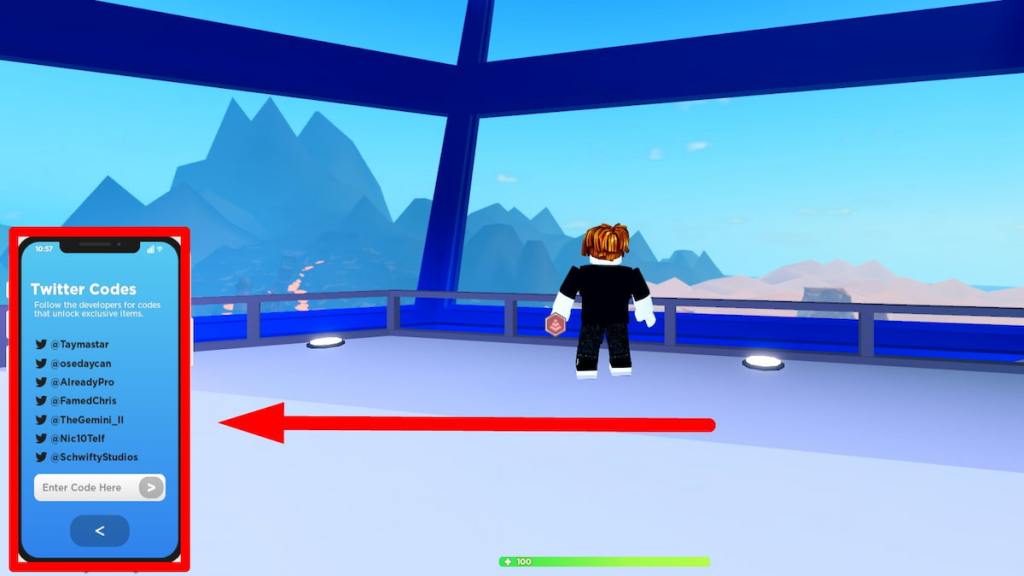 Open up your in-game phone and look for the blue Twitter icon.
Select the blue Twitter button to bring up the following screen.
Click on the Enter Code area and enter one of the codes from above.
Once you've entered a code correctly, you'll need to hit the Submit button to receive the reward.
Why aren't my codes working in Roblox Mad City?
Suppose you're having issues getting codes to work in Mad City. In that case, we recommend copying the code directly from this page and into the code submission bar to avoid additional spaces, characters, or errors. Codes must be identical to those displayed on this page to function correctly.
What do codes do in Roblox Mad City?
Codes in Mad City unlock various cosmetic and emote rewards for players depending on which code they use. Each code's reward works to customize their vehicles and characters should users want to apply these bonuses to their game.
How to Use Vehicle Skins in Roblox Mad City
When it comes to vehicle skins, you have a couple of options. You can pay 100 Robux to get the ability to change your vehicle skin on the fly by using the Shop icon on the phone. If you don't want to throw away some Robux, you can still utilize these skins by driving over to the wrench icon on the map and applying a skin at the mechanic!
What is Roblox Mad City?
Mad City is a game that allows players to take on the role of a superhero or supervillain with various powers, weapons, and adversaries to attack throughout this experience. Take part in or thwart heists throughout this chaotic playground and embrace the mayhem.
For more Roblox Codes, visit some of our other articles on Pro Game Guides, like the Roblox Game Codes Page!