Get ready for a whole new level of marble madness with Marble Merge Tycoon! Start with a single marble dropper, but use it to slowly connect cash to make more droppers. You can then merge them to make more valuable marbles, eventually creating a huge building full of droppers making a rainbow full of amazing marbles. Can you beat your friends to the top of the marble leaderboards?
Marble Merge Tycoon codes reward you with money and Gems, and sometimes both! Money can be spent to get new droppers and then merge them to make more valuable droppers. Gems are used for upgrades, allowing you to increase everything from pick-up range to marble worth. If you love Roblox tycoon-style games, you should also check out Anime Plush Tycoon.
All Marble Merge Tycoon Codes List
Marble Merge Tycoon Codes (Working)
These are all the working Marble Merge Tycoon codes.
BEACH—Redeem for 100 Gems

CANDY—Redeem for 100 Gems
DanyloBoy—Redeem for 50 Gems 500 money
UNICORN—Redeem for 150 Gems
GEMS—Redeem for 250 Gems
Kosii—Redeem for 500 money
LUNARGAMES—Redeem for 500 money
MARBLE—Redeem for 250 money
SKINS—Redeem for 250 Gems
REDKILL—Redeem for 1,000 money
SLIME—Redeem for 500 money
Thijmen0808—Redeem for 500 money
UPDATE3—Redeem for 100 Gems
Marble Merge Tycoon Codes (Expired)
These are expired codes for Marble Merge Tycoon.
RELEASE—Redeem for 500 money
BETA—Redeem for 250 money
UPDATE1—Redeem for 500 money
UPDATE2—Redeem for 100 Gems
UPGRADE—Redeem for 250 Gems
EGG—Redeem for 500 money
EASTER—Redeem for 250 Gems
Related: Marble Simulator Codes
How to redeem codes in Marble Merge Tycoon
Follow the instructions below to redeem codes in Marble Merge Tycoon.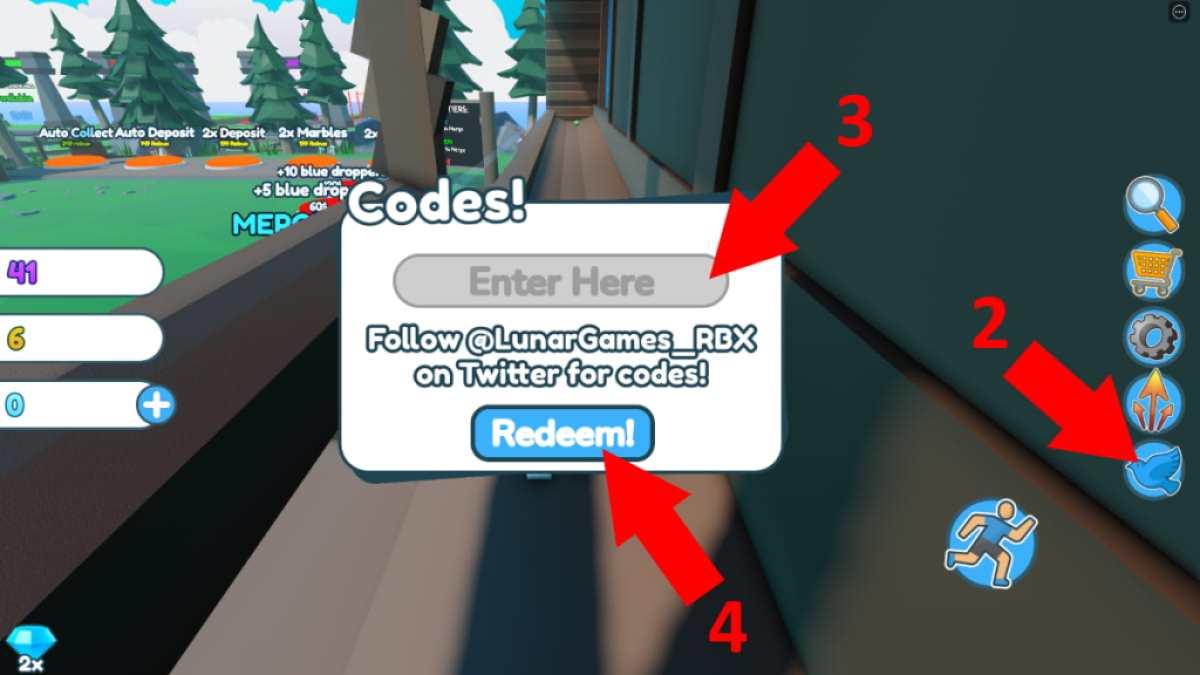 Launch Marble Merge Tycoon on Roblox.
Press the blue Twitter bird button.
In the pop-up, enter the code where it says Enter Here exactly as it appears above.
Press the blue Redeem! button to claim your reward!
How can you get more Marble Merge Tycoon codes?
Looking for some more Marble Merge Tycoon codes? You can start by becoming a fan of the LunarGames Roblox Group, where you'll find lots of other fans of the game. Next, you can try following @LunarGames_RBX on Twitter and subscribing to the LunarGamesRBX YouTube channel. Finally, don't forget to become part of the LunarGames Discord Server, where you can find fan chat, announcements, and more.
Why are my Marble Merge Tycoon codes not working?
If a Marble Merge Tycoon code you've found here isn't working, the first thing to try is to cut and paste it directly from here. Doing that avoids the possibility of a typo because even a small one can make a code invalid. If you still can't get a code to work, it is probably an expired one. Let us know in the comments, and we can update the guide because once the developers invalidate a code, we can't help. Bookmark this page as we regularly check for new codes and post them here when we find them!
Other ways to get free rewards in Marble Merge Tycoon
The easiest way to get more free rewards in Marble Merge Tycoon is by getting access to the Group Reward Chest. All you need to do to get access is to join the LunarGames Roblox Group, which is linked above. Once you have, leave your marble area and jump on the conveyor belt that goes right to the cliffs on the island. Once there, you'll see a huge brown chest. Walk up to it, and you'll receive more than 100 gems! And better still, you can come back four hours later to claim another reward. At the other end of the conveyor belts are parkour courses you can complete for more free rewards.
What is Marble Merge Tycoon?
Marble Merge Tycoon is a typical merge tycoon experience, where you add droppers to create marbles that earn you cash, which you can spend on more droppers. Eventually, you can merge these droppers to make ones that send out more valuable marbles, creating a bigger and bigger machine creating a huge amount of cash. You can also purchase upgrades to increase production and efficiency even more.
If you're looking for codes for other games, we have a ton of them in our Roblox Game Codes post! You can also get a bunch of free stuff via our Roblox Promo Codes page. And in the meantime, take a look at the latest news to stay up-to-date on all things entertainment.