Bored of hatching cats and dogs in your Roblox sims? Then step it up with Nuke Simulator, where you buy nuclear weapons from silos and go out causing havoc to gain coins and Gems! As you gain more cash you can open up new areas to lay waste to, from jungle settings to cities and deserts. And as you progress, you can upgrade your stats to make your character more unique, improving nuke speed, reach, or your storage ability.
By using our Nuke Simulator codes you'll be able to claim free coins, Gems, and Boosts. You can spend Coins to buy more nukes and Gems to claim upgrades, while Boosts can improve your speed of collection, luck in claiming nukes, and more. If you like Roblox clicker collectors, you should also take a look at Coin Clicking Simulator X.
All Nuke Simulator Codes List
Nuke Simulator Codes (Working)
These are all the working Nuke Simulator codes.
DESTROY2—Redeem for 60k Gems (New)
UPINOHIO—Redeem for 100k Gems
MOONBOOST—Redeem for 20k Moon Coins
ALIENGEMS—Redeem for 80k Gems
DOWNINOHIO—Redeem for 250k Coins
LOTTADAMAGE—Redeem for 5x Damage Boosts
DESTROY—Redeem for 3x Damage Boosts
MARTIANGEMS—Redeem for 20k Gems
PARI—Redeem for three of each Boost
GEMURITEZ—Redeem for 20K Gems
BIGBOOM—Redeem for 250K Coins
Nuke Simulator Codes (Expired)
These are expired codes for Nuke Simulator.
There are no expired codes for Nuke Simulator
Related: Muscle Race Clicker Codes
How to redeem codes in Nuke Simulator
Follow the instructions below to redeem codes in Nuke Simulator.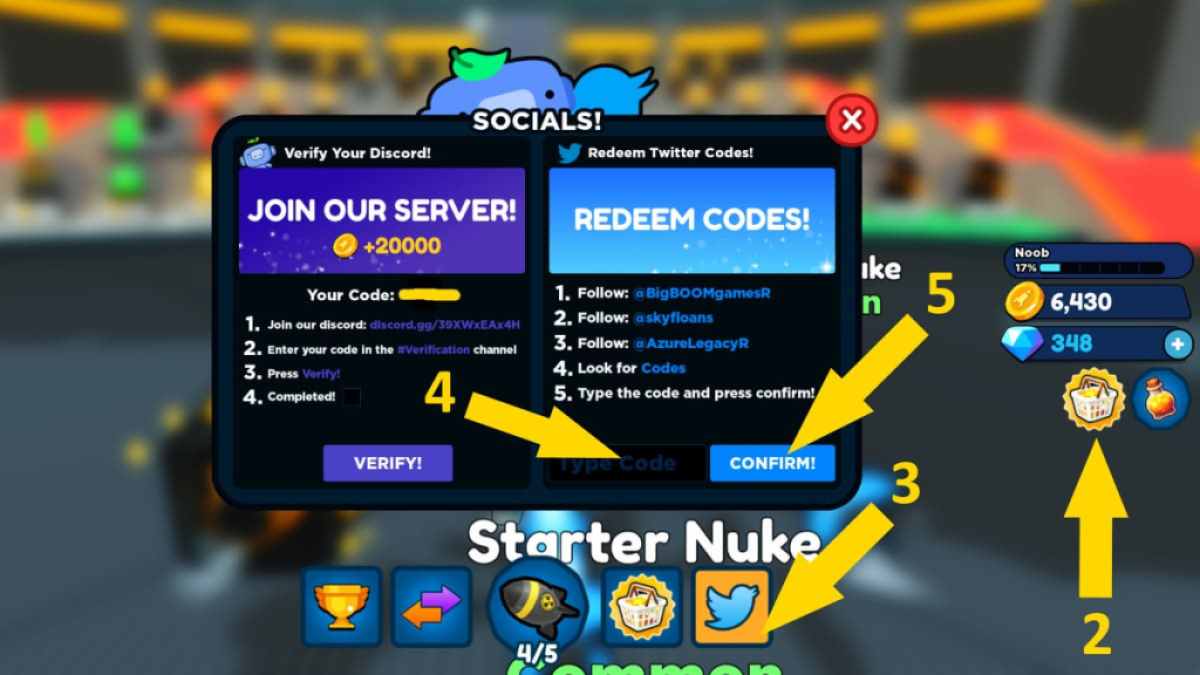 Launch Nuke Simulator on Roblox.
Press the yellow Shop button on the right of the screen.
When the pop-up appears, click the blue Twitter bird button at the bottom of the screen.
On the bottom right of the new pop-up enter the code exactly as it appears in the list above in the black text box that says Type Code.
Press the blue CONFIRM! button next to the text box to claim your reward!
How can you get more Nuke Simulator codes?
If you want to seek out your own Nuke Simulator codes, you can begin by joining the BIG BOOM Games Roblox Group. You can also join the Nuke Simulator Discord Server, follow @BigBOOMgamesR on Twitter and check out BigBoomGames on TikTok too.
Why are my Nuke Simulator codes not working?
If you've tried to enter one of our Nuke Simulator codes and it hasn't worked, it could be due to a typo. Roblox codes have to be exactly as they look above, which includes capitalization. While it can be easy to mistake a letter for a number. So, we suggest you always cut and paste the codes directly from here to avoid any issues. If it still doesn't work, sadly, it may have expired. In this case, we can't help. But we'll be looking for new codes, so check back soon!
Other ways to get free rewards in Nuke Simulator
If you're looking for more free items in Nuke Simulator, be sure to log in every four hours to collect your free bonus from the Reward Chest. It's the large red chest to the right of the wall of nukes, and you simply need to walk up to it to gain your reward (as long as the timer isn't running). You can also claim 20,000 Coins by verifying a code on the Nuke Simulator Discord Server linked above. The instructions are on the Codes pop-up page discussed above when we talk about how to enter your Nuke Simulator codes.
What is Nuke Simulator?
Nuke Simulator is a pet collector and trading Roblox game with a difference because instead of cute pets you're collecting nukes from silos. You send the nukes off to take out targets, after which you run around and collect the Coins and Gems left behind. It's cute looking, not dark, and has standard progression into different zones as you level up and pay to open new zones.
If you're looking for codes for other games, we have a ton of them in our Roblox Game Codes post! You can also get a bunch of free stuff via our Roblox Promo Codes page. And in the meantime, take a look at the latest news to stay up-to-date on all things entertainment.