Starcourt Mall is open for business and all Roblox players can play some fun minigames set within the Stranger Things universe. Playing these minigames will net you coins that can be used to purchase exclusive Avatar items.
Free Avatar Item
All players can redeem the DustinHat head accessory simply by launching the Starcourt Mall game. Upon startup players will be greeted with a "thank-you" message and the hat will immediately transfer to the player's Roblox Avatar Inventory. Players will also earn a game badge for earning the hat.
This Avatar item mimics Dustin's appearance in Stranger Things, who is known for his hat, curly hair, missing teeth, and goofy personality as portrayed by Gaten Matarazzo.
Update June 18, 2021: The game has entered beta development. The item shop is open and players can receive a free Avatar item by logging in.
All Stranger Things: Starcourt Mall Games
There are four minigames to play in Stranger Things: Starcourt Mall, half of which are single player and the other half multiplayer. Meaning, there is something to enjoy for every type of player out of the four games available.
Check out each game below in more detail, with tips and tricks to earn as many coins as possible.
Hawkins Lab Escape (5 vs. 1 Multiplayer)
The Hawkins Lab Escape game is a survival horror escape game where five players must work together to solve puzzles as fast as possible to escape the lab. The team of five must avoid the Demagorgon (the sixth player) and beat the clock in order to win the match and earn coins.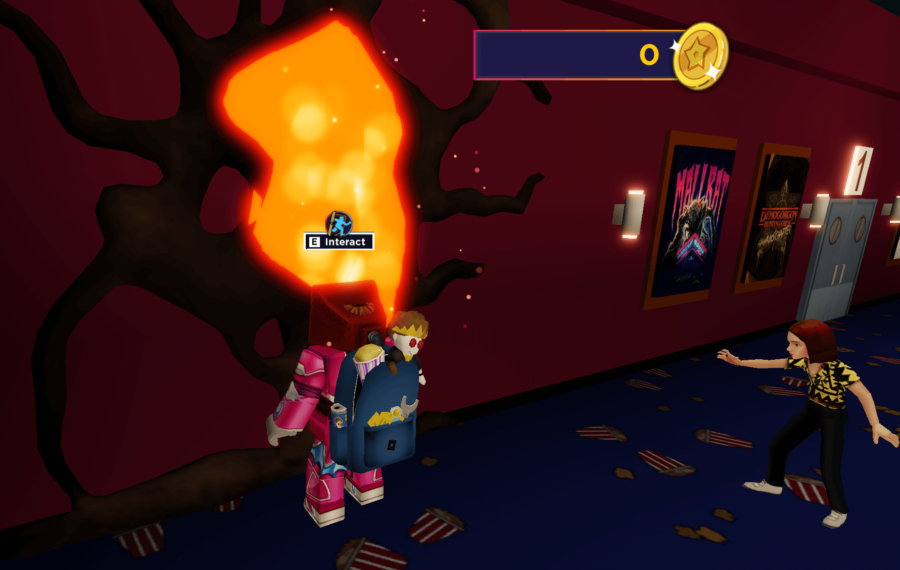 To play the Hawkins Lab Escape game, head upstairs toward the movie theater. Inside you will find Eleven, who struggles to hold open a rift in the wall. Press E to interact with the rift, which will teleport you to a lobby queue before the game begins.
Dueling Dice (1-2 Players)
The Dueling Dice game is a classic riff on Dungeons & Dragons dice mechanics where two players must defeat one another by rolling a certain number on the dice. Each player chooses a character from one of four classes to play (Diana the Acrobat, Sheila the Thief, Presto the Magician, Hank the Ranger) before facing off.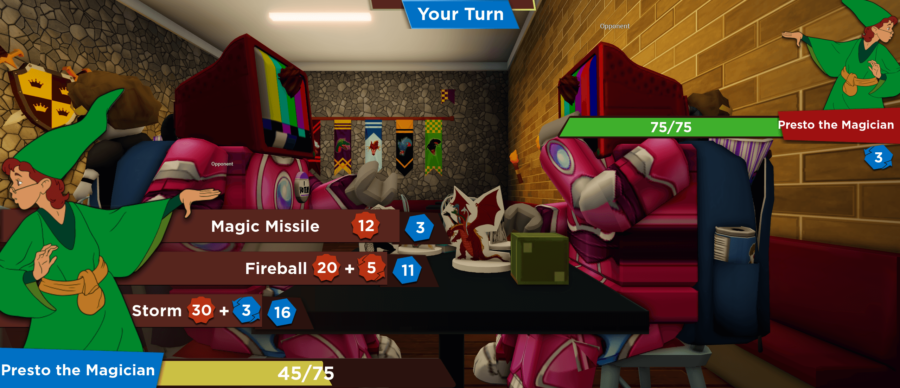 During the match, each player chooses one move per turn. If your dice roll is equal to or greater than the blue number that corresponds to the chosen move, then you will inflict damage on your opponent. If your dice roll is equal to less than the blue number, you will not do any damage that turn.
Much of the game is up to luck, but we prefer Diana the Acrobat and Sheila the Thief for their Healing Strike and Insightful Strike moves. Not only do they inflict high damage, but they also heal your character.
Delivery Dash (1 Player)
Steve and Robin are busy fulfilling orders at Scoops Ahoy and need your help with deliveries. Talk to Steve to initiate the game and then talk to Robin to start the timer. When the game begins, you must pick up the Ice Cream located next to Robin by pressing E (PC) or tapping it (Mobile).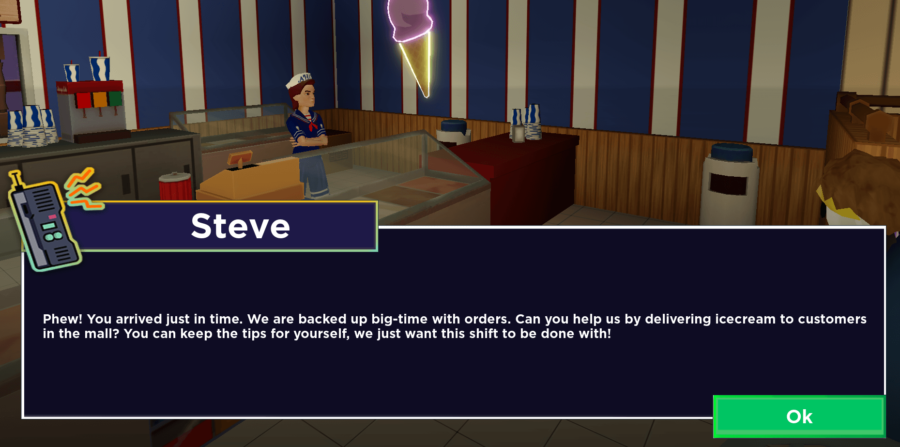 With ice cream in hand, exit the shop and locate the customer by specific markers that appear throughout the mall. Make sure to grab the sodas for an extra speed boost while delivering, or risk the delivery spoiling if the timer runs out.
Hi-Score Slingshot (1 Player)
Lucas wants to test out your archery skills in the (likely) chances of the Demagorgon's return. The Hi-Score Slingshot is a basic carnival game where you shoot as many demagorgons as possible before the round ends. Just hold down right-click on your mouse to aim and press left-click to shoot.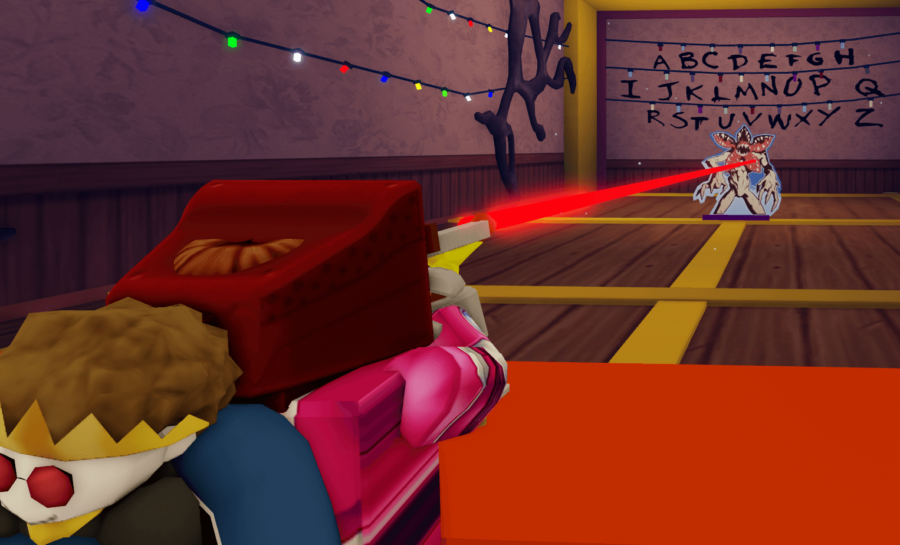 Be careful to avoid humans at all costs during this game. Just one shot at a human will decrease your score by 1,000 points.
Related: All Roblox Metaverse Champions | Weekly Locations, Games & Rewards
All Stranger Things: Starcourt Mall Items
Players can purchase exclusive Stranger Things merch from the Accessory Shop found on the ground floor of Starcourt Mall. All rewards are considered Avatar items, meaning they will appear in your Roblox Inventory to be worn anywhere outside of the Starcourt Mall game. All rewards can be purchased for in-game coins or Robux.
The Accessory Shop isn't immediately accessible upon startup. To access the Accessory Shop, you must play all four of the minigames at least once. After playing all four minigames, talk to Mike (located at the mall entrance) to redeem a reward. Then, he will open the shop.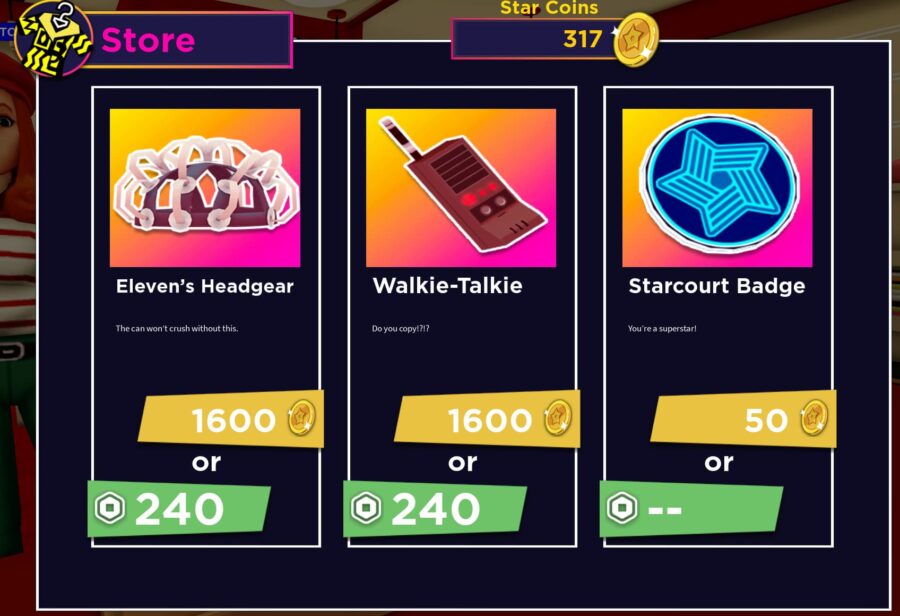 Daily Quest Reward: All players earn 100 coins for completing all four games once per day.
Here's a list of the known rewards that can be purchased:
Eleven's Headgear

Price: 1,600 Coins or 250 Robux
Description: The can won't crush without this.

Walkie-Talkie

Price: 1,600 Coins or 240 Robux
Description: Do you copy!?!?

Starcourt Badge

Price: 50 Coins
Description: You're a superstar!
If you're looking for codes for other games, we have a ton of them in our Roblox Game Codes post! You can also get a bunch of free stuff via our Roblox Promo Codes page.