If you've ever wondered what it's like to run your own store, you should check out Super Store Tycoon! Set up your produce and checkouts, hire some staff, then watch the cash roll in! Build new floors to sell more diverse products to your customers, then enjoy the profits by buying cars and yachts to explore the world in. Just make sure your cashiers stay awake!
Super Store Tycoon codes give you free one-time cash injections. You can spend the cash on vehicle spawn points and customer increases, checkouts, produce isles, or store decorations, as well as new floors and buildings that can increase your wealth. If you love Roblox tycoon games, have you checked out Burger Tycoon Codes?
All Super Store Tycoon Codes List
Super Store Tycoon Codes (Working)
These are all the working Super Store Tycoon codes.
PULSAR—Redeem for Cash 500 (New)
WHITEBOARD—Redeem for Cash 1,000
DOWNTIME—Redeem for Cash 750
LIKES3500—Redeem for Cash 750
Super Store Tycoon Codes (Expired)
These are expired codes for Super Store Tycoon.
RELEASE—This code has expired.
LIKES800—This code has expired.
LIKES1500—This code has expired.
Related: Cinema Tycoon Codes
How to redeem codes in Super Store Tycoon
Follow the instructions below to redeem codes in Super Store Tycoon.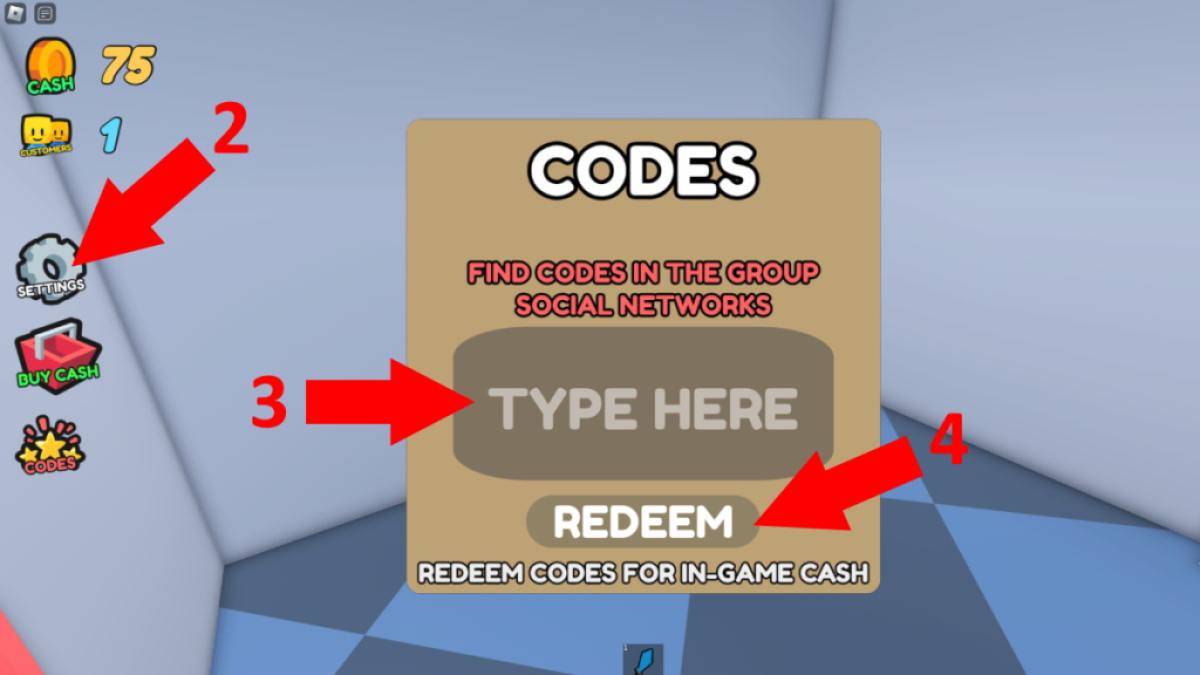 Launch Super Store Tycoon on Roblox.
Press the grey Settings cog on the left of the screen.
In the popup box, enter the code where it says TYPE HERE exactly as it appears in our list.
Press the REDEEM button underneath to claim your reward!
How can you get more Super Store Tycoon codes?
Want more info and codes for Super Store Tycoon? There are several links we suggest checking out, starting with the Pulsar Games Roblox Group. You can also find information on updates via the Krispp YouTube channel, while the Krispp League Discord Server has sections for announcements, events, media, and more.
Why are my Super Store Tycoon codes not working?
Super Store Tycoon codes can be fickle things, so you need to input them exactly as you find them at Pro Game Guides. One little typo, such as missing a capital letter, can invalidate a Roblox code. If you're sure you've got the code right (the best way is to cut and paste them from here), it may have timed out and become invalid. Let us know below so we can update this page. Then, check back soon, as we're always on the lookout for fresh and juicy new codes for you!
Other ways to get free rewards in Super Store Tycoon
The easiest way to get wealthy in Super Store Tycoon is to join the Pulsar Games Roblox Group linked above. Once you do and then log back into the game, you'll receive the free reward of 500 extra free cash every five minutes!
What is Super Store Tycoon?
Super Store Tycoon is a well-polished Roblox tycoon experience in which you initially set up and expand a groceries superstore. But as you start to earn big money, you can buy cars and then yachts with which to explore the world, first on your own island and then those of other players. Adding floors to your superstore also opens up new ways to earn even more cash.
If you're looking for codes for other games, we have a ton of them in our Roblox Game Codes post! You can also get a bunch of free stuff via our Roblox Promo Codes page. And in the meantime, take a look at the latest news to stay up-to-date on all things entertainment.