Can you join the top ranks of the top Tank Legends? Equip your best pets and jump into your tank to destroy crates and earn cash and gems! Use your resources to claim more pets, better tanks, and rebirths until you can afford to open up new areas and take on new challenges, such as the Desert, the Snow Plains, and Candyland!
Tank Legends codes will either give you boosters or coins to help you in your quest. Coins can be spent on picking up new pets, tanks, and items, while boosters can increase either your damage or your coin collection rates. If you love Roblox resources and pet collection games, why not also check out Bomb Simulator?
All Tank Legends Codes List
Updated March 10, 2023

Added a new code.
Tank Legends Codes (Working)
These are all the working Tank Legends codes.
UPDATE5—Redeem for a 2x Gems Boost (New)
UPDATE2—Redeem for a 2x damage boost (New)
1KLIKES—Redeem for a 2x coins boost
Release—Redeem for 250 coins
Tank Legends Codes (Expired)
These are expired codes for Tank Legends.
There are no expired codes for Tank Legends
Related: Ores Field Simulator Codes
How to redeem codes in Tank Legends
Follow the instructions below to redeem codes in Tank Legends.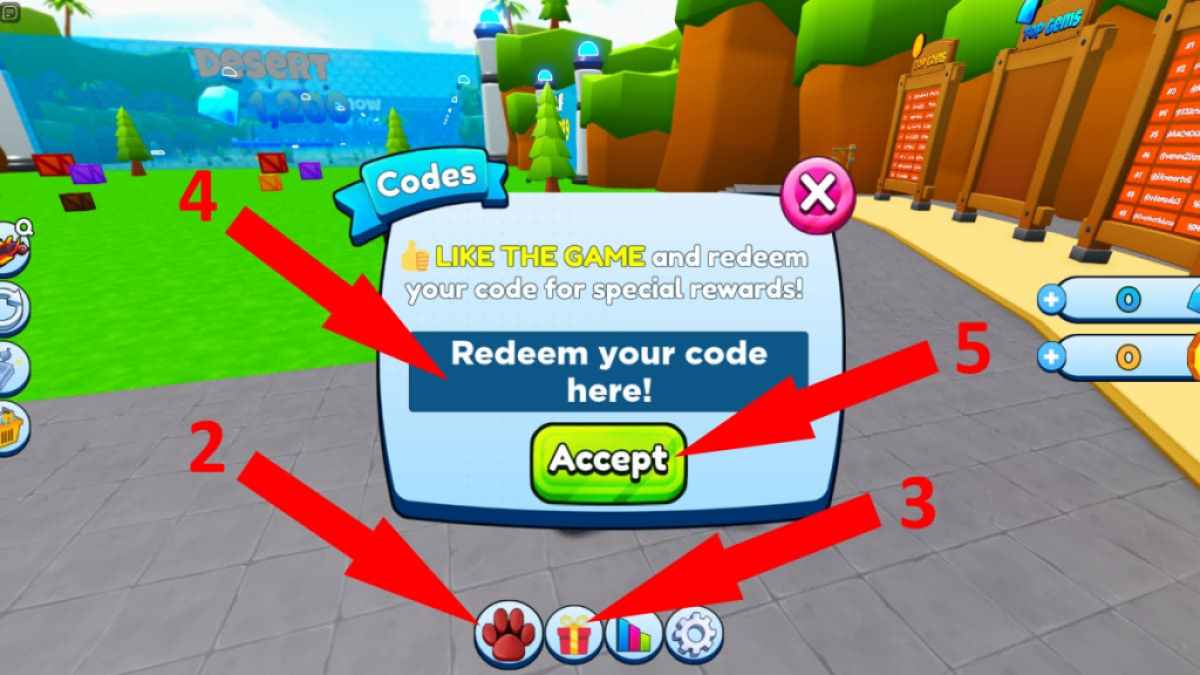 Launch Tank Legends on Roblox.
Press the Pet paw button at the bottom of the screen to extend the menu.
Click the Gift Box button that appears next to the Paw button.
In the dark blue text box, enter the code exactly as it appears in the list above.
Press the green Accept button to claim your reward!
How can you get more Tank Legends codes?
Official Tank Legends codes and other information can often be found via the Tank Legends Team Roblox Group. You can also follow @KanshyGaming on Twitter, where the developers post information about updates that can include new codes.
Why are my Tank Legends codes not working?
Tank Legends codes, like other Roblox codes, need to be entered exactly right to work. So, one mistake, like mistaking a number for a letter or missing a capital, will invalidate them. Try cutting and pasting direct from Pro Game Guides to avoid errors. If you've done that and a code still won't work, unfortunately, it has probably become invalid. This means its time has expired, so let us know so we can update this guide. Then, check back soon as we'll update this page with new codes as soon as we find them.
Other ways to get free rewards in Tank Legends
Tank Legends offers several ways to claim other free rewards while playing. First, you can visit the blue Daily gifts Chest in front of the waterfall once per day to claim some free coins. Next to it, you'll find the red Group Reward Chest. This allows you to pick up even more free coins each day as long as you have become a member of the official Tank Legend Team Roblox Group linked above.
What is Tank Legends?
Tank Legends is a standard Roblox pet collection and gathering experience with its tank theme hiding a cute pet experience. Stand next to crates while your tank shoots them, getting damage bonuses from your pets. Level up your pets to do more damage, then collect gems to pen up new areas with tougher, more rewarding targets to destroy.
If you're looking for codes for other games, we have a ton of them in our Roblox Game Codes post! You can also get a bunch of free stuff via our Roblox Promo Codes page. And in the meantime, take a look at the latest news to stay up-to-date on all things entertainment.