Updated October 16, 2023
Added a new code!
Got an eye for gold, do ya? Then Thief Simulator is right down your alley. Start by intimidating people to hand over their valuables, then move on to the bigger leagues with every step you take. Buy better equipment, or train yourself to become the ultimate Thief. Complete quests to earn extra Cash and get good enough even to start tackling banks!
Becoming a takes skill and precision, so use our Thief Simulator codes for a helping hand to increase your abilities. These codes will either give you instant Cash to get equipment faster or Gems to start rolling for skins because thieves have to look their best!
We have plenty of other criminal-inspired Roblox code lists for games such as Roblox Robbery Simulator, Roblox Bank Robbery Simulator, Roblox Robbing Tycoon, Roblox Prison Tycoon, and Roblox Jail Tycoon so that you can claim free goodies.
All Thief Simulator Codes List
50MIL—Redeem for 15k Cash (New)
CARS—Redeem for 15k Cash
pets—Redeem for 15k Cash
PENTHOUSEFUN—Redeem for 12.5k Cash
20MILLION—Redeem for 10k Cash
Thief Simulator Codes (Expired)
HEADSTART—Redeem for 10k Cash
FUNWISEFUN—Redeem for 7.5k Cash
GEMWORKS—125 Gems
SHINY—100 Gems
10MILLION—10k Cash
almightysosta—Redeem for 10k Cash

newworld—Redeem for 5k Cash
sostaheist—Redeem for 3.5k Cash
movingup—Redeem for 3k Cash
epicitem—Redeem for 3k Cash
finesse—Redeem for 2k Cash
release—Redeem for 2k Cash
Thief Simulator codes, FAQ, Answered
Look no further as we have all the answers to Thief Simulator questions and Thief Simulator codes.
How to redeem Thief Simulator codes
It's easy to redeem codes for free rewards in Thief Simulator. To do so, follow the instructions below.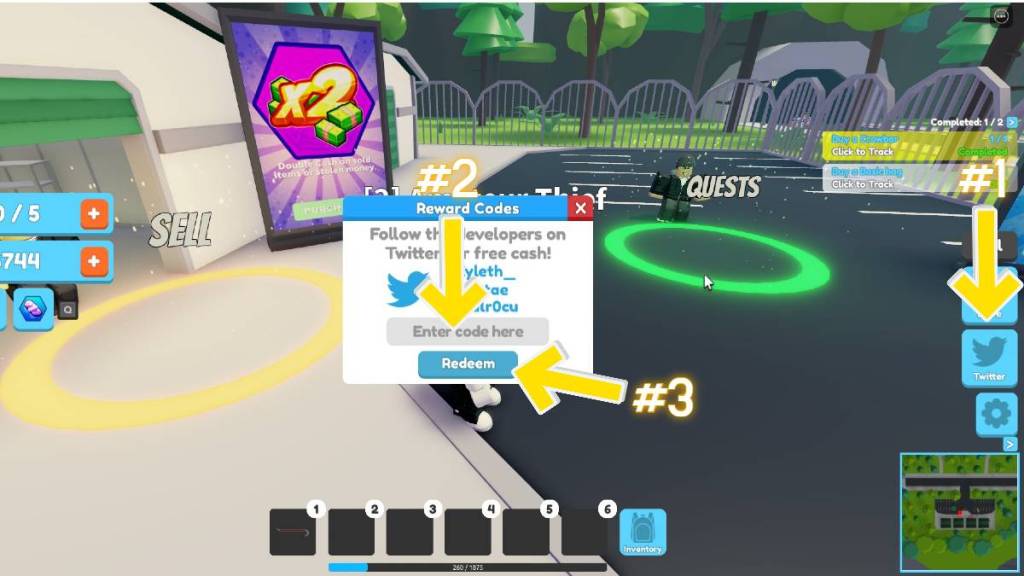 In the game, press the Twitter Bird icon on the right side of the screen.
In the box that says 'Enter code here,' enter the code exactly as it appears in the list above.
Press the blue Redeem button to claim your reward!
How to find more Thief Simulator codes
To find more Thief Simulator codes, follow Zyleth over on Twitter, join the Funwise Discord channel, and join the Funwise Roblox Group to get exclusive rewards.
Or you can bookmark this page by pressing CTRL + D and keep checking back to get the newest codes to save you the hassle of finding them.
Why don't my Thief Simulator codes work?
Your Thief Simulator codes don't work? Then always double-check you have no typos when entering the code into Thief Simulator. If it's even got one mistake, the code will not work. The best way to solve this issue is to copy and paste directly from the list above.
Another reason why your codes don't work is because they may have expired, as these can stop working without any warning at all. If you find a code in our working section that is expired, please let us know asap!
What is Thief Simulator?
Thief Simulator is a Roblox game where you train to become a thief. Start at the bottom of the ladder by mugging people on the street, then escalate that to rob small houses. Sell the items you steal and invest them back into yourself with new equipment upgrades or learn to become stealthier or how to swipe things faster. Increase your rank/level, and you'll eventually be able to rob banks!
If you're looking for codes for other games, we have a ton of them in our Roblox Game Codes post! You can also get a bunch of free stuff via our Roblox Promo Codes page.