Updated October 26, 2023

Checked for new codes!
If a tree falls in a forest, and no one is around to hear it, does it make a sound? Find out in Timber! Fully embrace the lumberjack lifestyle and chop, chop, chop in this addicting, fast-paced experience! Explore various islands, upgrade and customize your axes, and much more! Plus, unlock tons of Cash with the OP codes listed below!
Each Timber code unlocks a unique in-game bonus—from piles of Cash to exclusive items, these codes have it all! If you're looking for even more freebies, be sure to check back with this article regularly—we update this list as soon as new codes come out! If you find a code in the Working Codes section that seems expired, please let us know so we can remove it as soon as possible. Keep in mind, also, that you'll need to enter each code exactly as it's written or the experience won't accept it!
If you're looking for more Roblox content to browse while you wait for new codes, check out some of our related guides including How to farm Spells fast in Roblox Weapon Fighting Simulator, How to get Gems fast in Roblox Clicker Simulator, or Where is the Teddy Bear in Roblox Bitcoin Miner!
All Timber Codes List
Timber Codes (Working)
Here's a look at a list of all the currently available codes:
DREAMISLAND—Redeem for 500 Cash (New)
TIMBERGUY—Redeem for a Timber Worker Skin
80MVISITS—Redeem for Cash
160KLIKES—Redeem for Cash
VERIFIED—Redeem for 750 Cash
YAYTOKENS—Redeem for free rewards
70MVISITS—Redeem for 250 Cash
65MVISITS—Redeem for 300 Cash
1MILMEMBERS—Redeem for 500 Cash
140KLIKES—Redeem for Cash
AXESKINS—Redeem for Gems
REVAMP—Redeem for 500 Cash

FREERT—Redeem for Reward
T1MB3R—Redeem for 5k Cash
Timber Codes (Expired)
These codes are no longer available and can't be redeemed!
55MVISITS—Redeem for 8.25k Cash
40MVISITS—Redeem for Cash
ISLAND—Redeem for 3k Cash
70KLIKES - Redeem 2.5K Cash
BUSYBEES - Redeem for Cash
SUMMERFUN - Redeem for 2K Cash
L0TS0FL0GS - Redeem for 2K Logs
RUINS - Redeem for Cash
REBIRTHTOKENS - Redeem for a Reward
ICEMOUNTAIN - Redeem for 3K Cash

SANDY - Redeem for 3K Cash
1MVISITS - Redeem for 4K Cash
PIRATEISLE - Redeem for 6K Cash
VOLCANIC - Redeem for 12.5K Cash
Redeeming Timber Codes
How do I enter codes in Timber?
It's easy to redeem codes for free rewards in Timber! To do so, simply follow the steps below.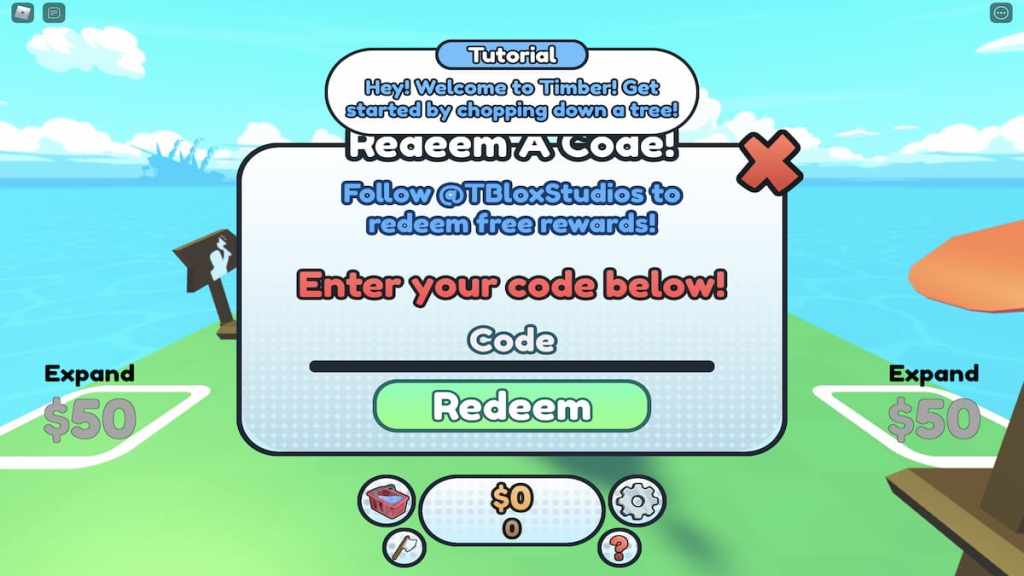 Launch the experience
Click on the cog icon at the bottom of your screen to open the settings menu
Click Redeem Codes
Enter each working code into the text box that appears
Press Redeem to receive your free reward!
How do I get more Timber codes?
The best ways to stay up-to-date on codes are checking back with this article, following TBlox Studios, the development company behind Timber, TJim, Timber's lead programmer, and Box, Timber's lead builder, on Twitter, and joining the TBlox Studios Discord server. Codes for this experience are typically released after large milestones, including high numbers of experience visits, likes, and favorites!
Why aren't my codes working?
Not all Roblox codes are active for the same amount of time, meaning some expire exceptionally quickly and may even become inactive after 24 hours or less! If you attempt to enter a code and it says Code Expired, that code is no longer active and, unfortunately, can no longer be redeemed. There's nothing that you can do to fix this issue, the code is simply unobtainable. If you attempt to type in a code and it says Invalid Code, however, this means that you've likely mistyped the code or neglected to use the correct capitalization. If this happens, try to retype and re-enter the code once more, being sure to copy it exactly as it's written!
What is Timber?
Timber is an experience that invites users to explore the great outdoors, virtually of course, and try their hand at being a world-class lumberjack! Using a variety of axes, on many unique islands, players are tasked with chopping as many trees as they can, as fast as they can! Sell your wood for Cash, use it to upgrade your axes, and the cycle continues!
If you're looking for codes for other games, we have a ton of them in our Roblox Game Codes post! You can also get a bunch of free stuff via our Roblox Promo Codes page.