It's time to take control of your own miniature city in Roblox Tiny Town Tycoon! You'll start small, placing a few houses and businesses and building your population, Sim City style. But soon, you'll be paving roads, adding emergency services, and placing fun areas as you try and keep your population happy. Can you complete all the objectives and mission and become a Tiny Town Tycoon?
Using Tiny Town Tycoon codes will get you a free lump sum of cash. This is incredibly useful, as you can immediately spend it on buying some new buildings such as houses, businesses, or amenities. New buildings increase your income, so the faster you can add them the better. Like building your empire? Then why not check out Apartment Tycoon.
All Tiny Town Tycoon Codes List
Updated January 13, 2023

Updated working and expired codes lists.
Tiny Town Tycoon Codes (Working)
These are all the working Tiny Town Tycoon codes.
buygamestop—Redeem for $20k Cash
Tiny Town Tycoon Codes (Expired)
These are expired codes for Tiny Town Tycoon.
allogrenow—Redeem $50 Cash
Related: Construction Tycoon Codes
How to redeem codes in Tiny Town Tycoon
Follow the instructions below to redeem codes in Tiny Town Tycoon.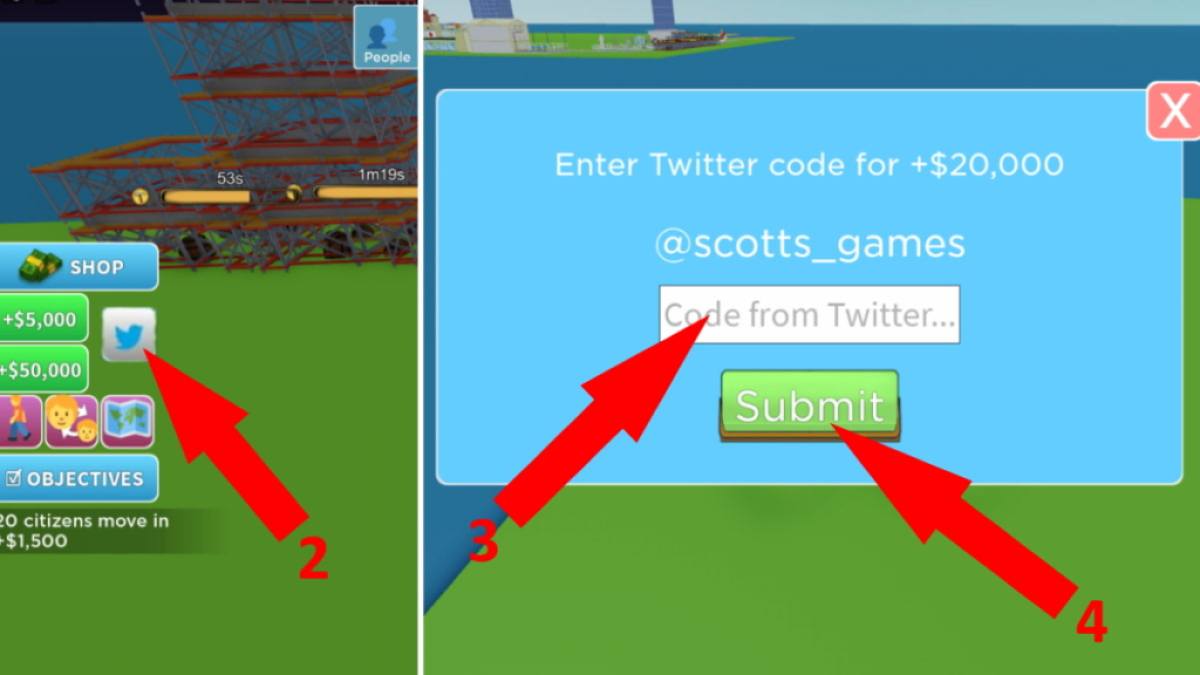 Launch Tiny Town Tycoon on Roblox.
Press the Twitter bird button on the left of the screen.
In the pop-up box, where it says Code from Twitter…, enter the code exactly as it appears in the list above.
Press the green Submit button underneath to claim your reward!
How can you get more Tiny Town Tycoon codes?
If you're on the lookout for more Tiny Town Tycoon codes you can start by joining the Great Scott Roblox Group. You can also follow @scotts_games on Twitter, subscribe to the Great Scott Gaming YouTube Channel, and become part of the Great Scott Gaming Discord Server.
Why are my Tiny Town Tycoon codes not working?
The most common problem you'll get with Tiny Town Tycoon codes is the good old typo. Even a simple capitalization error, or mistaking a letter when it is a number, can mean a code will come up as invalid. Your best bet is to cut and paste it into Roblox direct from Pro Game Guides. But if it still won't work, sadly it may have expired. In this case, we can't help, except to promise we'll be out there looking for new codes and will update this page soon.
Other ways to get free rewards in Tiny Town Tycoon
Entering codes isn't the only way to claim free rewards in Tiny Town Tycoon. Try clicking on the Shop button on the left of the screen, which opens the Shop. Click the Daily Rewards button on the left of the Shop menu to claim an immediate 3x Paycheck bonus. Each day you log in during the week you can increase this multiplier, right up to 30x if you log in for five days in the week.
What is Tiny Town Tycoon?
Tiny Town Tycoon is a city-building Roblox game in which you build houses, businesses, and facilities to increase your income so that you can build more, bigger, and better buildings. As your population grows you need to keep a close eye on your approval rating to keep your citizens happy, while meeting objectives and completing missions to earn extra cash for expansion.
If you're looking for codes for other games, we have a ton of them in our Roblox Game Codes post! You can also get a bunch of free stuff via our Roblox Promo Codes page. And in the meantime, take a look at the latest news to stay up-to-date on all things entertainment.