Construction Tycoon is a base building and PvP tycoon-style Roblocks game. But things aren't as innocent as they might first seem as you lay those initial foundations. It won't be long before you're setting up ways to create new weapons and shipping them off in trucks to earn more Cash. And watch out for your neighbours, because it seems everyone in this neighbourhood wants a piece of the action!
Entering Construction Tycoon codes will reward you with free Cash. You can spend cash on your construction site to buy all manner of improvements, such as weapons and vehicles to go on the offensive and walls and turrets to be defensive.
If you like tycoon-style Roblox games, we have plenty more free code pages for you to visit. Why not check out Military Tycoon Codes, Dragon Dynasty Tycoon Codes, Evil Genius Tycoon Codes, Military Island Tycoon Codes, and Death Star Tycoon Codes?
All Construction Tycoon Codes List
Updated November 25, 2022

Added a new Construction Tycoon code.
Construction Tycoon Codes (Working)
Here's a look at all the working Construction Tycoon codes.
like—Redeem for 5,000 Cash (New)
Construction Tycoon Codes (Expired)
These codes for Construction Tycoon no longer work.
There are no expired codes for Construction Tycoon
How to redeem codes in Construction Tycoon
Redeeming codes for free rewards in Construction Tycoon is easy. Follow our guide below.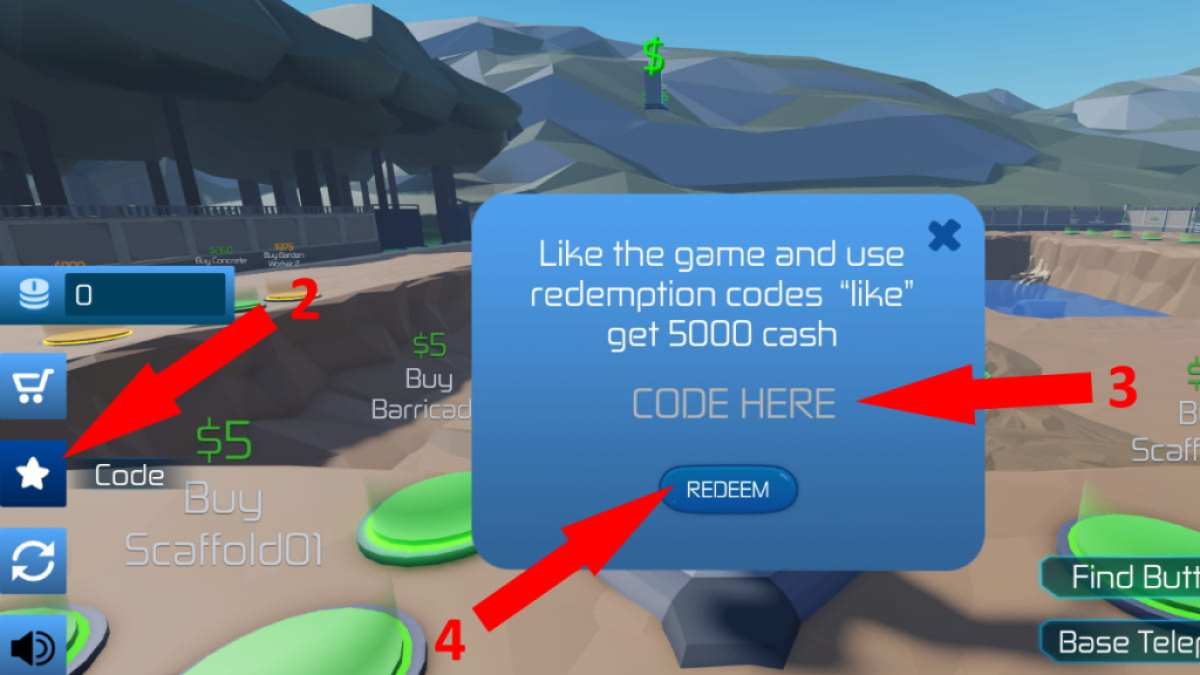 Launch Construction Tycoon on Roblox.
Press the blue Star button on the left of the screen.
In the text box that says CODE HERE in the pop-up, enter the code exactly as it appears here.
Press the blue REDEEM button beneath the text box to claim your reward!
How can you get more Construction Tycoon codes?
Looking for new Construction Tycoon codes? You can start by joining the Ge Game Studios Roblox Group. Another great place to look out for codes is to become part of the Ge Game Studio Discord Server. But don't worry too much, as we check for new codes regularly so that you don't have to.
Why are my Construction Tycoon codes not working?
If you're having an issue redeeming a Construction Tycoon code, first check you haven't made a typo. We always suggest cutting and pasting any Roblox code directly from Pro Game Guides to avoid this, as it is easy to get the capitalization wrong or mistake a number for a letter. If you're definitely inputting the code exactly as printed, unfortunately, it may have expired. In this case, there's nothing to do but wait for a new code. But don't worry, we'll be out hunting for new ones right now.
Why are some site buttons different colors in Construction Tycoon?
When you start playing Construction Tycoon, you'll notice that most buttons on your construction site are different colors. The different colors represent different factors in the game:
Green: Green buttons will create new physical items on your site. These are essential to increasing your income.
Yellow: Yellow buttons create workers. These guts also help your income, but usually need at least one nearby green button to be bought (usually next to them) before they can function.
Purple: Purple buttons can only be bought with Robux, for automating a process such as Cash collection or defense turrets.
As you complete more green and yellow buttons, more will become available to continue the construction. So, you don't need to use the purple buttons to keep building up your site. But they are very useful for defense.
What is Construction Tycoon?
Construction Tycoon is a base-building tycoon-style game that also involves competing directly with other players through combat if you choose to. Build up your construction site by spending Cash to add materials and workers, which in turn increases your income speed. But you can also choose to make a vehicle, and arm yourself, before heading out into your neighborhood to find valuables and fight with other players in PvP combat.
If you're looking for codes for other games, we have a ton of them in our Roblox Game Codes post! You can also get a bunch of free stuff via our Roblox Promo Codes page.