I don't like joining a game and getting spawn-killed continually, which is why Private Servers can be such a godsend, allowing you to escape from those particularly annoying players and enjoy playing the game your way. Private Servers not only allow an escape, but you can switch up the game to your liking, such as placing practice dummies, making only certain movesets available, and more.
Private Servers are created by online players, and they cost Robux to open. Usually, the codes to join the servers are private to the owner, but several players have chosen to give out the codes for other players to join freely. You can join other Private Servers for games like this, such as Borumaki vs Kamaki Private Server Codes – Shindo Life.
All Rogue Demon Private Server Codes List
Here is a look at all the working Private Server codes.
dXXZQ7
NX6yTG
jUmaZu (Europe)
CjLPW2
X77Ydn
Related: Rogue Demon Codes
How to use Rogue Demon Private Server codes
After finding a private server code for Rogue Demon, it is a quick and easy process to join them.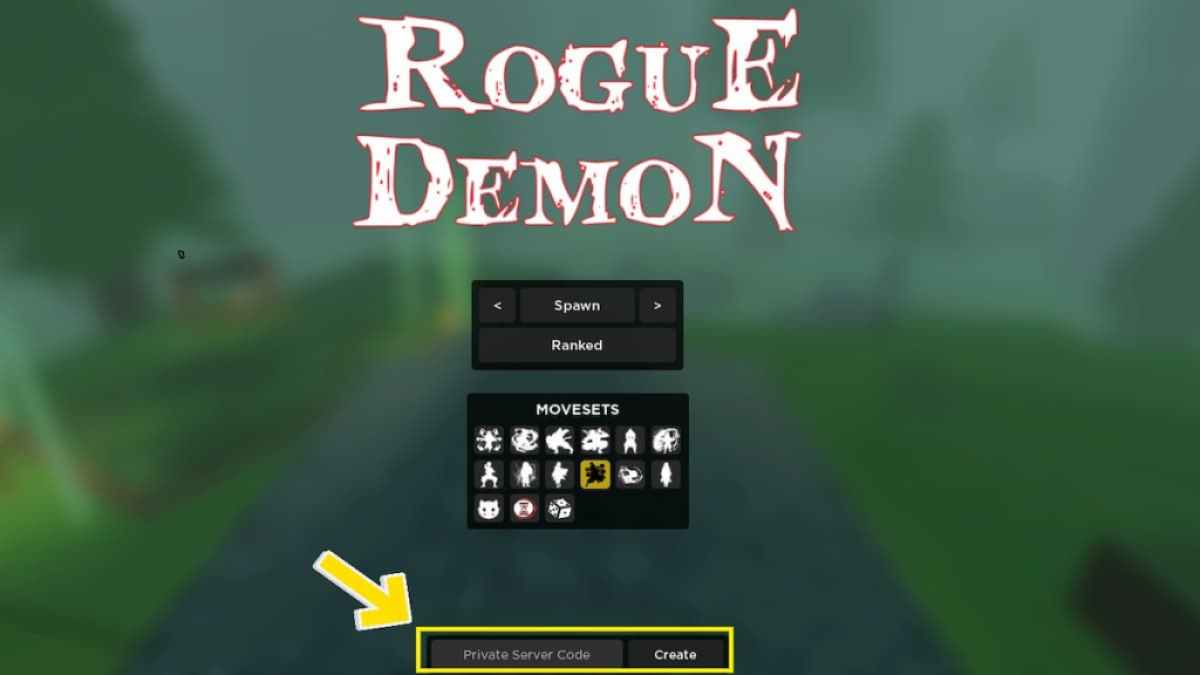 In the game, locate the Private Server text box at the bottom of the Main Menu.
Type your Private Server code into the text box exactly as shown in the list above.
Press Join to load into the server!
How can you get more Rogue Demon Private Server codes?
Private Server codes are shared by other online players at their own leisure, meaning there is no guarantee that there will be working codes 24/7. However, you can more often find these shared codes on the game's social media pages, such as its Discord community. You can follow Rogue Demon's Discord, Rogue Demon (hyperlinked here), and check under their Private Server Codes channel. For your convenience, you can also bookmark this page and check back whenever to see when new codes are added.
Why aren't my Rogue Demon Private Server codes working?
There are various reasons why your Private Server codes may not be working correctly. The most common reason is that the code has already expired or the player has shut it down. Since Private Servers cost Robux, players will not always keep the server open forever and can shut them down without any warning. We try to keep our lists updated, but if you notice a change before us, feel free to leave a comment below, and we will try to fix it as soon as possible.
It is also important that you check your spelling when entering the codes. They are almost always case-sensitive, meaning the slightest typo could make them appear invalid. Ensure you are entering them exactly as shown in the list above, or if the game allows, I like to copy and paste to avoid any issues.
How to create a Private Server in Rogue Demon
If there happen to be no other Private Servers available, or you feel like trying your hand at your own Private Server, you can create one yourself. All you have to do is head into the game and look for the Private Server text box at the bottom of the main menu. Without typing anything in, click on the button beside the text box that says Create. This will prompt a window to pop up, asking if you'd like to purchase a Private Server with Robux. They cost 500 Robux to create, and you can select Purchase or Cancel to continue.
What is Rogue Demon?
Rogue Demon is a Demon Slayer-inspired anime PVP game. You get to choose from a variety of movesets, each themed like the Breathing and fighting styles you see in the manga and anime, such as Sun Breathing, Thunder Breathing, and more. You'll have five different unique abilities that you can use in battle against other online players. Try to get the upper hand and get executions to reach the leaderboard and earn Rogue Points to purchase fun customizations.
If you're looking for codes for other games, we have a ton of them in our Roblox Game Codes post! You can also get a bunch of free stuff via our Roblox Promo Codes page. And in the meantime, take a look at the latest news to stay up-to-date on all things entertainment.