There ain't no party like a Super Roblox Party! Get your lucky dice cup and enter the game, moving around the board for six turns, trying to land on money, luck, and crown spaces to gain rewards. Then cement your position at the top of the leaderboard by winning the action-packed mini-game that happens at the end of each of the six rounds. May the dice be with you!  
Super Roblox Party codes can reward you with pets or in-game currencies. Gems are the main currency, which can be used in the Daily Shop and Crates Shop to buy Pets, Dice, Crates, Icons, and Celebrations, all of which are cosmetics. If you love Roblox experiences with dice, you should also take a look at Dice Simulator Codes.
All Super Roblox Party Codes List
Super Roblox Party Codes (Working)
These are all the working Super Roblox Party codes.
There are currently no working codes for Super Roblox Party.
Super Roblox Party Codes (Expired)
These are expired codes for Super Roblox Party.
release—This code has expired.
Related: Tumble Minigames Codes
How to redeem codes in Super Roblox Party
Follow the instructions below to redeem codes in Super Roblox Party.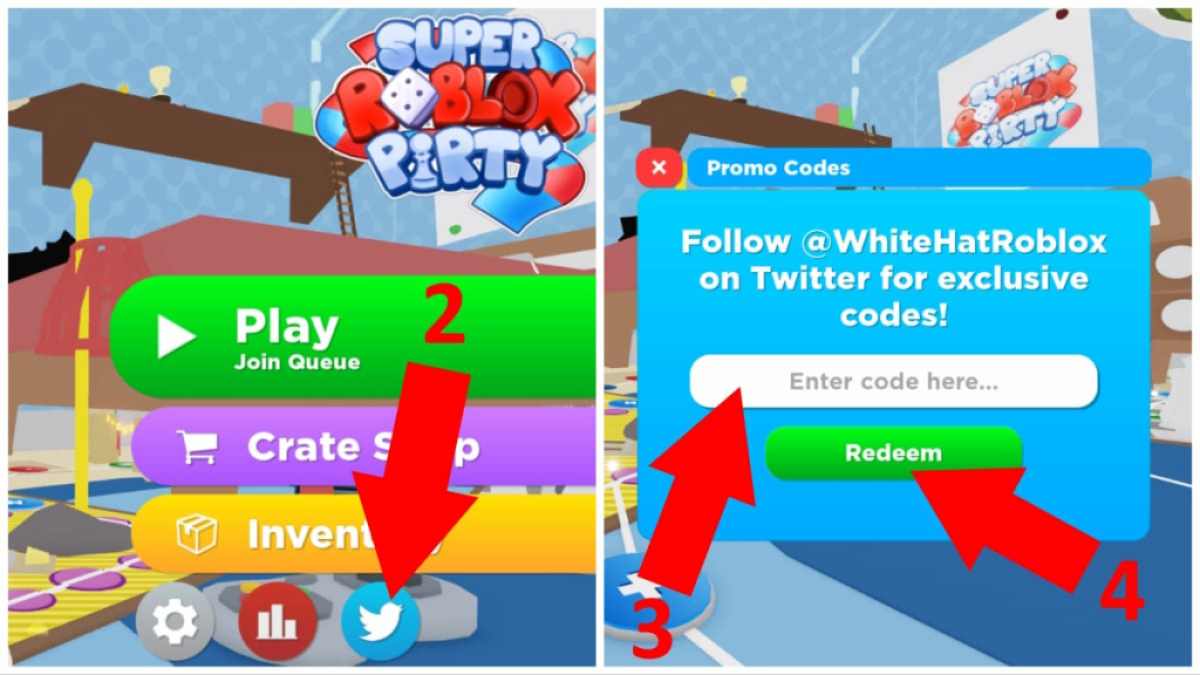 Launch Super Roblox Party on Roblox.
Press the blue Twitter bird button.
In the text box saying Enter code here, do that as it appears in the list above.
Press the green Redeem button to claim your reward!
How can you get more Super Roblox Party codes?
You'll find there are several great places to search for more Super Roblox Party codes, starting with the White Hat Studios Productions Roblox Group. You'll probably also want to follow @WhiteHatRoblox on Twitter for potential codes and sneak peeks, as well as join the White Hat Studios Discord Server community, where you'll find areas dedicated to codes, announcements, and more.
Why are my Super Roblox Party codes not working?
The Super Roblox Party codes you'll find above need to be exact, including capitalization, for them to work. It also means if you mistake a letter for a number, a code will come up as invalid, so make sure to cut and paste them in if you can. If that doesn't fix a code, it's usually because it has expired. Most Roblox codes expire in the end but rest assured, we'll do our best to keep the page up to date with new ones as soon as we find them.  
Other ways to get free rewards in Super Roblox Party
To get more free rewards in Super Roblox Party, make sure to log in every day. When you do, you'll get a free Wheel Spin giving you a random number of free Gems. Beyond that, your best bet is to simply participate in the party! Simply by playing, you'll receive experience and level up (which gives you free Gems, too), as well as getting free Dice and Crowns for everything from winning to coming last! So even if a game isn't going so well, it is worth staying to the end.
What is Super Roblox Party?
Super Roblox Party is a competitive game in which players are put into a dice board game against random opponents. Each game lasts six rounds and also contains a variety of mini-games. All players will receive some level of rewards and experience, so it isn't all about winning. As the title suggests, this is a party, and everyone will come out with some presents.
If you're looking for codes for other games, we have a ton of them in our Roblox Game Codes post! You can also get a bunch of free stuff via our Roblox Promo Codes page. And in the meantime, take a look at the latest news to stay up-to-date on all things entertainment.