If you are just starting out in SCUM then you are going to need to know some of these basic things to craft to get your journey underway. Learn how to craft a Stone Knife, Makeshift Backpack, and Clean Rags! These items will help you gather resources, carry more items, and heal yourself when you are low on health.
What is SCUM?
SCUM is an open world multiplayer survival game with a ton of character customization. If you've ever heard of Day-Z then this game is very similar, but feels more modern and has a lot more in-depth character details and RPG like stats to customize. The game is currently in Early Access.
If you're wondering how-to Hunt and Cook then check out our SCUM Guide to Hunting and Cooking!
Crafting a Stone Knife in SCUM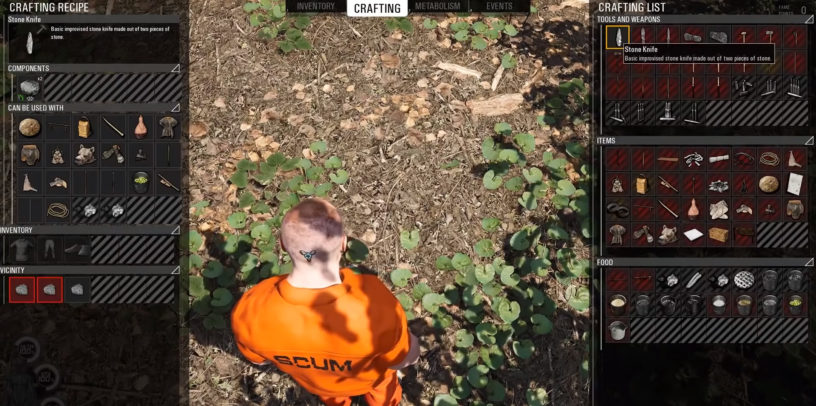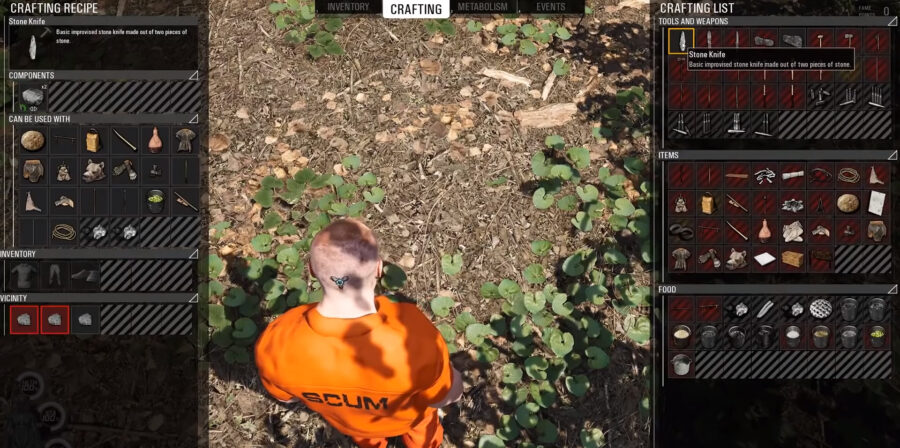 When you start out you should be able to look around on the ground for some small stones. You only need two of these, once you find them head to your crafting menu and select Stone Knife under the tools and weapons section. Hit the craft button and you've got yourself something you can carve up zombies and animals with! The other important aspect of the Stone Knife is that it allows you to cut up clothing giving you rags to use.
Crafting an Improvised Courier Backpack in SCUM


This is an early recipe you can do to give yourself some more inventory space. Go ahead and put your Stone Knife in your hand and right click on your shirt/pants and click Cut into Rags. Once you have your Rags, you'll also need to craft some Rope. Unfortunately, you don't have what you need to craft the backpack which is a rope. Instead, if you click on the recipe for the Improvised Courier Backpack you'll notice some small arrows under the components section of the recipe. If you click this, you can use alternate ingredients! We'll want to create the Improvised Rope, so right click on your rags and click the Cut Into Rag Strips option. Do this until you have enough for the Improvised Rope. Create that and then you can create your backpack!
This backpack gives you nine inventory slots which will give you some room extra room for items until you find a bigger bag.
Crafting a Spear in SCUM
Before you get to looting you are going to need something to defend yourself with. The trusty Spear is a great option to take out some early Zombies from a distance or if they get into your face. Find yourself a larger green bush and use your Stone Knife to chop it down for some Large Wooden Sticks. Use these to create a couple of Improvised Wooden Spears in your Tools and Weapons section.
You can use this Spear as a mid-range weapon that you can throw at Zombies or other enemies.
Crafting Bandages/Clean Rags in SCUM
You've already basically created some Clean Rags, but understand why you need these for healing is important. You are going to be killing Zombies and they have dirty clothing. You'll want to wear these for the time being, and use any clean clothing to chop down. You can use your Stone Knife and cut down this clothing for Clean Rags. Once you need to heal yourself, you can right click on these rags and hit Patch Wounds. This will stop you from bleeding and you will SLOWLY be healed.