I can't emphasize how important meals are in Sea of Stars. Forget constantly thinking of how to heal your party—just throw a decent meal, and you can replenish everyone's HP and MP in one move. Food is especially useful for long treks and boss battles. I particularly like hoarding the MP food like Chaudree, so I don't always need to be cautious of my mana!
Every food recipe in Sea of Stars & where to find them
Whether you're doing it to complete an achievement or are simply looking to save gold by cooking your own meals instead of purchasing them from a shop, you're going to want to gather all possible recipes in the game. Unlike most games, however, some of these recipes can't always be gathered by normal means (such as quests and shops). So, here's a quick guide to help.
Related: All Quiz Master answers in Sea of Stars – All Question Pack answers & locations
If I'm mentioning a town, the Relic can be bought from the local Item Store! If it's in a chest that's out of way in the main story, I've provided separate sections for all of them below this table to help you find them more quickly.
Food Recipe
Effect
Location
Berry Jam
+5 MP
Given to you at the beginning
Tomato Club
+20 HP
Given to you at the beginning
Basic Salad
+35 HP
Given to you at the beginning
Herbed Fillet
+50 HP
Given to you mid-game
Roast Sandwich
+60 HP
Given to you mid-game
Chaudree
+8 MP
Chest in Mountain Trail
Mushroom Scramble
+35 HP / +5 MP
Chest in Elder Mist's Trials (middle path)
Mushroom Soup
+40 HP (All)
Chest in a Moorlands cave
Papillote
Cures K.O. with 50% HP
Town of Lucent (at first)
eventually purchasable from most towns after
Hearty Stew
+90 HP
Chest in Flooded Graveyard
Mooncradle Fish Pie
+55 HP / +5 MP (All)
Chest in Haunted Mansion (Dining Area)
Bouillabaisse
+110 HP / +6 MP
Docarri Village
Croustade
+80 HP / +7 MP (All)
Mirth (must open an Item Shop first)
Parfait
Cures K.O. with 75% HP
Underwater Chest in Autumn Hills
Peach Strudel
+12 MP
Cloud Kingdom
Sashimi
+155 HP
Chest in Derelict Factory
Yakitori Shrimp
+15 MP
Repine
Pain Doré
+9 MP (All)
Lost Ones Hamlet
(one of the floating souls is an Item Shop)
Gourmet Burger
+175 HP / +7 MP
Lost Ones Hamlet
Champion's Omelette
+255 HP
Chest in Sacrosanct Spires
Surf and Turf Tataki
+135 HP / +8 MP (All)
Sky Base Vending Machine (near the last camp spot)
Poutine
Cures K.O. with 100% HP
Rainbow Conch reward (Lake Docarria)
Lasagna
+180 HP (All)
Fleshmancer's Lair (Cultists' Room - one of them sells items)
Braisé
Fully restores HP and MP of an ally
Fleshmancer's Lair (Cultists' Room)
Pudding Chomeur
Fully restores MP of an ally
Rainbow Conch reward (Lake Docarria)
Legendary Feast
Fully restores HP and MP (All)
Enter the Golden Pelican
Chaudree (Mountain Trail)
The Chaudree recipe can be found along the Mountain Trail. This is the climb you initially go through to reach Elder Mist. It's covered by a fog near the waterfall.
Mushroom Soup (Moorlands)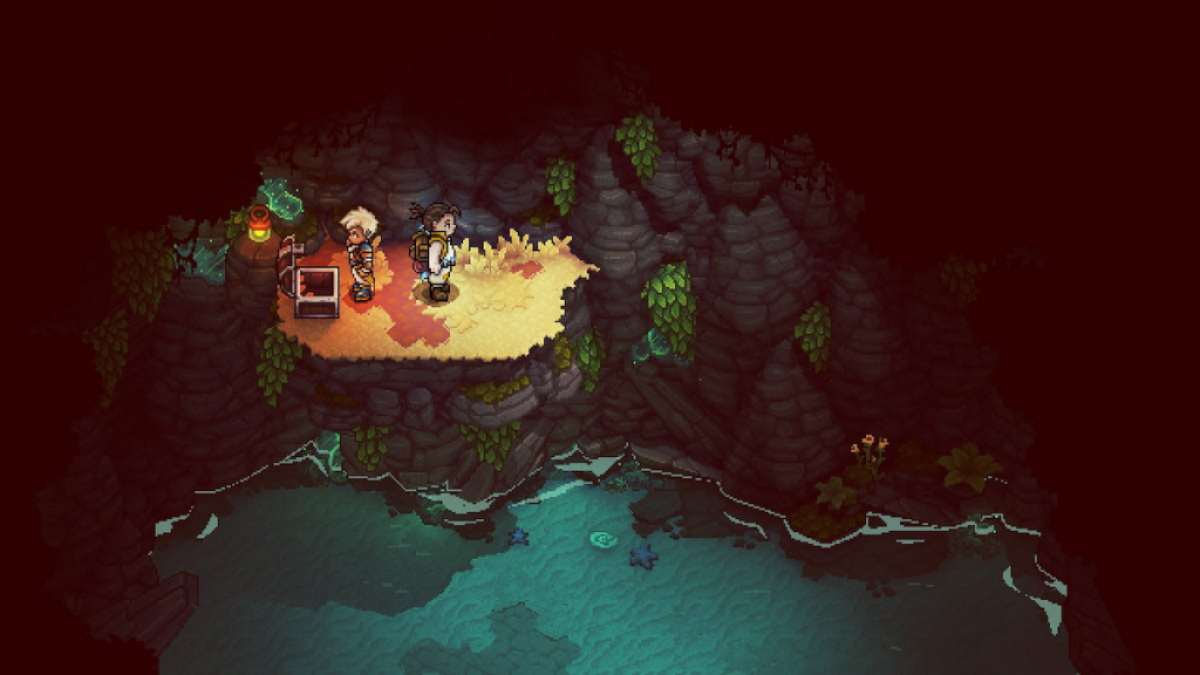 The Mushroom Soup recipe is in this chest, found in a cave along the Moorlands. It's impossible to miss but does need a couple of extra steps to reach. First, exit this cave and climb to the ledges up top to discover a gigantic hole. You can jump into that.
Related: Complete Sea of Stars Fishing Guide – All Fishing Locations, How to catch, & more!
Hearty Stew location (Flooded Graveyard)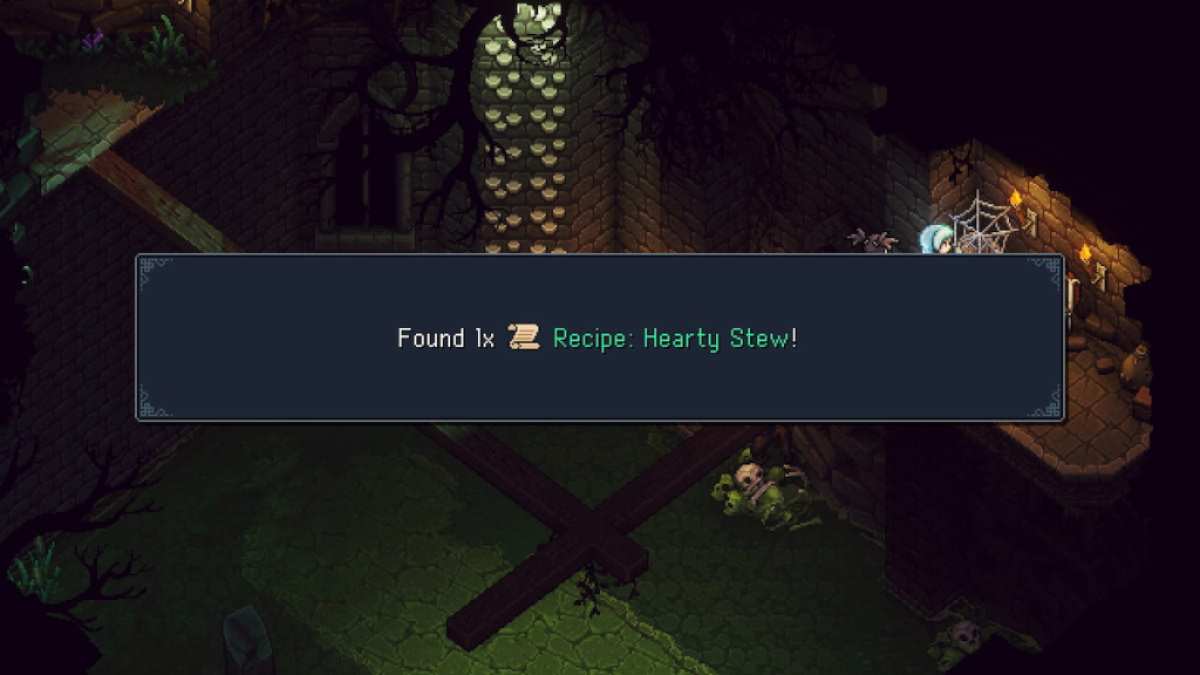 The Hearty Stew is in a cavern you won't miss while you're traversing the main story. Once you climb to the very top of it, just jump down, angling your fall towards the platform on the left.
Champion's Omelette (Sacrosanct Spires)
The Champion's Omelette is inside a chest at one of the bottom floors of the Sacrosanct Spires. To reach it, you must jump into this particular hole. Climb to the above floor.
For more help with Sea of Stars, take a look at Sea of Stars Wheels Guide – How to play, all rewards, & more! here at Pro Game Guides.