Raising children in The Sims 4 can be hard enough, but raising 100 sounds nearly impossible. That's why the 100 Baby Challenge is so beloved by Sims fans. Find out how you can get started with the challenge, what the rules are, and get some helpful tips.
Getting Started
Make your sims in Create-a-Sim. Consider making a new save file if you want everything to be fresh. Your sim does not need to be female, but they do need the ability to get pregnant from other sims. It can only be this sim in the household. Give them any appearance or traits that you desire, then click the checkmark to move them into a home.
Move your sim into any lot that does not require cheats for more money or free real estate. Design the home however you'd like, including lot traits if applicable.
Check your game settings. Aging for lifespan needs to be On and set to Normal.
Get your bearings, meet your neighbors, and develop a game plan for how best to approach having your babies.
Related: How to speed up pregnancy & choose the baby's gender in The Sims 4
Tips
Try going to places like bars, karaoke lounges, parks, and other public venues to find potential mates. Strike up a conversation with many sims at once to have a large catalog of friends you can invite to places later.
When sims are school age, buy a large dining table or picnic table outside. When they get home from school, have all of them complete their homework in one spot.
Have your teen sims help out with the children and cleaning, as this is not technically prohibited.
Name the babies in relation to their birth order (for example, Forty) to keep track of your numbers.
Know that this will take a long time. The 100 Baby Challenge cannot be completed in one day or even one weekend unless you do it in a very unhealthy way. Take care of your needs and pace yourself.
Feel free to create households of bachelors and bachelorettes for your sim to have babies with.
Get creative with ways to make money, like having teens work part-time jobs or have the birth-giving sim work from home. Jobs like freelancer are relatively easy and leave your sim with plenty of time to parent.
Drag food from the fridge and place it in the bedroom for toddlers. They can eat without high-chairs this way.
Invest in floor and wall space before you buy fancy furniture. Big households need room to move around and live their lives.
Don't move all young adult sims out until necessary. They can work jobs, help out with the household, and more. Only move them out when you need more space.
Related: Best Sims 4 Build Challenges
Rules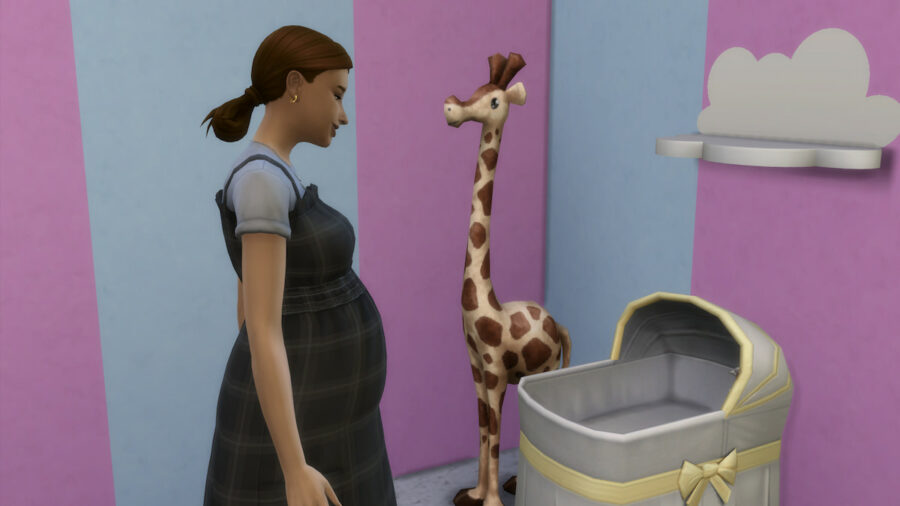 There are quite a few rules in the 100 Baby Challenge. That's why we've put them into different categories below, based on what topic they concern. Try to follow them to the best of your ability, but don't be afraid to make your own rules if these don't seem ideal to you.
Getting pregnant & relationships
Any mods or cheats that help your sim get pregnant, find a partner, or otherwise augment the challenge are not allowed.
The birth-giving sim cannot do things like eating strawberries to purposely influence gender.
The birth-giving sim cannot marry another sim until they are elderly (or otherwise cannot conceive anymore).
The birth-giving sim can only get pregnant from a single sim one time. It must be a different sim each time conception occurs.
"Father" or birth-helping sims may not be allowed to live on the premises or help out with child-raising.
Caterers and nannies are not allowed to be hired or be in the home. Other services like maid cleaning are up to the player's discretion. Butlers are only allowed if you have a mod to disable childcare services.
Raising children
Adopted children do not count towards the total of 100 babies in the challenge.
Babies cannot be aged up until it is their birthday (you'll get a notification for this).
Toddlers, children, and teens must all have randomized traits. You cannot pick out their traits for them.
Toddlers can be aged up if their skills are all at level three or higher (otherwise, wait until their birthday).
Children and teens can be both aged up if they get their grades up to A in school (otherwise, wait until their birthday)
Young adult sims can be sent to live somewhere else at any time, but they cannot move back into the household. Keep this in mind for furthering the legacy.
Killing or letting children get taken away by social services is prohibited. If this happens, they do not count as a baby for the challenge.
The birth-giving sim must stay home to care for the children but can work from home.
Raising child actions like disciplining bad behavior, teaching the child, and other forms take priority over other activities for the parent (this only applies with the Parenthood pack).
Death & Legacy
Using any mods, potions, or other actions to delay death is prohibited. This includes using points from the perk section of the game.
When the birth-giving sim turns elderly, the new leader of the challenge is the youngest child that can give birth to children.
Ghosts cannot join the household.
Miscellaneous
Vacations are allowed, but only if the whole family goes along with them.
Occult sims are allowed to be born, but they must disguise themselves in public. Each occult or hybrid occult in that generation counts as two children. If the next leader of the challenge is an occult child, the rules revert back to one child for all children, occult or not.
Pets are allowed, but keep in mind they take up household slots.
Want to read more about The Sims 4? Check out All ways to die in Sims 4 & how to trigger them on Pro Game Guides.