The Sims 4 has many packs now, which open up an entire world of home creations. There is pretty much a style for every player out there, meaning that dream homes are very possible within the Simverse! Not to mention custom content on top of that! So, here are the best challenges to put those add-ons to good use.
Whether you only have the base game or all of the expansion packs, you can do these challenges, so get to building and see what you can do!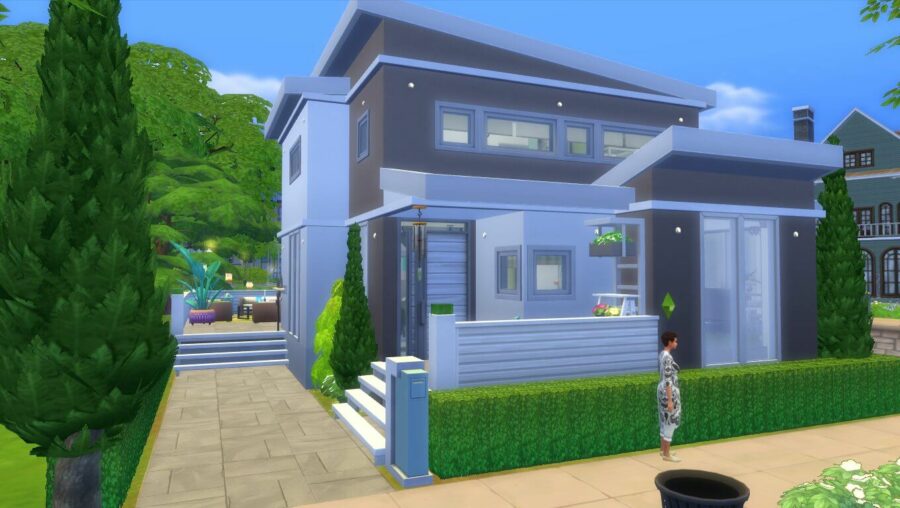 The 10k Starter Home Challenge
This first one is a really good one for making a nice home on a budget. You will get to know your inventory really well and come to know what is affordable and what isn't! With the 10k starter home challenge, you need to build a fully functional house, bedrooms, bathrooms, kitchen, etc., using only 10,000 simoleons.
If you have only ever built using the Motherlode cheat before, you will most likely be very quickly surprised at how much things in the sim store actually cost!
The 10 Minute Challenge
This one will test how good you are at thinking on your feet and how quickly you can use your building skills in terms of layout and aesthetics. The 10-minute challenge requires you to build a fully functional house in just 10 minutes. It needs a kitchen, suitable bathroom, bedrooms and living space. Are you sim savvy enough?
The Dollhouse Challenge
Do you remember or still have a specific dollhouse from your childhood that you adored? Well, now is the time to recreate it! The idea behind the Dollhouse challenge is to design a house that looks like a dollhouse. It needs to be at least two floors and have an open back to see inside. Of course, you can use any dollhouse as an inspiration, but this could be nicely nostalgic!
Related: Best Sims 4 Mods
The Mini-Micro House Challenge
In terms of tiny living, this is definitely a small house! The Mini-Micro challenge comes with some narrow stipulations. You must:
Only create a home using 20x15 tiles.
Only have objects inside the house (nothing externally).
Only use 18,000 simoleons.
Although this challenge is more forgiving moneywise than the 10k challenge, there is not a lot to work with in terms of space! You will need to maximize space usage to the best of your ability and will most likely benefit from the Tiny Living pack as well. Better make sure you have bb.moveobjects on!
The Ugly House Challenge
This challenge might arguably be where your imagination and talents truly come to life. In this, you must fight all of your urges to make a stylistically pleasing home and instead create something that is a home designer's nightmare! Basically, make the ugliest house you can imagine.
You don't have a price cap on this one so that you can Kaching your money in. However, you must use at least 10 colors that clash together and mix them all up. The house must be a strange and abnormal shape, and the front/backyard must be filled with weird-looking ornaments and pieces. Basically, throw loads of stuff out on your lawn!
The Solid Color Challenge
Got a favorite color? Great! That's the only one you're allowed to use… Well, it doesn't have to be your favorite color if you don't want, but the build must consist of one color and one color only. That goes for everything, including the floors, the walls, the beds, the decorations, the cabinets, you name it! All the same color.
The good news is that everything will kind of match! The bad news is you might wake up one day and suddenly dislike mustard yellow!
The Goths Manor Challenge
With this one, you have to go gothic, much like the name suggestions. You are allowed a lot size of 30x40, but the existing house on the lot must retain the original floor plan. Everything within the lot needs to be goth-ified by using the colors red, purple, black, and dark blue.
The exterior also needs to be transformed to have a Whitby, Dracula's castle, feel about it. It could have spires and pointy roofs, as well as dark paint on the outside to match. We're talking like Addams Family Values vibes here! You could even create a little Wednesday if you wanted.
Related: Max All Skills Cheat in The Sims 4
The Wheelspin Build Challenge
The Wheelspin build challenge requires you to use a number generator and then associate the number you get with the stipulation on this sheet created by LilSimsie. The document does have instructions on it, but essentially you need to build a house using whatever the number generator/wheel tells you that you can use.
For example, it may turn out that you can only use a small lot in Oasis Springs with a 25k starter, and it also has to house six sims in a Colonial style. You can add values as well, so if you have more than the three base game worlds, you can add columns for the ones you own to have a wider variety.
No Mistakes Challenge
This one might be one of the hardest on this list. A lot of the time, when we build in The Sims, we want to get a feel for a layout first. Then, we will change it later once we realize what shape it is going to take. Well, not in this challenge, you don't! Think wisely about where you want to put things, as once it's placed, it's staying, baby!
The floorplan, the room sizes, and shapes, everything has to stay. This is interesting because you can end up with some builds which actually end up being really impractical! One moment your bed is in the right place, the next it's too close to a wardrobe, desk, chair, lamp and everything else!
If you also want to increase the stress in this challenge, you can assign yourself a time limit as well - if you're really that way inclined!
A Different Pack for Every Room Challenge
This challenge can surprise you by using items that you wouldn't have thought to use before! If you are really talented with bb.moveobjects on, you can combine things in artful ways that are just truly transformative, darling!
All jokes aside, the challenge aims to build your house shell and then generate random packs for each different room. The house can be any size you like, so there are no limitations there. However, you will be limited by what packs you can apply.
The funny thing about this is that there is a real chance of you getting stuck with an outdoor pack to design a bathroom. The possibilities are endless and usually inconvenient design-wise!
Popular Sims YouTuber James Turner has created his own generator that is perfect for this. Simply select the packs you own and click the generator for each room to see what you get!
These challenges should keep you going for a while in terms of building! Looking for more tips? Check out the best Sims 4 game packs.