Maxis has once again released a free update to The Sims 4 for all players to enjoy. While updates to the game are often focused on bug fixes and the occasional Create-a-Sim or Build-and-Buy items, the new Neighborhood Stories feature promises to be a game-changer to the way Simmers enjoy their worlds.
Neighborhood Stories allows players to have a more well-rounded and autonomous community who make their own decisions. Unplayed households in the world can complete actions without the control of the player, such as adopting children, getting divorced, moving, and even dying from things other than old age.
Related: All Animal Treats and Effects in Sims 4: Cottage Living
Players may already be familiar with this concept, which has often been called Story Progression within the community. A similar mechanic was available in The Sims 3: Generations expansion, as well as a large feature of the popular MC Command Center mod for The Sims 4. Now players can enjoy autonomous worlds without any modification.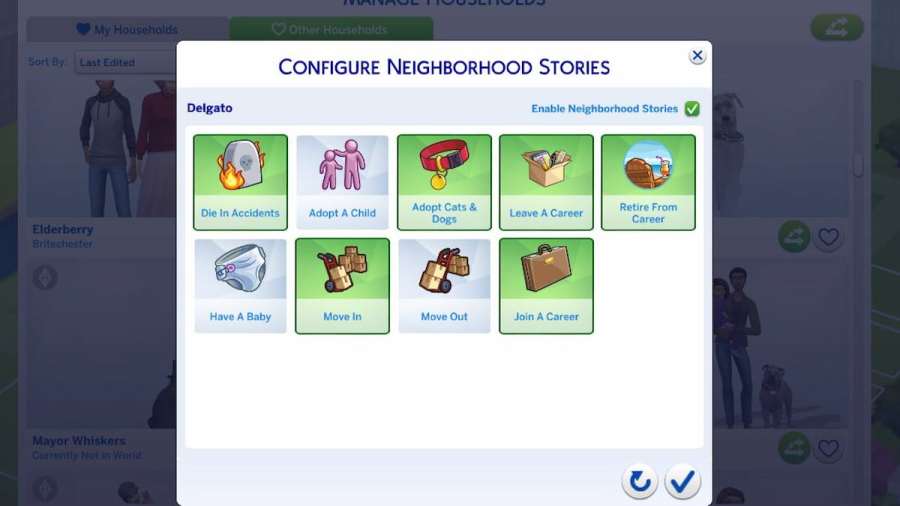 Maxis also announced that players will have some control over their communities, such as what actions neighbors can and cannot make on their own. Players are even able to disable automatic changes for certain households if they desire. This can all be controlled within the Manage Households part of the game.
For more on The Sims 4, check out Best Sims 4 Game Packs on Pro Game Guides.