Sims 4: Cottage Living DLC introduces new animals to the game including cows, chickens, and llamas. These animals can be fed treats to make them happier and can even change their appearance. Treats can be purchased from the Crumplebottom stall in the Finchwick district of Henford-on-Bagley, received as a reward for winning a Finchwick Fair competition, or received as a gift from wild animals.
Once a Sim feeds a treat to an animal for the first time, the Sim will learn the recipe to craft that treat. Animal treats can be crafted by interacting with the refrigerator and selecting "Create Animal Treats", then selecting which one you would like to make.
Related: How to Enter the Finchwick Fair in Sims 4: Cottage Living
Certain treats will change the appearance of animals and give them interesting status effects. Here is the full list of treats with recipes and status effects included.
Treat
Recipe
Status Effects
Animal Appearance
Animal Party Treat
Any Berry, Any Mushroom
Social need increase (All animals)
None
Chocolatey Treat
Chocoberry, Custard
Chocolate Milk (Cows), Brown Wool (Llamas), Chocolate Egg (Hens)
Brown (Llamas)
Fishy Protein Treat
Any Fish
+1 increase for Next Harvest (All Animals)
None
Flirty Treat
Strawberry Jam, Sugar
Strawberry Milk (Cows), Pink Wool (Llamas), increase hatchable eggs (Hens)
Pink (Llamas)
Friendly Treat
Any Fruit or Vegetable
Increase Sim relationship with animal (All animals)
None
Fruity Treat
Apple Jam, Blueberry Jam
Enriched Milk (Cows), Blue Wool (Llamas), Blue Eggs (Hens)
Blue (Llamas)
Golden Treat
Golden Egg, Cowberry Jam or Honey
Honey Milk (Cows), Gold Wool (Llamas), Golden Eggs (Golden Hens)
Golden (Llamas, Hens)
Healthy Treat
Any Fruit or Vegetable, Any Lettuce
Increase animal lifespan (All animals)
None
Midnight Treat
Cowberry Jam, Obsidian Egg
Obsidian Milk (Cows), Black Wool (Llamas), Obsidian Eggs (Evil Hens)
Black (Llamas)
Evil (Chickens)
Pumpkin Treat
Sugar, Pumpkin
Pumpkin Spice Milk (Cows), Orange Wool (Llamas), Orange Eggs (Hens)
Orange (Llamas)
Rainbow Treat
Green Egg, Blue Egg, Orange Egg
Rainbow Milk (Cows), Rainbow Wool (Llamas), Rainbow Eggs (Hens)
Rainbow (Cows, Llamas)
Spicy Treat
Spicy Mushroom, Any Vegetable
Fire Milk (Cows), Red Wool (Llamas), Obsidian Eggs (Hens)
Red (Llamas)
Veggie Treat
Any Lettuce, Any Aubergine
Plant Milk (Cows), Green Wool (Llamas), Green Eggs (Hens)
Green (Llamas)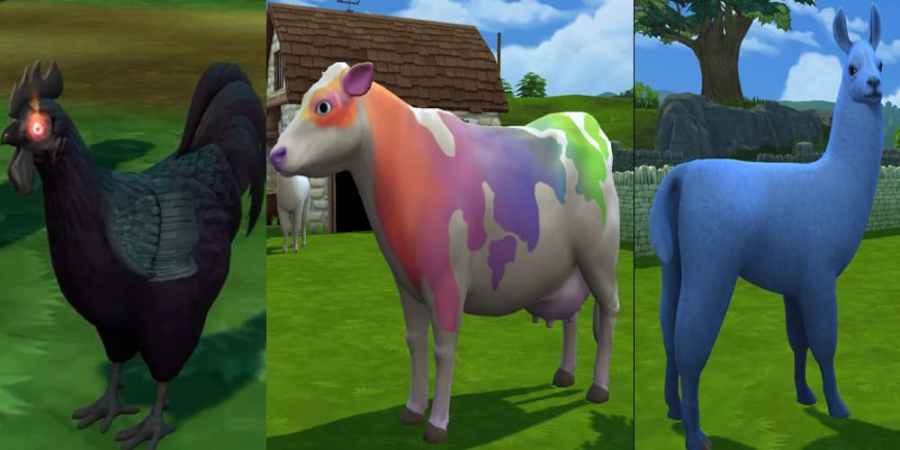 Llamas can change many different colors but will change back to their original color after being sheared. Chickens can change into two different unique appearances: Golden or Evil. Golden chickens lay golden eggs, tend to do better in the Finchwick Fair competition, and can raise the quality of products near it. Evil chickens tend to lay obsidian eggs and can protect the property by attacking enemies, foxes, vampires, and the Grim Reaper. Rainbow cows will appear with multicolored splotches but does not seem to change any gameplay effects besides producing rainbow milk.
For more Sims 4 guides, check out How to Complete Country Caretaker Aspiration in Sims 4: Cottage Living on Pro Game Guides.