The new Sims 4: Cottage Living DLC adds a world called Henford-on-Bagley that includes three neighborhoods, a bar, and a national park. Along with the new world, Cottage Living also adds a new aspiration called Country Caretaker that will lead your Sim on an adventure through Henford-on-Bagley with interactions with both animals and the townspeople.
The Country Caretaker aspiration was added to the Nature aspirations section and has 4 unique milestones to complete. Once completed, players will earn the Nature Conversationalist reward trait, which grants the Sim's animals better relationships and lifespan, grants unique plant interactions, reduced bills in Henford-on-Bagley, and free grocery delivery. Here is each goal for the aspiration to be completed.
Milestone 1- Campestral Curator
Purchase 1 Cow, Chicken, or Llama on Your Home Lot
Socialize with a Fox, Rabbit, or Bird 5 Times
Purchase 1 Garden Patch for Your Home Lot
Visit Finchwick, Old New Henford, and the Bramblewood Neighborhoods in Henford-on-Bagley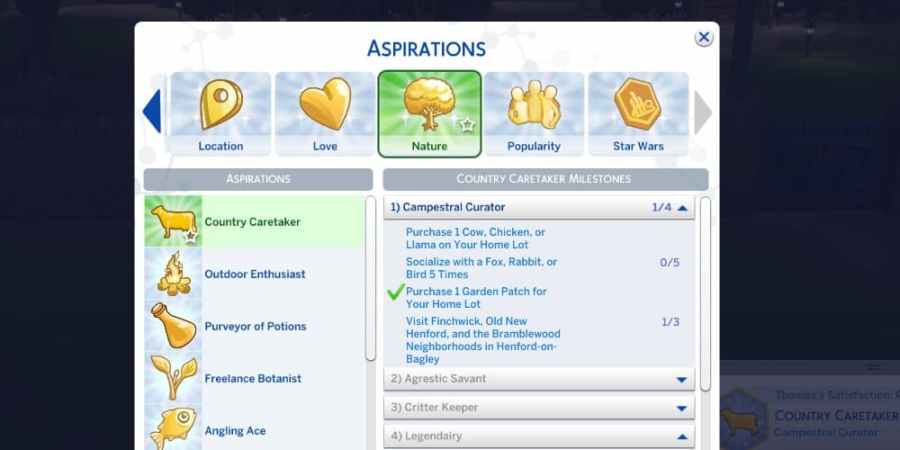 In order to purchase the cow, chicken, or llama, players have to place an animal shed or chicken coup on the lot. To socialize with wild animals, either interact with them on the home lot, or the community lots in Henford-on-Bagley are great places to find them. The Garden Patch can be found in the Outdoor Activities section of the build mode. The neighborhoods are labeled on the world map, so visiting lots in each will complete the challenge.
Milestone 2- Agrestic Savant
Befriend a Chicken, Cow, or Llama
Place 1 Wild Rabbit Home or Flock of Wild Birds on Your Home Lot
Fertilize 3 Plants or Oversized Crops
Befriending an animal can be done by positive interactions or feeding them treats. Chickens seem to be the easiest to befriend, but each does not take too much work. The Wild Rabbit Home and Flock of Wild Birds need to be unlocked before placing it on the lot, but can be done by befriending 1 wild rabbit and 1 flock of wild birds. Plants and oversized crops can be fertilized by a number of items. Interacting with the plant or crop will show an option to fertilize if the Sim has a compatible item in their inventory.
Milestone 3- Critter Keeper
Give 3 Gifts to Foxes, Rabbits, or Birds
Craft Animal Treats 5 Times
Harvest 1 Perfect Quality Oversized Crop
Forage 5 Items from the Bramblewood
Gifts can be given to wild animals by interacting with them when they are on the lot. To craft Animal Treats, you can obtain an Animal Treat from gifts, the Finchwick Fair, or the stall in the Finchwick district. Once fed to an Animal, you will receive the recipe, and treats can be crafted by interacting with a fridge. Perfect Quality crops can be harvested by taking great care of the crop and having a high gardening skill. Watering, fertilizing, and getting animals to help is a good way to increase the quality. Foraging 5 items can be tough, but Chocoberries and mushrooms can be found near the ruins before 6 AM, but it will still take some work and luck to find.
Milestone 4- Legendairy
Reach Maximum Relationship with a Cow, Chicken, or Llama
Receive 3 Gifts from Rabbits or Birds
Win a Competition in Henford-on-Bagley's Finchwick Fair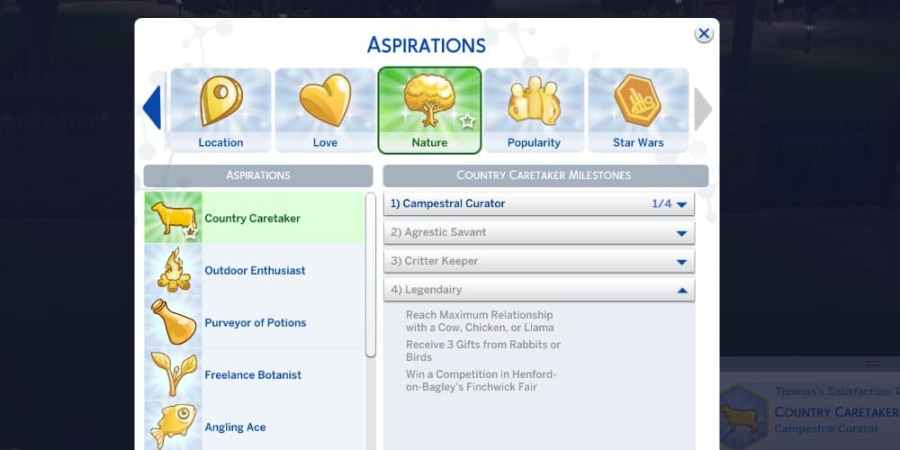 After befriending a cow, chicken, or llama, reaching maximum relationship can be reached by performing positive interactions just like befriending them. Sims will receive gifts periodically from rabbits or birds after befriending them on the home lot. Winning a competition at the Finchwick Fair requires either having an animal with a high relationship, a high-quality crop, or a high-quality item (egg, milk, pie, or wool). Sims can enter the competition at the Finchwick Fair and a first-place ribbon can be earned to complete the challenge.
To explore more of The Sims 4: Cottage Living, check out Where to find the Creature Keeper in The Sims 4 Cottage Living on Pro Game Guides.