In the Growing Together Expansion Pack for The Sims 4, San Sequoia is featured. A bustling world with three neighborhoods and twelve total lots, it looks to be a promising addition for fans. Its seeming basis on San Francisco also provides a new take for The Sims 4.
Sims 4 Growing Together - San Sequoia Map Overview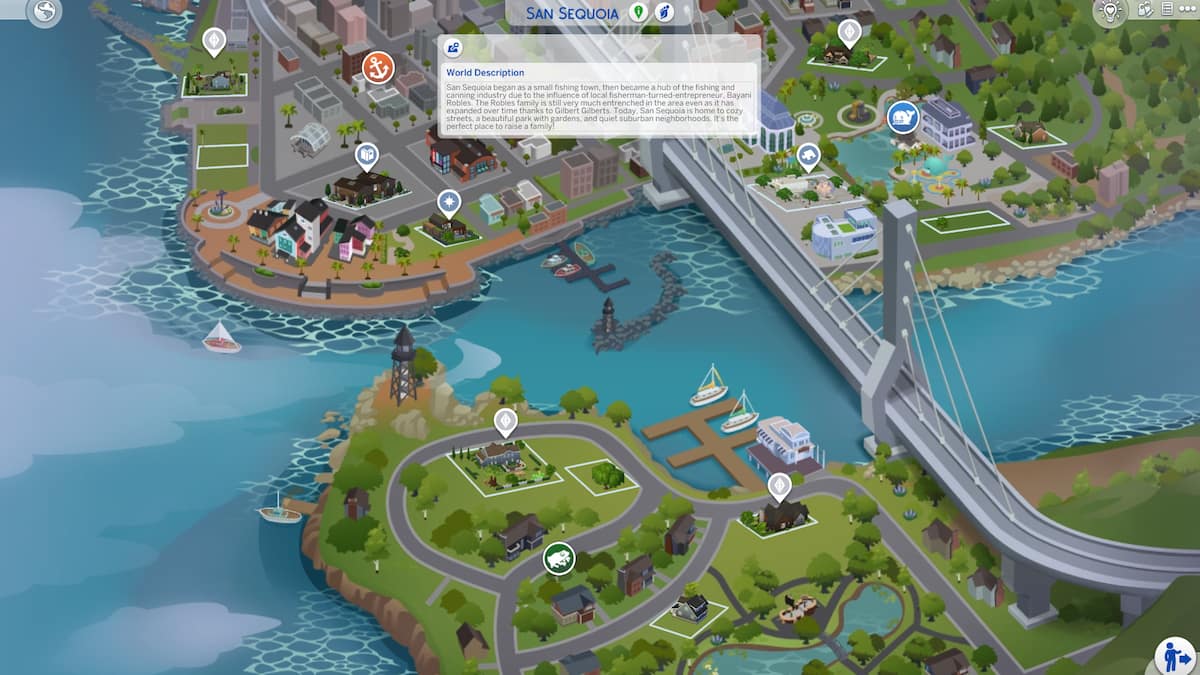 When you go to select a world to play in The Sims 4, you're typically given a quick blurb that describes the place. San Sequoia is no different; in The Sims 4, you are given this description:
San Sequoia began as a small fishing town, then became a hub of the fishing and canning industry due to the influence of local fisherman-turned-entrepreneur, Bayani Robles. The Robles family is still very much entrenched in the area even as it has expanded over time thanks to Gilbert Gilberts. Today, San Sequoia is home to cozy streets, a beautiful park with gardens, and quiet suburban neighborhoods. It's the perfect place to raise a family!
With this, we can see San Sequoia is a bustling city with humble beginnings. It has three neighborhoods with varying levels of foot traffic and open space. Hopewell Hills, to the South, is the most remote of these neighborhoods; Anchorpoint Wharf is the most urban option with some shoreside properties, while Gilbert Gardens sits to the Northeast and boasts a large suburban appeal.
San Sequoia is not the largest world in The Sims 4, but it has a fair amount of size to it. It also takes advantage of static features — lots and features you can't edit — to really set the tone of the world. Some fans may see this as filler, while others may perceive it as ambiance.
How many lots are there in San Sequoia?
There are a total of 12 lots available in San Sequoia. Breaking these lots down by their purposes and sizes, we see:
Nine Residential Lots

Two 50x40 Residential Lots
Five 30x20 Residental Lots
One 40x30 Residental Lot
One 40x20 Residential Lot

Two Community Lots

One 30x20 Community Lot
One 64x64 Community Lot

One Rental Lot (30x20)
What is San Sequoia based on?
While any one place has not been officially confirmed as inspiration for San Sequoia, fans have a solid theory. Many believe that based on its bayside location, architectural influences, and general description that it is based on a San Francisco or California.
Want to read more about The Sims 4 and Growing Together? If so, check out All CAS & Build/Buy Items in Sims 4 Growing Together Expansion Pack on Pro Game Guides.