When you combine the number of Build/Buy and Create-a-Sim items in the Growing Together pack, you get nearly 400 new items to use in your save files. All items center around the theme of family, both immediate and extended. Infant toys, workout outfits for the elderly, and much more are inside. So review our comprehensive breakdown!
What items are included in The Sims 4 Growing Together Pack?
When players download the Sims 4 Growing Together Expansion Pack, they'll get 391 total items to play with. The complete catalog of these items was posted on the EA website for the Expansion Pack's store page. While the catalog is comprehensive, it comes across as a bit unorganized when scrolling through it. For this reason, we broke down the items included into sensible groups.
All CAS Items in Growing Together for The Sims 4
A total of 196 Create-a-Sim items will be made available for players purchasing the Growing Together Expansion Pack for The Sims 4. Throughout all age groups, there are many skin cosmetics and new clothing. Hairstyles and basic clothes are especially seen within the baby category, as the infant age group undergoes an overhaul.
All Baby & Toddler CAS Items in Sims 4 Growing Together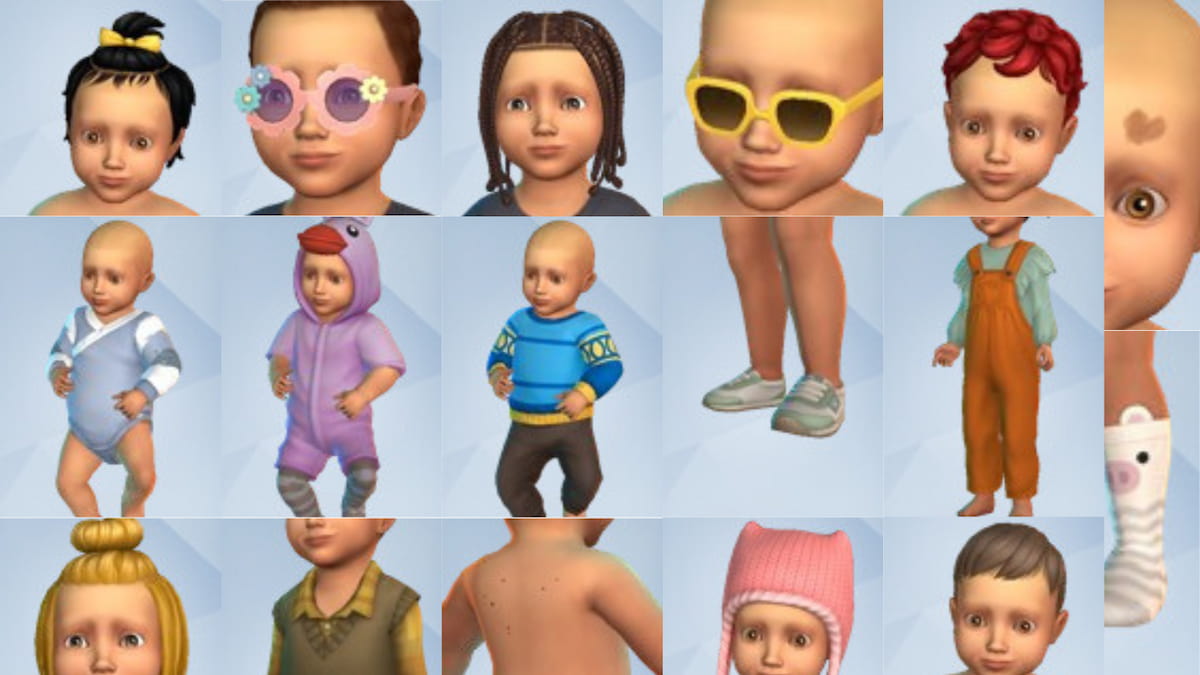 With infants being changed (for the better) in The Sims 4, there are tons of new additions for the revamped category. That doesn't mean toddlers were ignored, though. Both groups got plenty of attention in this Expansion Pack. Here's an overview of all CAS items made for infants and toddlers:
Tons of onesies, clothing sets, and hair items for infants
The Toddler category heavily features new accessories (like necklaces and sunglasses) and clothing items
Toddlers will have more knit-based clothing and accessories (like a knit hat).
Both groups have new options for moles and birthmarks
All Child & Teen CAS Items in Sims 4 Growing Together
Teen clothing is not differentiated from young adult, adult, or elder clothing in The Sims 4. This means that are there no specific teen clothing items. In addition to this, there seems not to be much geared toward teens. This is likely because of the already existing High School Years and Parenthood packs, both of which feature items geared toward teenagers. The items for CAS can be summed up like this:
Colorful but simple clothing items for children
Basic clothing items suitable for teens and adults
Children will also gain some new hair and accessories
Bike helmets are now available for kids
Aesthetic skin features will be added for both age groups
Related: Sims 4: All Fears & How to get rid of them – Fears and Wants Guide
All Adult & Elder CAS Items in Sims 4 Growing Together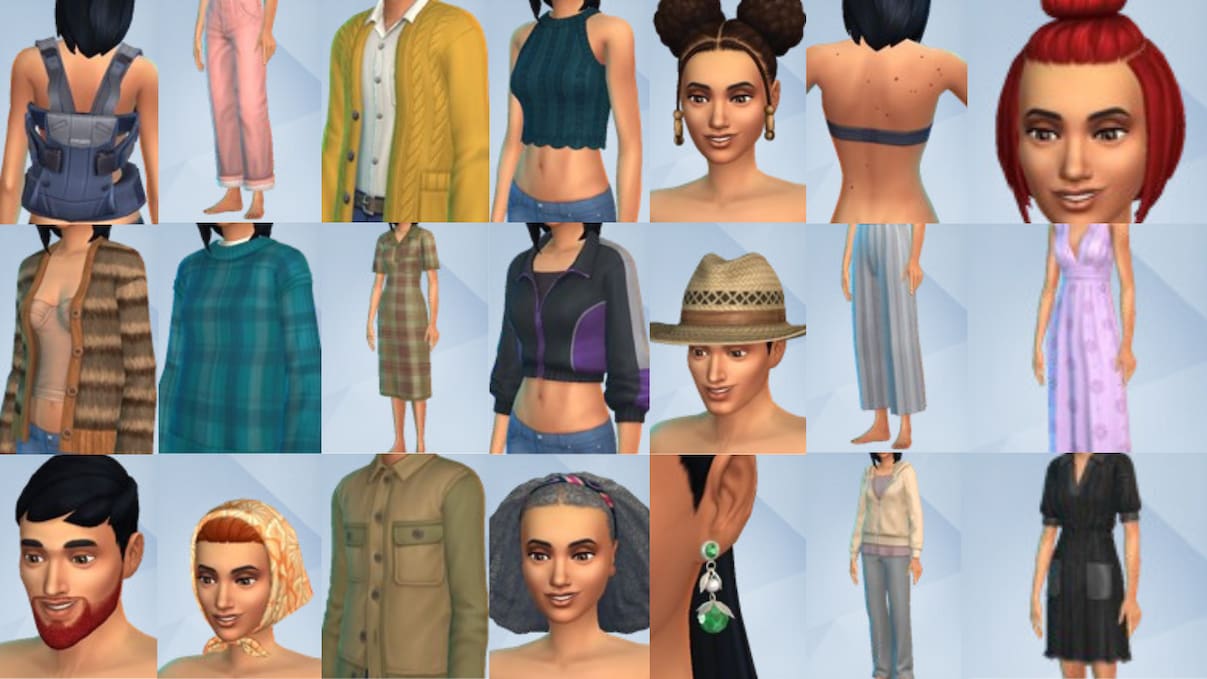 While there aren't any categorical differentiations from young adult, adult, and elder CAS items, some things are clearly geared toward specific age groups. In the Growing Together Expansion Pack, there's an obvious attempt to rectify the current lack of elder-focused items in CAS. At the same time, there have been plenty of young adult and adult geared CAS items included, like"
Hairstyles that are less maintenance and oriented towards elderly people are included, as well as a couple of hairstyles that are textured to fit more diverse Sims
Clothing with looser and more comfortable fits is featured throughout, providing more options for elderly Sims
Like other age groups, we can see more skin cosmetics (moles, birthmarks, freckles, etc) featured
While clothing for these three age groups does range across multiple seasons, there is a heavy focus on knitwear
A couple of new baby-wearing items have been included for your young adult and older Sims. This feature may work on teens, but we aren't certain.
All Build/Buy Items in The Sims 4 Growing Together Pack
There is a sum of 195 items available in Build/Buy mode included in The Sims 4 Growing Together Expansion Pack. In addition to many building basics, we see many family-oriented decor and gameplay items. The further inclusion of bicycles in The Sims 4 is seen in this pack. We've also spotted a few community lot items you can build with!
All Decor Items in Sims 4 Growing Together
Decor items in The Sims 4 are usually pretty straightforward, and the Growing Together DLC is similar in this regard. There are some colorful and unique pieces, but the majority of Build/Buy decorative items will blend in with your current Build/Buy pieces. The summary of Build/Buy decor can be put like this:
Several rugs and a new curtain are included
Many simply-designed doors, windows, and wall/floor swatches have been added
Players will see a few new mirrors, photos, display cases, and other wall items
There will be decor for nurseries and children's room
An adult bedroom set, a loft bed, and a single bed in the same style has been included
Community lot decors like signage and speakers are in the pack
Other basic decors, like plants and couches, will be in the DLC
Related: Sims 4 Growing Together Expansion – Release Date, Trailer, Preorder Bonus, & more!
All Gameplay Items in Sims 4 Growing Together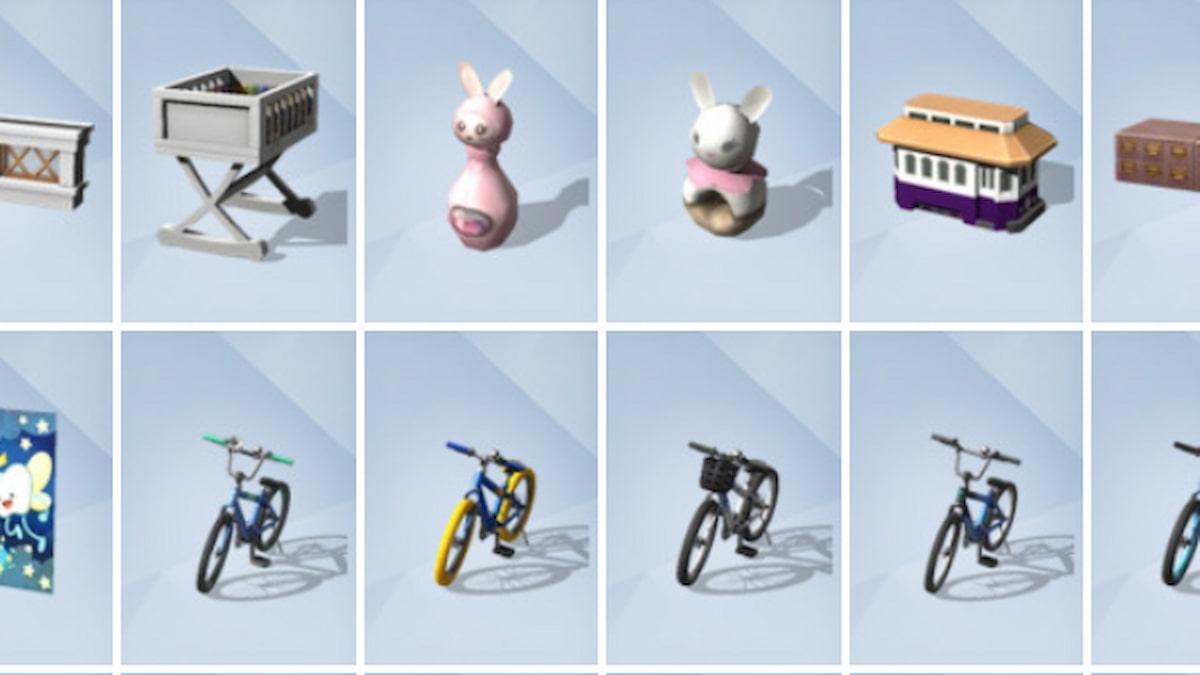 While gameplay items aren't the primary subject of an Expansion Pack, they're definitely present. And Growing Together is no exception. Bicycles, entertainment items, and more are included. Family-themed items are all throughout this DLC. Here's what you can expect in terms of gameplay items:
Bikes are one of the main features included in the Expansion Pack, with multiple models for all ages
There are numerous additions for infants, such as basic toys, cribs, and a playmat
New sleeping bags and games promise fun for all Sims in the family
A new food stall is included
Coolers, bookshelves, play equipment, and other interactable items have been placed in the pack
Several new photo display cases have been added to the new pack
Want to read more about The Sims 4? If so, check out Sims 4 UI Cheats Extension Mod (March 2023) – How To Install and Use on Pro Game Guides.