If you're looking to expand the size of your home in Stardew Valley, you'll need to speak with Robin, the town carpenter. Along with house renovations and farm building constructions, Robin handles all home upgrades inside the Carpenter's Shop (located in the mountain home she shares with Demetrius, Maru, and Sebastian).
The Carpenter's Shop is open from 9 AM until 5 PM every day except for Tuesdays and Friday afternoons. Each house upgrade will take three days to complete.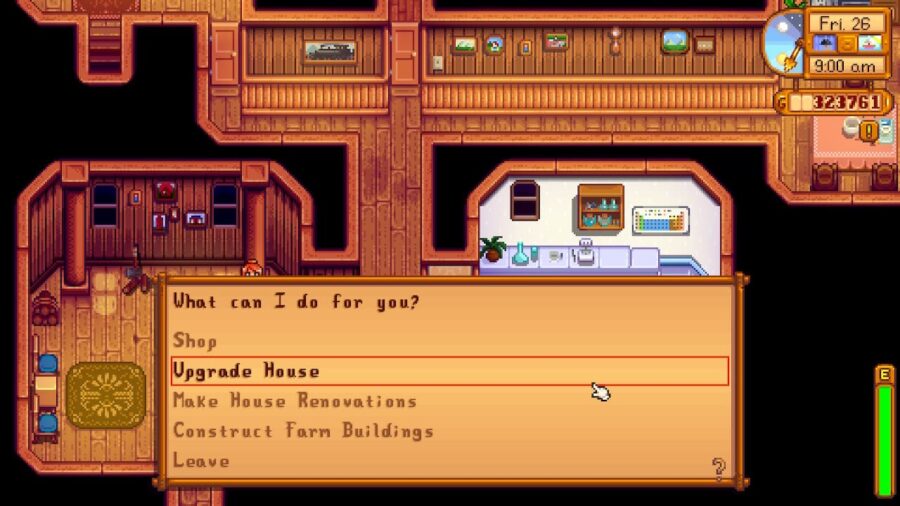 House Upgrades: Prices and Perks
| | | |
| --- | --- | --- |
| Stage 1 | 10,000g + Wood (450) | Adds a kitchen and the cooking ability, fridge (storage), extra bedroom, upgrades bed from single to double, allows for marriage |
| Stage 2 | 50,000g + Hardwood (150) | Adds two extra rooms, increases kitchen and bedroom sizes, allows for children |
| Stage 3 | 100,000g | Adds a cellar in the house, which comes with 33 casks (can house up to 189 casks) to age cheese and alcohol for greater quality |
Achievements
There are two achievements you can earn via house upgrades:
Moving Up (upgrade your house for the first time)
Living Large (upgrade your house the second time)
For more Stardew Valley content, find out how to get a Largemouth Bass or read our guide on all the best ways to romance Shane.