Deimos Armored Transport is a large, non-functional ship that players can board in Starfield. Although you cannot steal this ship, you'll get some valuable items such as contraband, weapons, credits, spacesuits, and other gears and valuables.
How to get to the Deimos Armored Transport in Starfield
I found the Deimos Armored Transport near the Bondar planet in the Alpha Centauri star system. Fast travel or jump to this location and get within 500 meters of the vessel to dock your ship into it. Once docked, board the ship and explore what's inside.
What to do inside the Deimos Armored Transport in Starfield
As you board the Deimos Armored Transport, you'll realize that the artificial gravity inside the ship isn't working properly. For a few seconds, the gravity remains fine, and soon the lights flicker, after which the gravity becomes zero. This cycle continues, and while in the zero gravity phase, you can navigate using the standard movement inputs and jump and crouch to maneuver your float.
Keep going deep inside the Deimos Armored Transport, killing all the pirates and looting their bodies. Although exploring the ship is easy, you can refer to the images above if you're feeling lost. At one point, you'll reach an elevator (second picture), which may seem like a dead end, but it's not. Look up and float up to the very top of the elevator shaft when there's zero gravity and enter the open door.
As you go deep inside the ship, you'll find a large fan (fourth picture) that you can easily pass through, even when it's rotating. On the other side, jump over the broken gas pipes, go down, and you'll find an open hatch door (fifth picture). This is the last stage of the Deimos Armored Transport as you can't go further in. However, make sure to use the computer (sixth picture) to open the door on the other side.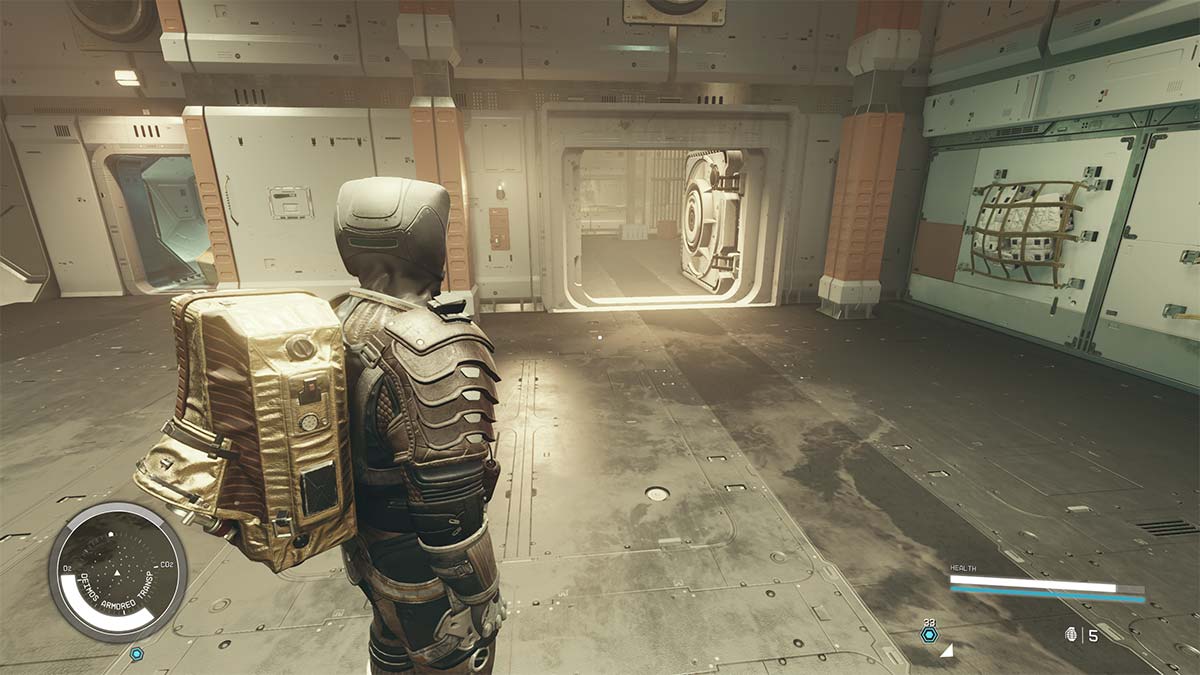 To reach this door and secret section of the ship, trace your path back to where you entered the Deimos Armored Transport. Enter the secret room (first image) and float through the opening to reach the very top when there's zero gravity. While the loot inside the Military Crate will be accessible to all, you must be rank three in the Security tech skill to unlock the master locked door. However, the loot inside this locked section wasn't too lucrative for me:
Modified Magshot Pistol
Toxic Gas Mine
Inferno Mine
Teal Open Graviplas Helmet
Calibrated Deep Mining Space Helmet
Stay tuned to Pro Game Guides for more Starfield content. In the meantime, head over to our article on Where to use Ularu's Keycard in Starfield.