Choosing what you will say to other characters in Starfield is an important part of creating relationships with the NPCs, earning companions, or maybe even sparking a romance. You'll want to be careful how you go about speaking to certain individuals so you can earn their trust or get them to work with you; you can also use your words to persuade particularly stubborn characters to do your bidding. Keep reading for all the details about dialogue choices below!
Dialogue decisions & Persuasion guide - Starfield
Do dialogue choices matter in Starfield?
With RPG games like this, you almost always have multiple-choice dialogue to reply to characters in the world, but most of them will just trigger different responses, and it doesn't really matter in what order you choose them. In Starfield, however, yes—they do matter. How you choose to treat different people via what you say or do to them will affect your relationship with them, but also how your current companion feels about you and your actions. Your companions each have their own morality and feelings about different subjects as well and will react differently to your actions when they are with you, so be mindful of what you're doing in front of them.
If you choose to be snarky with someone who wants to work for you, you may lose the opportunity altogether. This also goes for choosing to lie to someone, and they happen to see through that; most likely, they won't be as fond of you. Straight-up threatening someone could lead to an immediate physical response and initiate a fight. Always read through the choices carefully and think about how the character may react (almost like real life).
Trait dialogue choices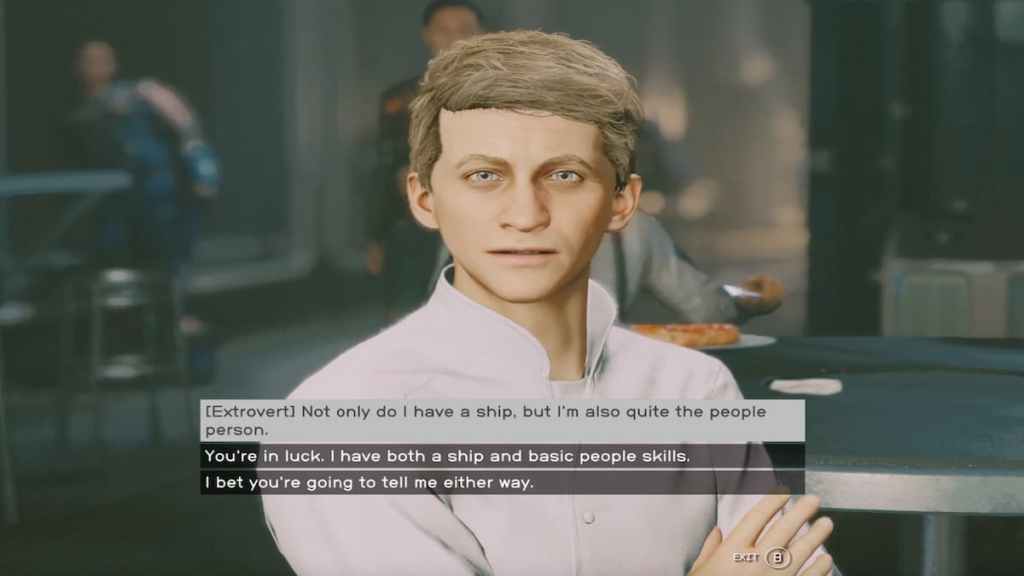 Occasionally, you may see a dialogue choice pop up with your special trait beside it. These choices are only available to you because of your traits and can potentially help drive the conversation in the way you want by proving to an individual you know what you're talking about or are simply showing off your unique personality.
Companion dialogue choices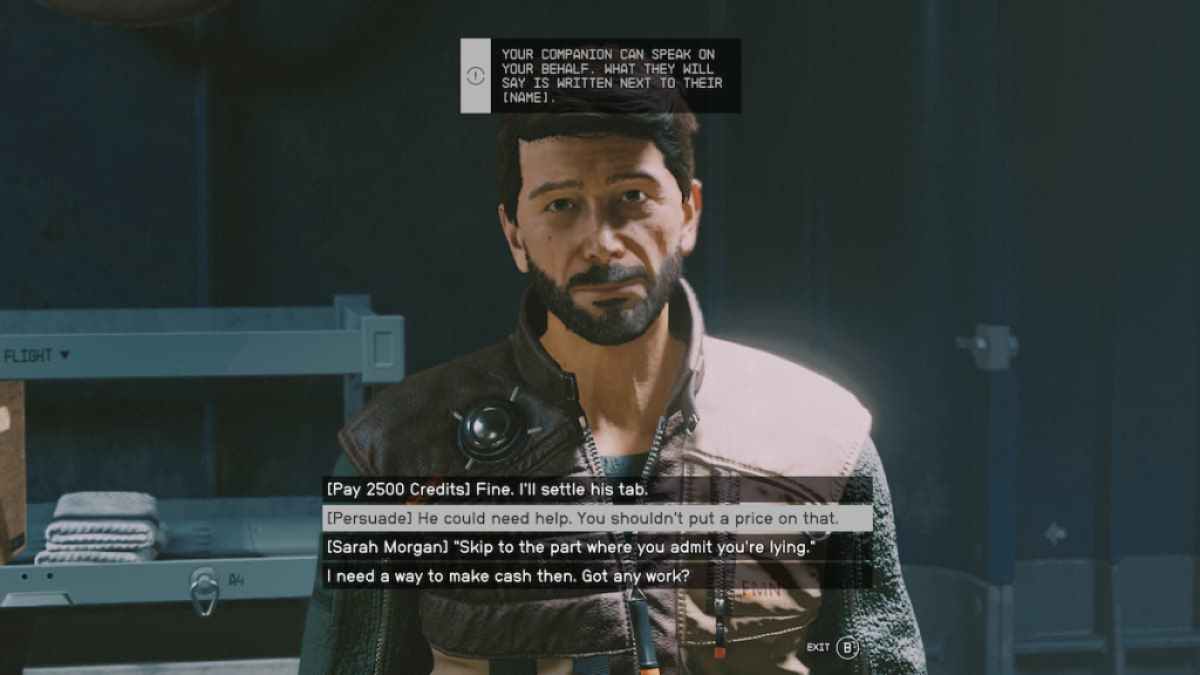 You will also sometimes get the option to let your companion talk on your behalf. These dialogue options will show the companion's name and the line they will say. However, depending on who your companion is, they may turn the conversation in a direction you don't necessarily agree with, so be careful letting them take the reigns.
Related: Does Starfield have romance?
How to persuade people in Starfield
A big part of dialogue choices in Starfield is the ability of persuasion. Not every character around the many planets is reasonable, and sometimes it might just take a little bit of push to get them to open up or reveal the information that you need. While violence is always an option, it is definitely not the best option all the time. So here's how you can properly persuade people.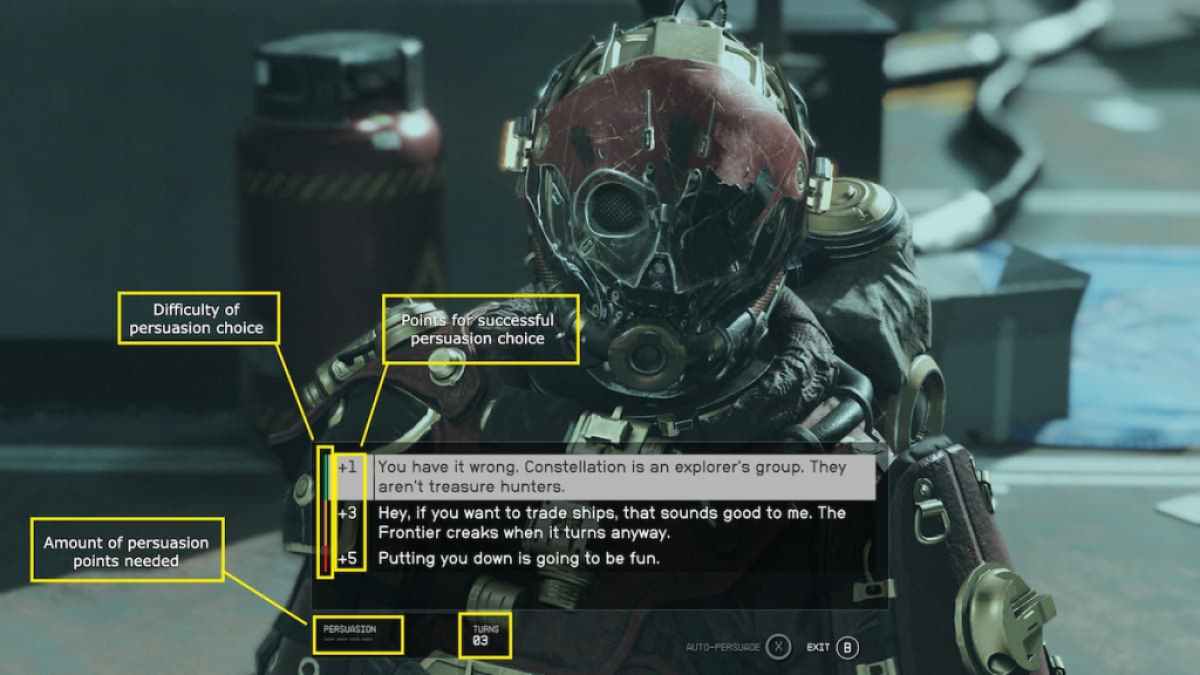 To start persuading someone, choose the dialogue choice that displays "[Persaude]" beside it. You'll have three attempts to try and convince them; depending on how stubborn they are, they will have a different amount of bars shown at the bottom, revealing how many points you'll need to add up to push the conversation your way.
Each persuasion choice will be colored green, orange, and red, signifying how difficult the choice will be to accomplish, with green being the easiest and red being the most difficult. Also on display: how many points you will receive for succeeding at them. Remember, you only have three turns to persuade someone, so you'll need to pick dialogue choices that add up to the same number of points as the bars for that character.
Related: Is there a Level Cap in Starfield?
How to get better Persuasion in Starfield
As you earn more Persuasion skills, you will be able to perform more challenging persuasion choices. Plus, you will earn the opportunity to auto-persuade. Here's how you can increase your persuasion skills.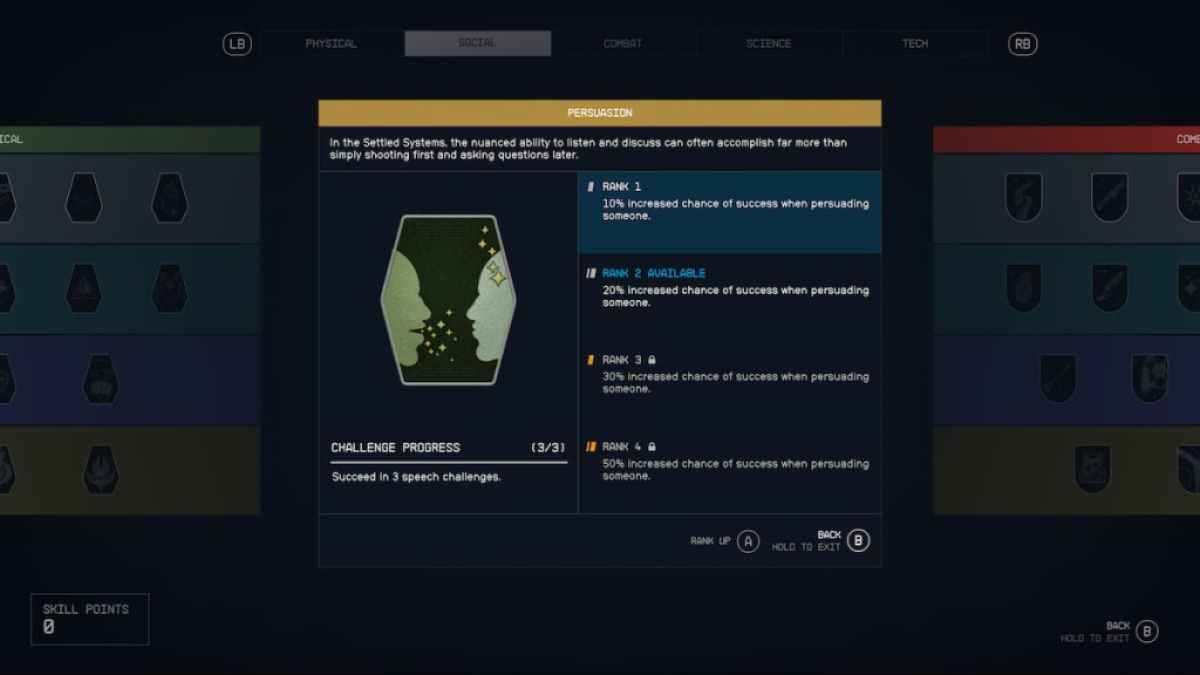 If you're looking to become a successful smooth talker, you're going to want to make sure to either pick a Background with the persuasion skill, or use some skill points to put into the skill. Each time you rank up by completing different persuasion challenges, you will get better at performing persuasion on characters and increase your chances of pulling it off successfully.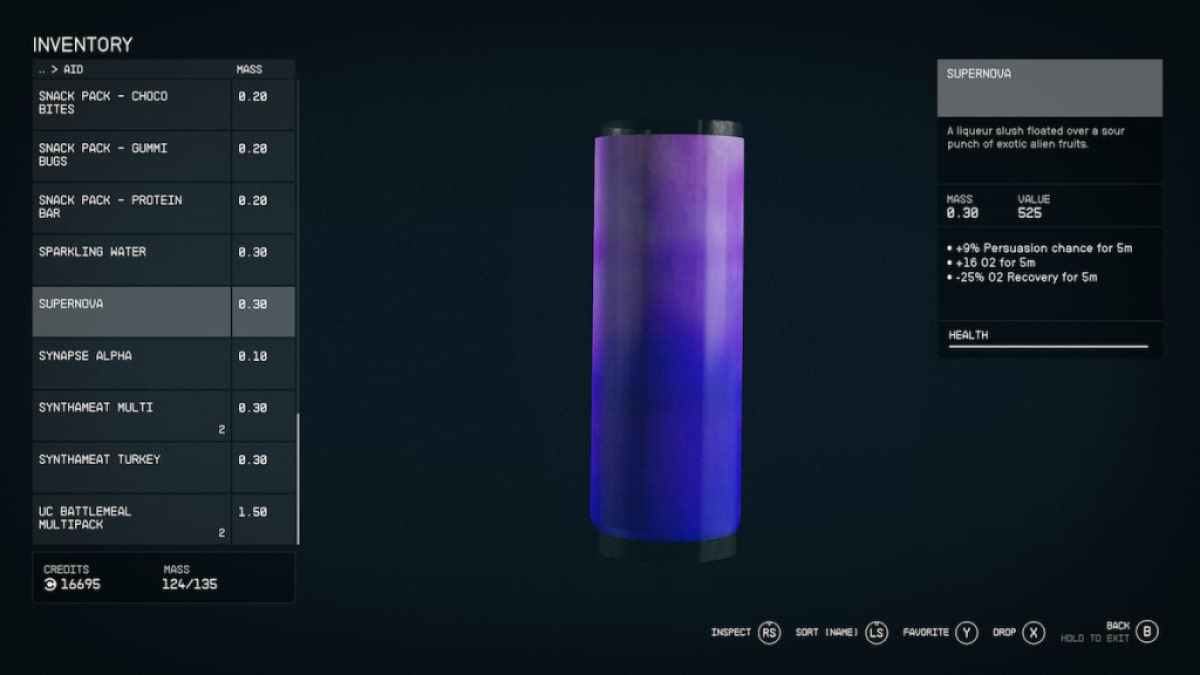 If you need an instant boost of persuasion for a particularly risky case, you can use some Aid items (e.g. drinks and consumables) that will temporarily give you an increase in persuasion skills. Their effects will run out after a short time, however, so be sure to use them directly before starting the conversation.
You'll always want to weigh all your dialogue choices before making a decision. Unless you're looking to become a 'shoot first, ask question later' type of character, your dialogue choices are essential for creating relationships with your companions and getting others to work with you.
Looking for more Pro Game Guides Starfield content? Check out our guides on How do Planet Tiles Work in Starfield? or Starfield Character Builder – Tools for Creating Builds!