In Starfield, you can build your ship with unique and experimental parts to make it a formidable vessel against enemy spaceships. As you progress through the game, flying higher-class ships and upgrading them will require unlocking and ranking up specific skills. Here's how to unlock experimental ship modules in Stafield.
How to Unlock Experimental Ship Modules in Starfield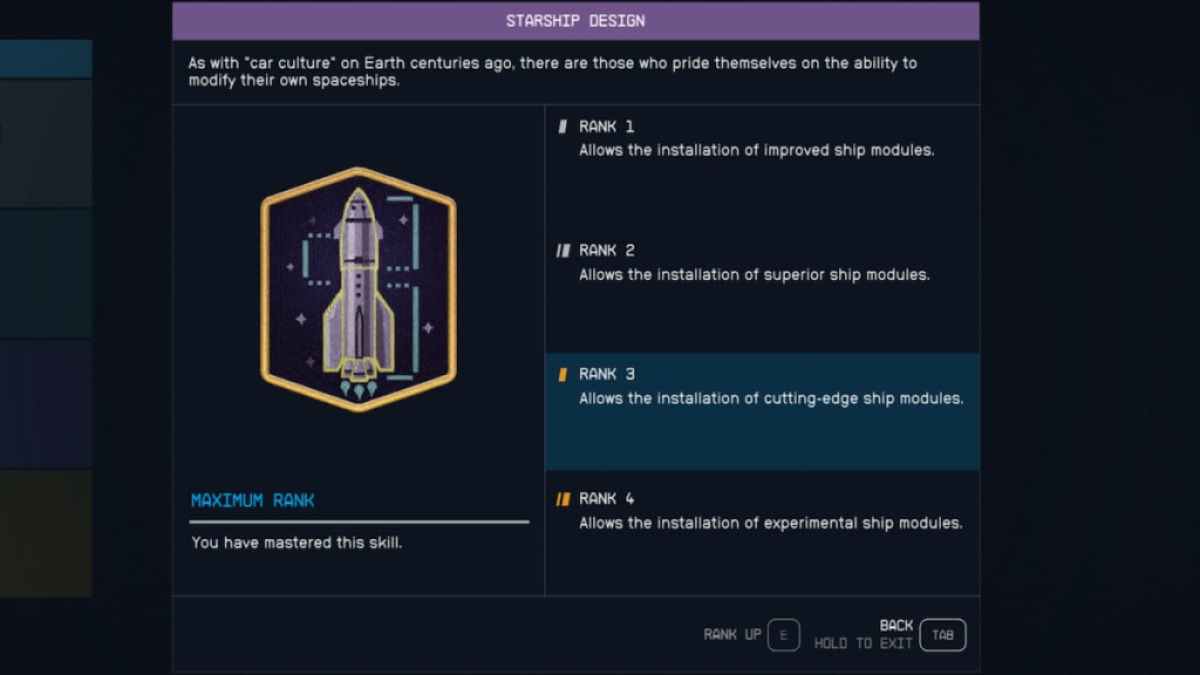 To fly better ships and install unique experimental modules you'll need to invest in skills like Piloting and Starship Design under the Tech section. Ranking up these two skills should be a priority by level 30 as it allows you to dominate any form of space combat. The Starship Design (Rank 4) skill allows you to install improved, superior, cutting-edge, and experimental ship modules.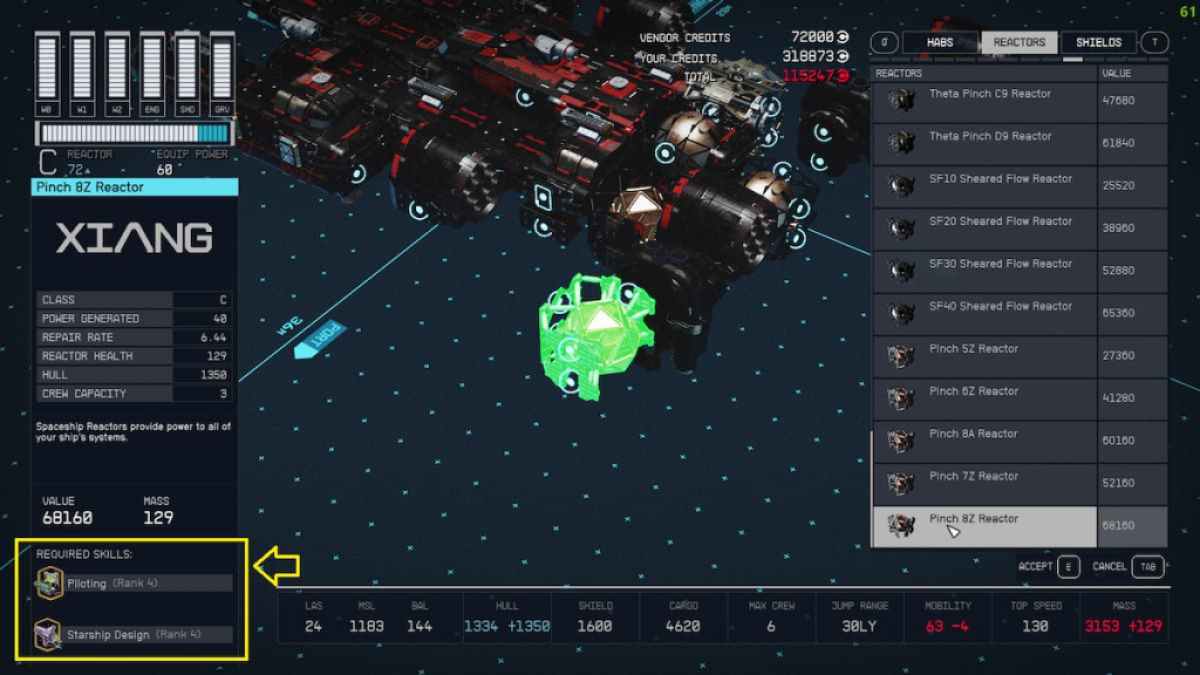 You can identify these modules by checking the Required Skills on the left-hand side of the shipbuilder screen (check the yellow box and arrow on the image above). Some of these experimental modules will require ranking up only in a single skill, while others will have multiple skill requirements. For instance, the Pinch BZ Reactor requires Rank 4 for both Piloting and Starship Design.
The best method to unlock and rank up Piloting would include taking advantage of the Vanguard pilot's exam. Repeat this exam multiple times to defeat several ships for ranking up in this skill. Similarly, experiment with your ship by attaching new and unique modules to rank up in the Starship Design skill. With these two skills at Rank 4, you can start installing unique and experimental ship modules to your vessel.
How to install Experimental Ship Modules in Starfield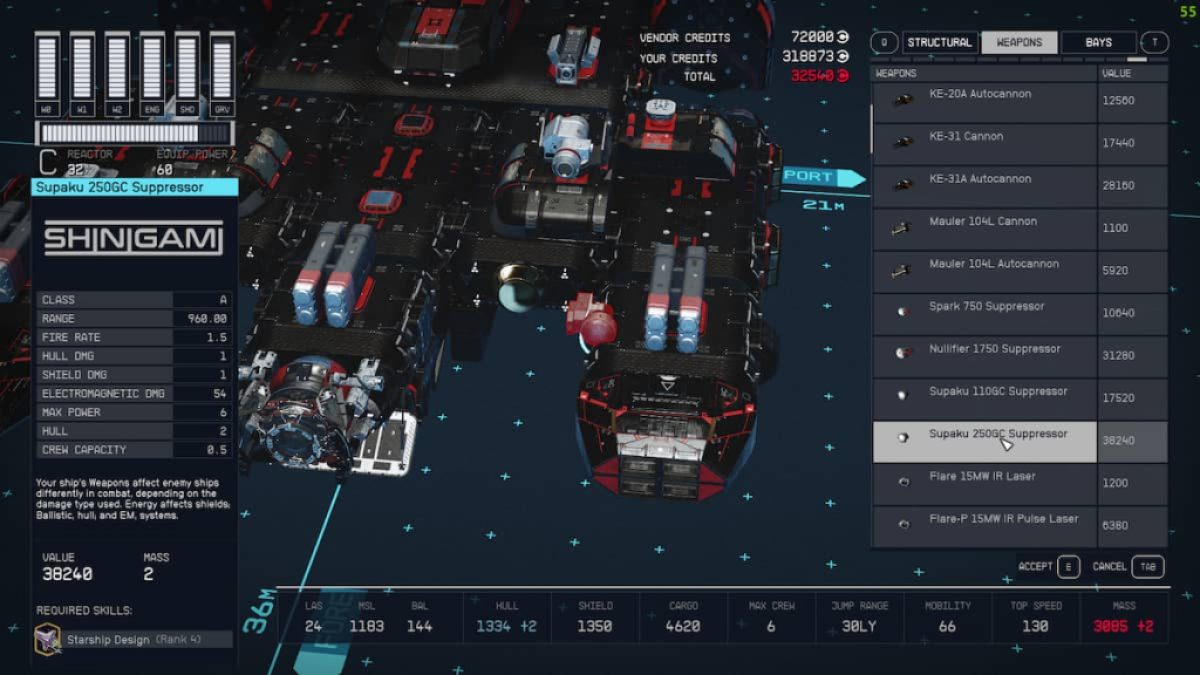 To attach experimental ship modules, visit any of the Ship Services Tech in major cities/planets and staryards. New Atlantis, Cydonia, Neon, Akila City, Deimos Staryard, Gagarin, HopeTown, the Den, and the Red Mile have these technician NPCs whom you can interact with to add new modules to your ship. Experimental shield modules will include weapons, engines, fuel tanks, reactors, shields, and cockpits. Once you've reached Rank 4 Starship Design, you can install some of the following experimental and cutting-edge modules on your ship.
Weapons

Obliterator 250MeV Turret
Tsukitasu 50K Missile
Tsukitasu 33k Missile Launcher
Tsukitasu 19k Missile Launcher
Atlalt 290B Missile Launcher
Reza 300 PHz SX Pulse Laser Turret
Tatsu 501EM Suppressor
MKE-9A Auto Gauss Gun
PBO-175 Auto Helium Beam
PBO-40 Auto Electron Beam
Exterminator 95MeV Auto Helion Beam
Reza 30 THz IR Pulse Laser
Scorch-S 80MW Pulse Laser Turret
Reza 10 PHz SX Pulse Laser Turret
Supaku 600 GC Suppressor
KE-49A Auto Cannon
Mauler 106S Shot Cannon
Jishaku Ainico RF Rail Gun
Vaporizer 35MeV Auto Proton Beam

Engines

SA-4330 Engine
White Dwarf 3015 Engine
Dunn-71 Engine
Nova 1050 Engine
SAE-5660 Engine
Amun Dunn X-300 Engine
SAL-6330 Engine
Supernova 2200 Engine

Cockpits
Fuel Tanks

M50 Ulysses He3 Tank
900T He3 Tank

Reactors

380T Stellarator Reactor
164mm Toroidal Reactor
Tokomak X-120s Reactor
Tokomak X-300 Reactor
Z-Machine 2020 Reactor
Z-Machine 4000 Reactor
104DS Mag Inertial Reactor
Ion Beam H-1030 Reactor
Theta Pinch D9 Reactor
SF-40 Sheared Flow Reactor
Pinch 8A Reactor
Pinch 8Z Reactor

Shields

Assurance SG 1800 Shield Generator
Fortress A3 Shield Generator
104D Guardian Shield Generator
Warden SG 400 Shield Generator
Tower N420 Shield Generator
44T Defender Shield Generator
Bastille S84 Shield Generator
For more on Starfield here at Pro Game Guides, check out Best Weapons for Companions in Starfield or Can you reset skill points in Starfield.