In Steelrising, players start the game as Aegis, an automated machine designed to be Queen Marie Antoinette's bodyguard. Created by Eugene de Vaucansson, Aegis is on a mission to stop the robot army from decimating Paris. At the start of the game, players will get to select a specific class for Aegis, along with various other customization options. The class you choose has specific abilities, and it boosts certain attributes. So if you want to know more about these classes, we have you covered. Here's everything players need to know before choosing a class in Steelrising.
Every class in Steelrising
Steelrising is an RPG set in the late 1700s with a nostalgic steampunk feel. The game has four starting classes, and you can only choose one. Bodyguard, Soldier, Dancer, and Alchemist are the four classes available in the game. Choosing a class ascertains your starting weapon, attributes boosts, and the consumables available for that class. Although you start with a specific set of attributes, players can always increase different attributes during their playthrough.
Bodyguard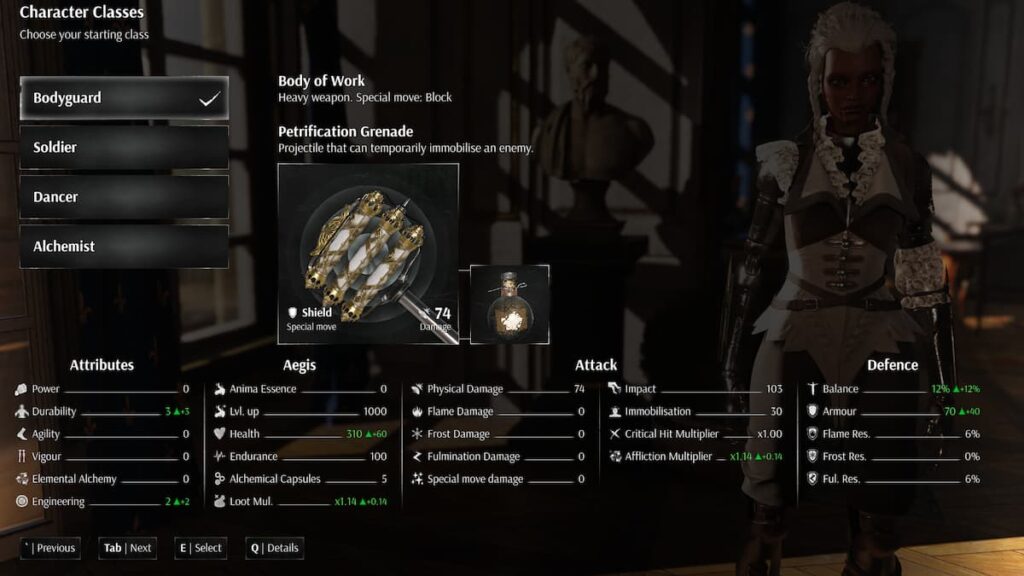 Bodyguard scales off Power and is the perfect class to tank hits while dealing massive damage to opponents. Players start the game with the Body Of Work heavy weapon and a particular Block move. You also get the Petrification Grenade which temporarily immobilizes enemies. The Bodyguard class gives +3 Durability and +2 Engineering for basic attributes. Similarly, it gives Aegis +60 health, along with 1.4x loot multiplication. You also get a 12% increase in Balance and +40 Armor.
Related: All Weapon Types in Steelrising
Soldier
Soldiers are exceptional fighters that can wield heavy weapons to perform powerful attacks. Soldiers start with the Gribeauval Halbeard heavy weapon. You also get a Ranged attack special move. The Soldier class starts with an Explosive Grenade that can knock over enemies. This class starts with +3 Power and +2 Vigor, ensuring you have enough strength and stamina to fend off enemies. Similarly, you get a +14 for Endurance. The Soldier class also has a 1.16x Critical Hit multiplier, +9 Impact, and +7 for Physical Damage.
Dancer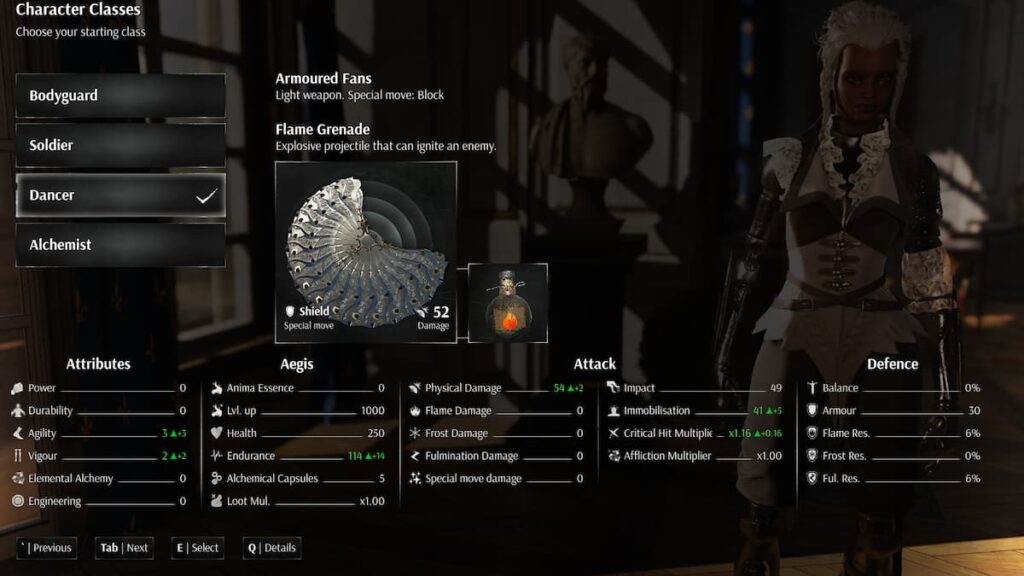 Dancers are adept and agile and use their speed and technique to immobilize enemies with critical hits. The Dancer class is exceptionally resilient and can chain attacks in rapid succession. The Dancer is widely considered the best class to start in Steelrising. Players start with the Armoured Fans light weapon and Block as the special move.
You get the Flame Grenade explosive that can ignite enemies. The Dancer class starts with +3 Agility and +2 Vigor, allowing players to move swiftly while fighting enemies. You also get +14 Endurance. As for the attack, the Soldier class has a +2 Physical Damage, +5 Immobilization, and 1.16x Critical Hit Multiplier.
Related: All Weapon Affinities in Steelrising and what they mean
Alchemist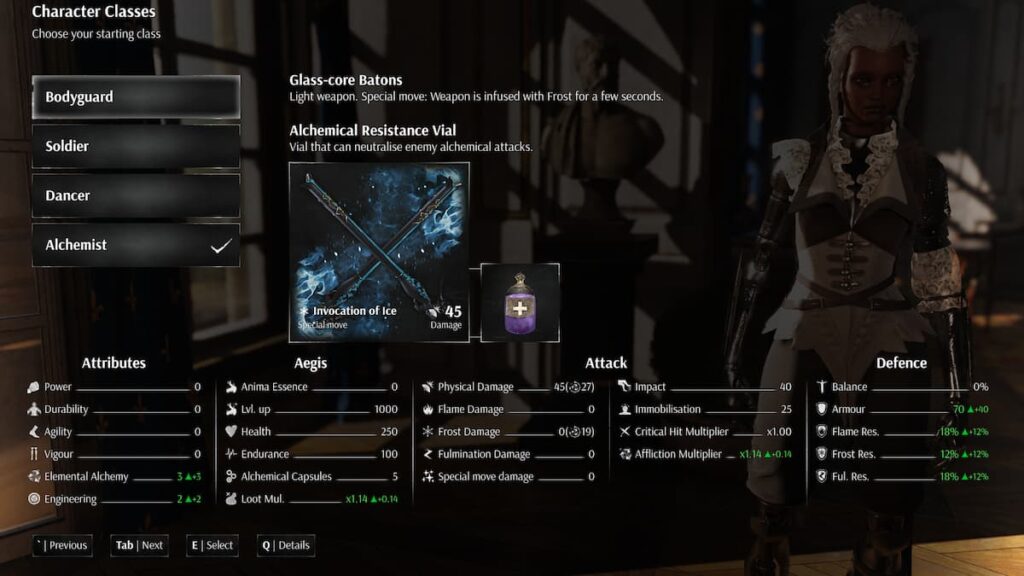 Alchemists rely on Elemental Alchemy to deal persistent elemental damage to opponents. This class uses alchemical weapons that electrocute, ignite, or freeze opponents quickly. You start the game with the Glass-core Batons, a light weapon. The Alchemist class also has a special move that infuses the weapon with Frost for a short period. Players also get the Alchemical Resistance Vial that can neutralize alchemical attacks from enemies.
For attributes, players start with +2 Engineering and +3 Elemental Alchemy. You also have a 1.14x Loot Multiplication. For attack, Alchemists get 1.14x Affliction Multiplier. As for Defense, Alchemists have +40 Armor, +12% Flame Resistance, +12% Frost Resistance, and +12% Ful. Resistance. This undoubtedly makes the Alchemist class the best defensive class to start with in Steelrising.
For more Steelrising guides, check out Tips and Tricks for Beginners in Steelrising on Pro Game Guides.