The Tears of Themis Candy Party event runs from October 20, 2022, to October 30, 2022. Attorneys can complete tasks to open mystery boxes using Candy Pumpkins and get rewards in return. You can access the Candy Party event through the event menu.
How to get Candy Pumpkins in Tears of Themis
Click on the Candy Pumpkin icon on the bottom left of the Candy Party event page to view the list of all event tasks. They're divided into daily tasks (which refresh after the daily reset) and one-time tasks (which can be completed throughout the event period). We highly recommend focusing on the daily tasks to ensure that you farm enough Candy Pumpkins for all of the rewards.
The "Complete 3/6/9 daily tasks" objective refers to the non-event tasks in the task menu, hence why they reset daily. Meanwhile, some one-time tasks align with the Dreams of Childhood "Obtain Clues" tasks, so we consider playing the two together to save AP.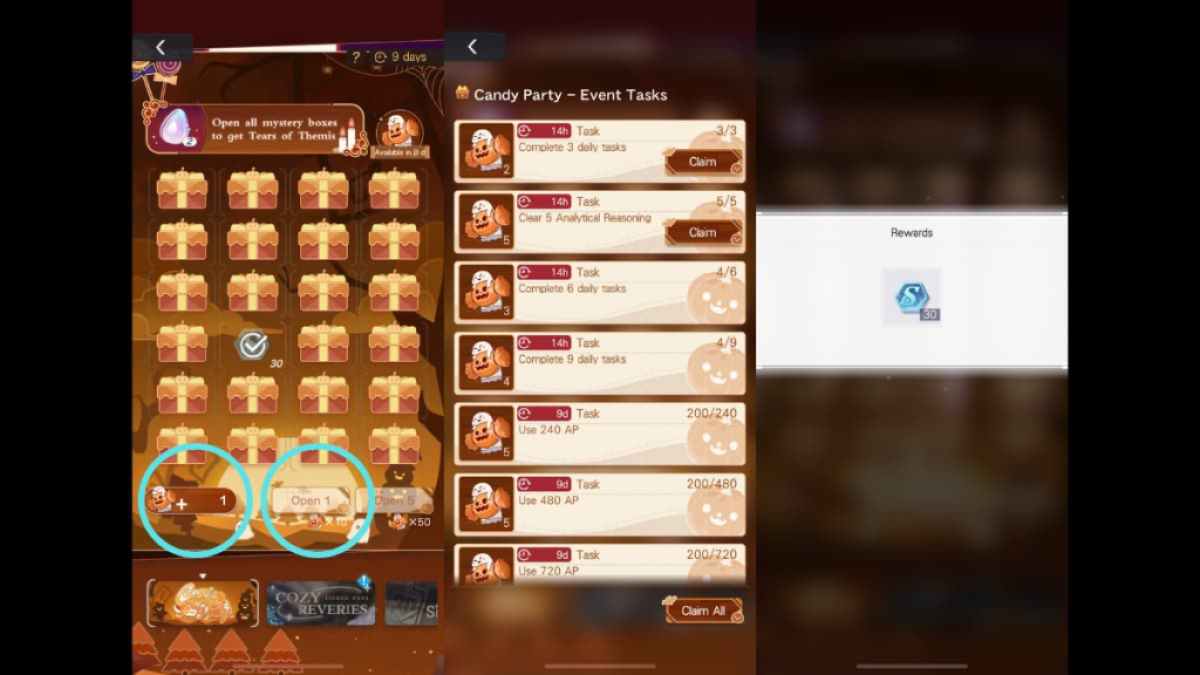 Related: Tears of Themis cancels JP dubbing for Main Stories and Event Stories
Once you've collected 10 Candy Pumpkins, you can open one mystery box and get a random reward from this pool:
| Reward | Number of times you can get the reward |
| --- | --- |
| 5,000 Stellin | 8 |
| 10 S-Chips | 1 |
| 20 S-Chips | 1 |
| 30 S-Chips | 1 |
| 40 S-Chips | 1 |
| 150 Home Deco Vouchers | 2 |
| 1 Oracle of Justice IV | 4 |
| 2 Oracle of Justice IV | 4 |
| 3 Selection Chip II | 1 |
| 3 Potential Chip II | 1 |
You can claim an additional reward of 2 Tears of Themis by opening all of the mystery boxes. If you start the event late, you can purchase Candy Pumpkins from the Mall in exchange for S-Chips, but we don't recommend doing this as the payoff isn't worth it, unless you're only missing a few. Any unused Candy Pumpkins will automatically be converted to Stellin at a 1:100 rate after the event, so make sure to use them up.
If your 2022 birthday has passed, check out our Tears of Themis Birthday System guide to experience the new birthday voice lines from your favorite male leads.