Tower of Fantasy's global release expanded its borders across many corners of the Earth, where English is not universally spoken. As a result, the game has been localized to support a few additional languages, which you can select for a more comfortable gameplay experience. Upon starting the game, the text and voice-overs will automatically be in English, but you just need to toggle a few quick settings to adjust your language preferences.
How to update text and voice language in Tower of Fantasy
Click the ESC button on PC or the honeycomb icon on the upper right of the screen on mobile to access the menu. Select Settings, then choose Language on the lefthand panel.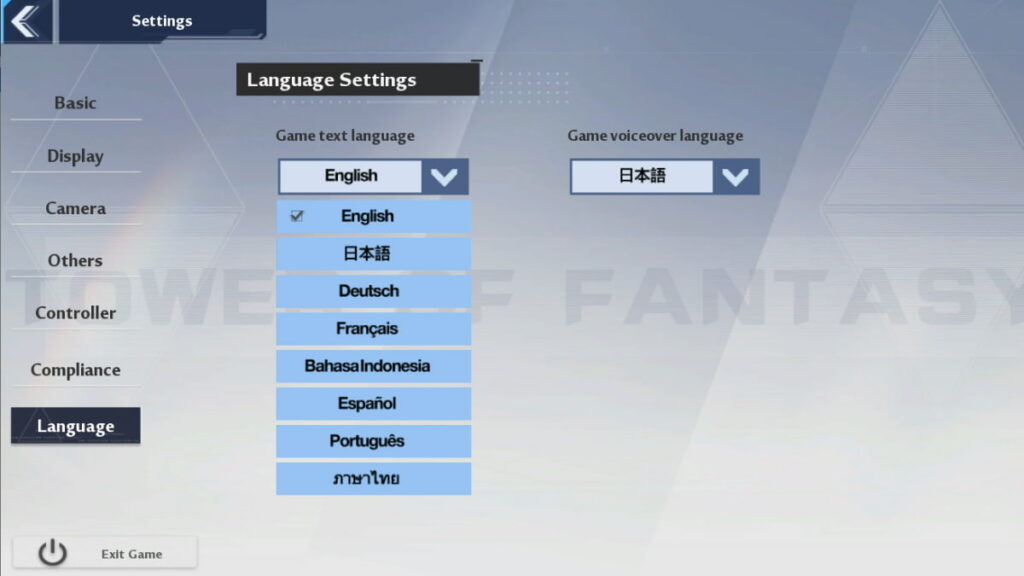 You can select different languages for your in-game text and voiceovers from their corresponding drop-downs. The following languages are supported for text:
English
Japanese
Dutch
French
Bahasa Indonesia
Spanish
Portuguese
Thai
Meanwhile, the following languages are supported for voiceovers:
It's unclear whether Tower of Fantasy will continue to expand its roster of supported languages. Other gacha games, such as Genshin Impact and Cookie Run: Kingdom, gradually expanded their localization options over time, so there's a slim chance for Hotta Studio to do the same.
Check out our guide on How to turn off motion blur in Tower of Fantasy to adjust your graphic settings.