Team synergy is extremely important to building an effective attack team. A team needs to be composed of specific components to be successful. This isn't to say that other teams aren't effective, but this guide is a great starting point for all players who want to learn How to build a Synergistic Attack Team. The Walking Dead: Road to Survival is very complex, with teams varying based on toons, weapons, mods and other underlying components. Creating a one team fits all is nearly impossible, but there are several ways to leverage your toons to become an attacking machine.
The Components of a Basic Attack Team
When building an attack team there are 5 main components needed to build a synergistic attack team. As a general reminder this is not the only combination of characters that can be used to be effective. There are many attack teams or specialized attack teams that are proficient at defeating the defending team. These are the 5 main toon types needed to make a synergistic attack team.
Leader Toon
You want to start your attack team with a 'true' attack leader. A 'true' attack leader is a toon with a leadership skill that gives +40% or +50% attack and a huge bonus to AP when attacking. This leadership skill will give your team a huge attack boost and help them use their adrenaline rushes faster. If you do not have a 'true' attack lead, the next best option is using a toon with a leadership skill that gives a very large bonus to AP, or a huge bonus to AP when attacking. AP when attacking is the most important because usually the team that rushes the most wins. This is because adrenaline rushes are conventionally more powerful attacks that can deal damage either directly, or indirectly to one or several enemies. These adrenaline rushes can also help control the enemy characters and prevent them from attacking, rushing, or using other skills that could debilitate your toons.
Command Toon
The next toon that is needed on every attack team is a command toon. A command toon has the Specialist skill "command", which enables them to give a character on your team an additional action in the same battle phase. This is accomplished by swiping right on the command toon. The toon that made an action prior to the Commander, will be given the additional action. This action can be a basic attack, rush, active skill, or specialist skill. The toon that received an additional action will be unable to move the next turn. Command characters give you the opportunity to disrupt the opponents flow, and gives you a strategic advantage in battle. By using a command toon, you can become proactive to a situation in raids, roadmaps or war, instead of re-actively based on what the opponent's team does to you.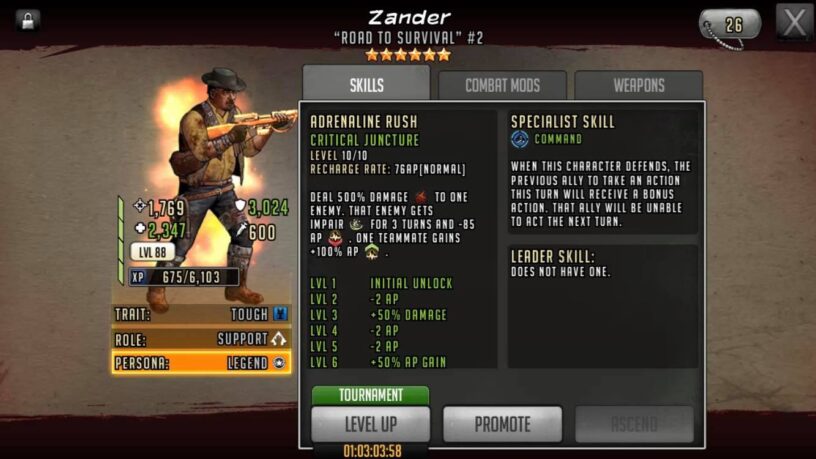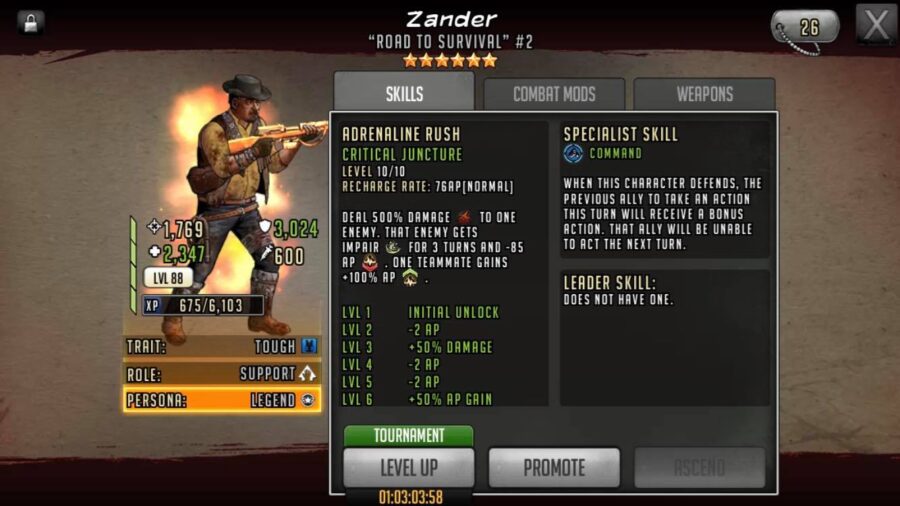 Zander is an example of a command toon. His role is to allow other characters on the team an additional action by swiping right on his character card.
Damage Toon
A damage dealer is a necessity on most standard attack teams. This toon is responsible for applying most of the damage to the enemy, and is expected to have high attack and relatively low hp and defense. This toon will usually apply high amounts of damage to the opponent on an adrenaline rush and sometimes on a basic attack as well. The more enemies your damage dealer's adrenaline rush hits, the better. This is assuming the % damage is high enough. These damage dealers are fragile and need to be protected with other characters.
Support Toon
A support character is a toon that either raises your team's attack and/or lowers the opponents defense. This character is imperative to the team's synergy by further boosting your attack team's damage output. The higher the attack boost, the more damage your characters will distribute to the enemy on basic attacks and on adrenaline rushes. The greater the defense down debuff, the more hp lost on the opponents toons when they are attacked. Generally speaking, a +50% attack boost is less effective than a -50% defense debuff applied to the opponent. When used in conjunction your team's attack will be more potent and your opponents will die quicker. A character can offer this support function with an adrenaline rush, an active skill or weapon.
Control Toon
Lastly, a control toon is the last piece of the puzzle. This character's main function is to control the enemy team and protect your damage dealer and other toons. This toon could be a human shield who when defending (swipe left on the specialist), forces the opponent to attack them, unless the enemy's team is focused. A guardian toon is another great example, when this character gets a critical hit, a guardian shield will be placed on 1-2 characters with the lowest health. This shield will block the damage of one attack. Other control characters could have a special weapon, ability or adrenaline rush that prevents the defending enemy from attacking the primary target, or using their adrenaline rush or active skill. There are many characters that fall under the category of control and typically they will confuse, stun, taunt or impair the enemy toon(s). Atypical control toons will decrease the opponents basic stats with defense down or attack down. Some of the best control toons can apply multiple layers of control to the enemy's characters for multiple turns.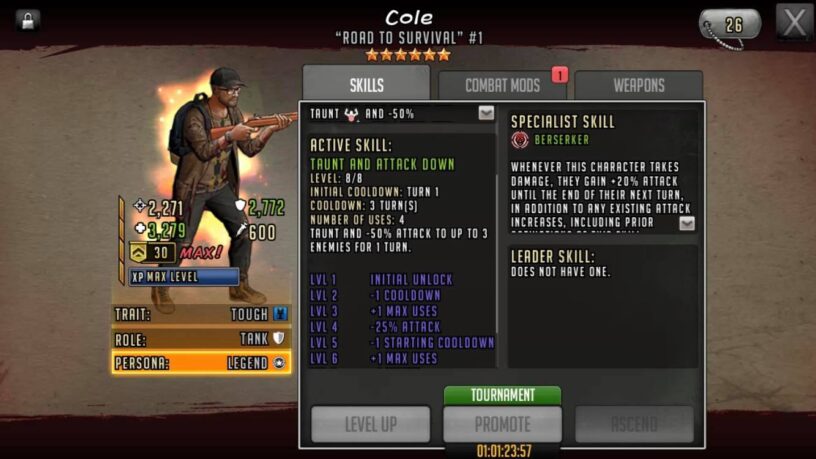 Cole is a great control toon. His active skill allows for turn 1 control in the form of taunting 3 enemies and cutting their attack stat by 50%.
Multiple Roles Toon
When you come across characters who fit multiple roles, meaning the character is a combination of the 5 main components, work these characters into your team. Characters who fill multiple roles open up attack slots for other damage dealers on your attack team. It can be dangerous to have only one damage dealer on your attack team, because if they are killed your chances of winning decrease drastically. By supplementing your team with multiple damage dealers you can leverage your position and kill the opponent's team faster. Identifying toons that can fill multiple roles is important and will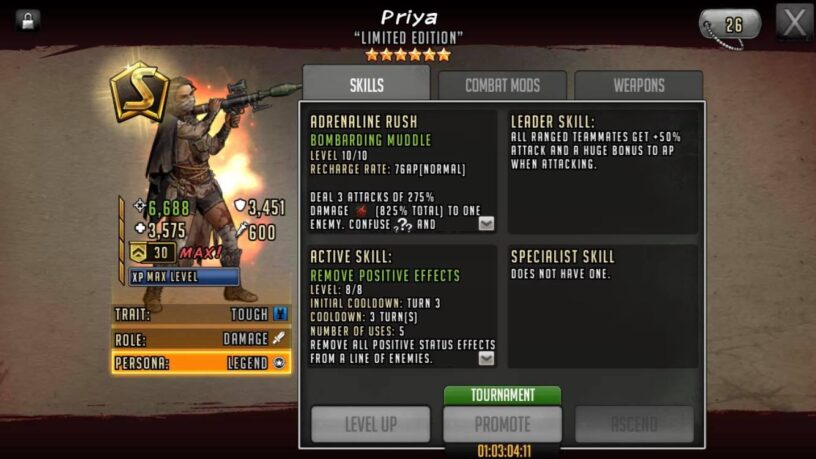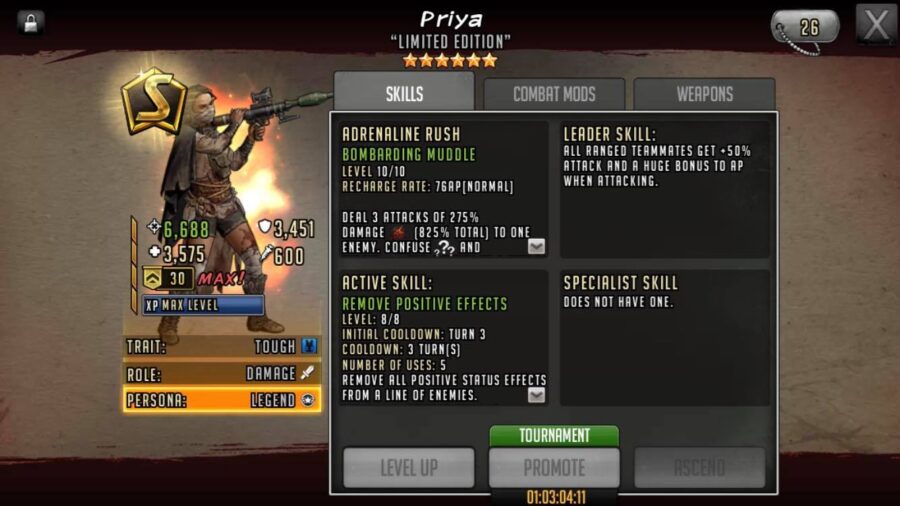 Priya is an example of a multiple role toon. She is a true leader based on her leadership skill, her rush applies control to the opponent's team and she is considered a damage dealer because of her high damage output.
As a reminder this is a standard How to Build a Synergistic Attack Team. There are many other effective attack teams that are very efficient at killing the enemy. The best method of building an attack team and learning to use it, is practice. Toon combination, attack order, weapons, mods and randomness all factor into your attack team. But learning about the basic components of an effective attack team, will help you understand the game more deeply and create better attack teams in general.