If you're a fan of Troika Games' Vampire: The Masquerade - Bloodlines, then there is a high probability that you've heard of the Unofficial Patch. This patch is a community-driven project that was originally meant to help fix bugs and has since turned into the ultimate mod for the game.
Most fans consider the installation of this patch to be the only proper way to play the game. So, how do you install this patch if you already have the game installed?
Note: Users are installing this patch at their own risk and any errors made cannot be directed to our website. There are different places to get this patch, but the one we will be using is from Mod DB.
Related: How to save both Voerman sisters in Vampire: the Masquerade – Bloodlines
If you already have the game installed via Steam, you will want to install the patch folder into the game's official Steam folder in your Program Files. You'll be able to do this once you've clicked on the Download Now button on the Mod DB page and open up the download.
You'll be met with an installation wizard that will ask you where you want to install the file. Since you already have the same installed via Steam, the installation location will automatically default to the folder where the game is. You will then have to check off the box that asks if you would like to create a desktop icon.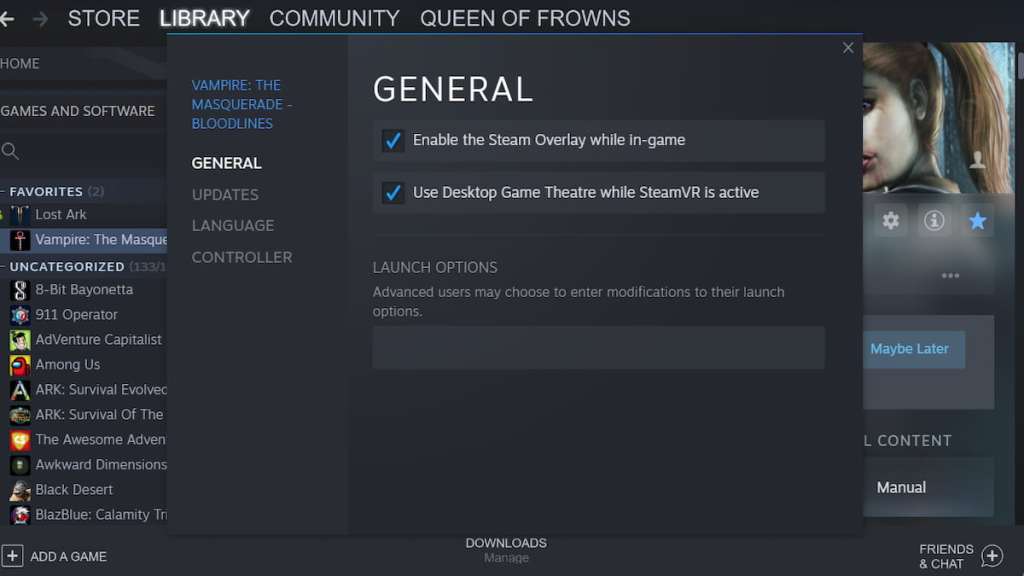 The desktop icon will allow you to play the game with the Unofficial Patch directly from the desktop. Otherwise, you will want to open up the game on steam and right-click it to go into the game's Properties. Here, you will write '-game Unofficial_Patch' in the Launch Options to ensure that the game will always open with the patch automatically.
After that, you will notice that the patch is installed from the moment the game begins. The graphics will be sharper and there will be added quests and dialogue lines that were not available in the original version.
Be sure to check out our Vampire: The Masquerade - Bloodlines page for all the latest news, guides, and content for the series!