In WWE 2K22, players can download or create custom Superstars to use in various game modes. The Create A Wrestler (CAW) option allows you to craft the perfect persona by customizing every aspect of their playstyle, including the correct move-sets. There are a plethora of move-sets that players can customize to give themselves an advantage in the ring. Ideally, you want the Superstar to have moves that will affect multiple parts of the opponent's body at the same time. Below is a list of all move-sets that we recommend players add to their CAWs in WWE 2K22.
Best Standing moves for CAWs in WWE 2K22
Light Attack
Gut Kick 3
Undertaker Punch 5
Throat Cross Chop Sicilian Slap Right
Keylock Combo
Cenation Punch 4
Heavy Attack
24 Karat Uppercut
Superkick 16
Murphy Combo
Mia Yim Combo
KTFO
Light Grapple
X-factor
Twist of Fate 4
110th Street Slam
Superkick and German Suplex Combo
Hurricanrana 1
Heavy Grapple
Air Raid Bomb
Attitude Adjustment Piledriver
Suplex City`
RKO 2
F-5 3
Running
Brogue Kick
Shoulder Tackle 4
Running Double Axe Handle 2
Left Arm Clothesline 2
Jumping Clothesline 1
Best Ground moves for CAWs in WWE 2K22
Supine
Randy Orton Stomp
Hogan Leg Drop 2
Back Dropkick
Falling Headbutt
People's Elbow
Prone
Basement Dropkick 5
Stomp Basement Forearm Smash
Rapid Fire Curb Stomps
Cloverleaf Breaker
Stump Puller Leg Snap
Kneeling
Knife Edge Chop 13
Forearm Smash 10
Double Axe Handle 10
Sleeper Hold Neckbreaker
Ripcord Lariat 1
Seated
Pipers Pit
Giant Swing
Foot DDT
Air Raid Crash Neckbreaker 1
Sliding European Uppercut
Best Corner moves for CAWs in WWE 2K22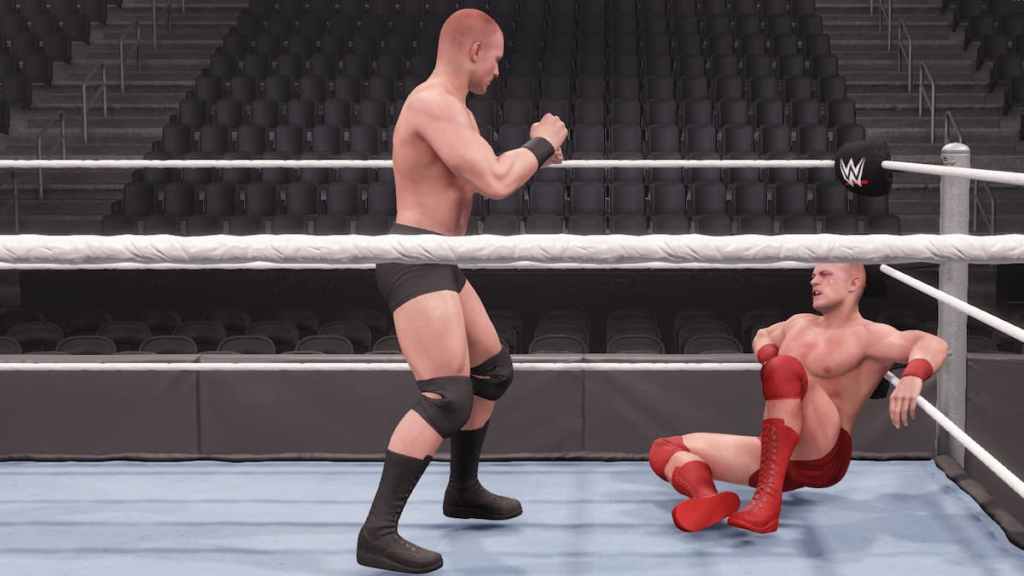 Leaning
Knife Edge Chop 4
Violence Party
Rope Hung Knee Strike
Shining Wizard Bulldog 1
Spear 14
Top Rope
Avalanche Powerbomb 2
Super Chokeslam 2
Muscle Buster 1
Frankensteiner 4
Inverted Suplex Reverse DDT
Seated
Running Hip Attack 1
Turnbuckle Dropkick 2
Slingshot Guillotine Legdrop
Inverted Senton 1
Running Meteora 3
Tree of Woe
Tree of Woe Mushroom Stomp
Running Meteora 4
Running Knee Lift 5
Slingshot Dropkick
The Elbow of Woe
Best Rope moves for CAWs in WWE 2K22
Leaning
Cactus Clothesline
Inverted Alabama Slam 1
Forehead Bite 1
Tope Suicida
Heat Seeking Missile
Middle Rope
Rope Hung Knee Lift 1
Decapitator 2
Body Avalanche
Tiger Feint Kick
Swiss19
Best Irish Whip moves for CAWs in WWE 2K22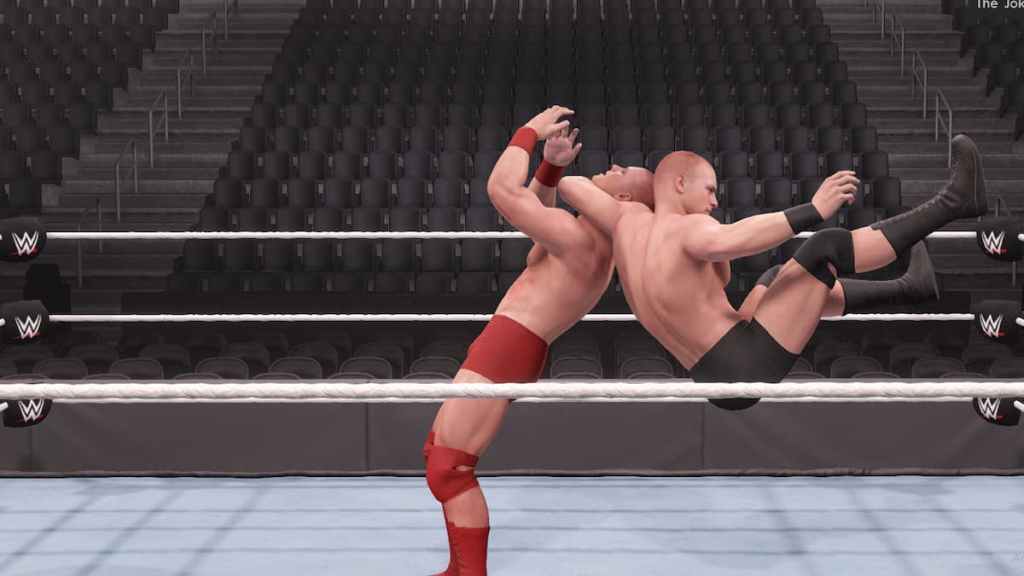 Rebound Attack
Orton Thesz Press
Fireman's Carry Spinebuster 2
Sling Blade
Tilt-A-Whirl Gourdbuster 2
Repeating Headslam
Pull-Back Attack
Pull-Back Drop Toe Hold
Pull-Back Neckbreaker
Pull-Back Hurricanrana
Pull-Back Hip Toss
Pull-Back Spinebuster
Related: WWE 2K22 Sliders, explained – Best settings for realistic gameplay
Best Holds moves for CAWs in WWE 2K22
Submission
The Accolade 2
STF 3
Mounted Palm Strikes Cross Armbar
Feel The Glow
Boston Crab 4
Best Finisher moves for CAWs in WWE 2K22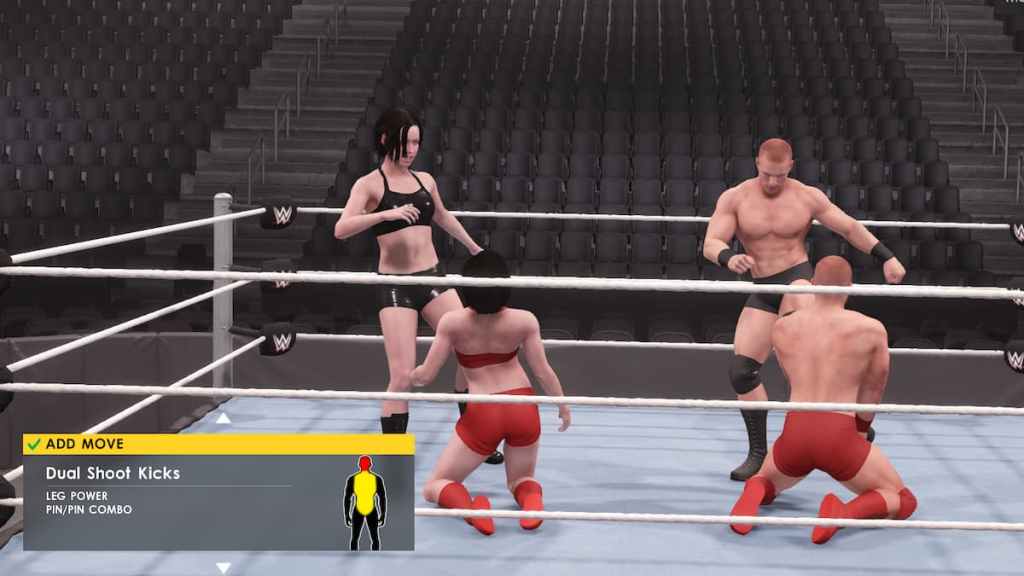 In-Ring
450 Elbow Drop
Stunner
RKO 2
The Last Ride 1
Death Valley Driver 3
Ringside
Buzzkiller
Canadian Rack DDT
Choking STO
DDT 15
Pumphandle X-Factor
Tag Team
Dual Shining Wizards
Dual Powerbombs
Dual Shootkicks
Best Signature moves for CAWs in WWE 2K22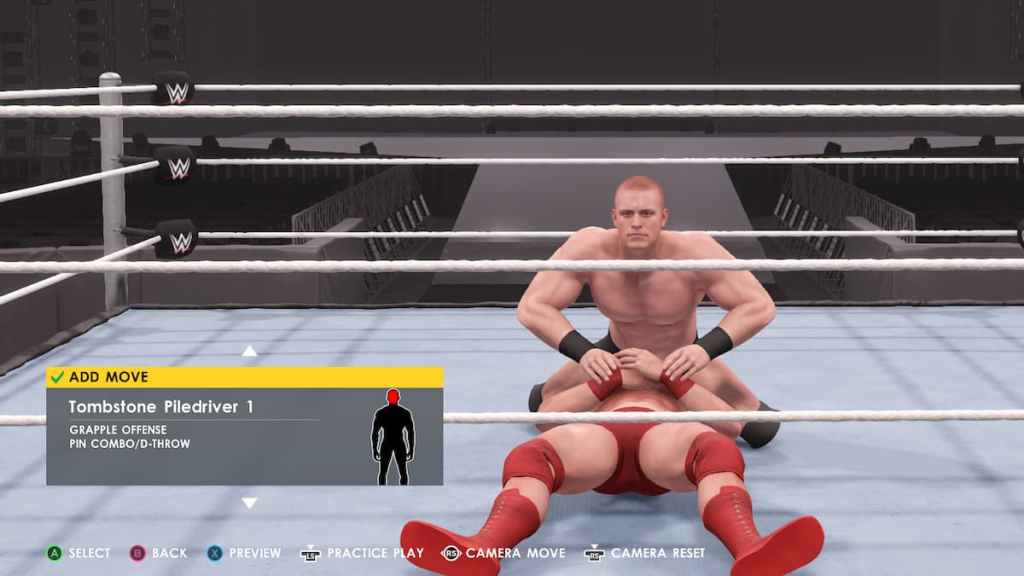 In-Ring
F-5 4
Stepover DDT
Full Nelson Facebuster
Sharpshooter 4
Rock Bottom 1
Ringside
Bankrupt
X-Plex
Wing Clipper 1
Twist of Fate 4
Taste of Pain
Visit the Community Creations section and move to the Download tab to see all the custom Superstars. You can download and add them to the active roster. This method allows players to add iconic Wrestlers, superheroes, and other pop culture figures to the game. Remember to select move-sets that are quick and attack multiple limbs at the same time to get easy pin falls quickly!
For even more WWE 2K22 guides, check out How to escape Pin Falls easily in WWE 2K22 on Pro Game Guides.