Experimenting with Ultrahand and building wild contraptions is some of the most fun I've had in Zelda Tears of the Kingdom. The Zonai devices and their possibilities are endless. Without a steering stick, you're left hoping your vehicle goes in the right direction. Zonai device dispensers can drop steering Sticks and other Zonai devices. Here is how to steer vehicles in Zelda Tears of the Kingdom and find Steering Sticks.
Where to find Steering Stick in Zelda Tears of the Kingdom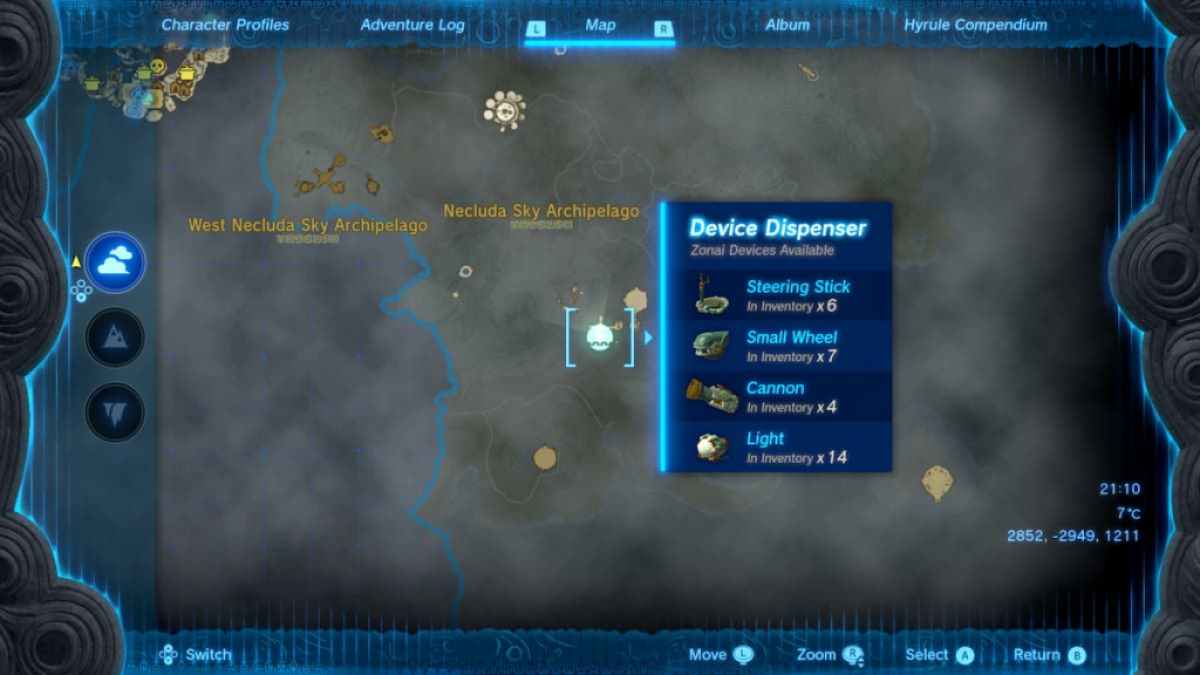 To steer vehicles, you first need a Steering Stick Zonai device. These can be found around the world and in various Zonai device dispensers. The most easily accessible Zonai device dispenser with Steering Sticks I have found is in the Necluda Sky Archipelago, just above the Rabella Wetlands Skyview Tower (coordinates 2852, -2949, 1211). This makes it easy to Fast Travel to the Skyview tower and use it to access the Zonai device dispenser when needed.
Related: How to rocket upward in Zelda Tears of the Kingdom (TOTK)
You'll need Zonai Charges to add to the dispenser to receive devices; Zonai charges can be found in the world or purchased from Forge Constructs.
How does the Steering Stick work in Tears of the Kingdom?
To use a steering stick, you'll need to attach it to your contraption using Ultrahand. It's best to attach the stick in a central place on the vehicle, as Link will be standing here during travel, which can affect the vehicle's weight if the Steering Stick is off-centered. You can then control the vehicle's angle of movement with your left analog stick.
Want more Tears of the Kingdom guides? Pro Game Guides has you covered with Is the Hylian Shield in Zelda Tears of the Kingdom?