Through exploration, players can find lots of new gimmicks in The Legend of Zelda: Tears of the Kingdom. A perfect example is the crystallized charge, which players can collect at Zonai forges. After learning about Zonai Charges, Zonai constructs, and the like, it can be a little overwhelming to then try to learn about crystallized charges. They are pretty important, though, especially to players who like to ride around the elaborate vehicles that they build. Here's what to do with them.
Crystallized Charges, explained in TOTK (Zelda Tears of the Kingdom)
When Link starts off in Tears of the Kingdom, he will get a single Zonai energy cell. Whenever he uses a Zonai device, that energy cell will get used up. Crystallized charges increase the battery cell so that Link has more energy to power these devices with.
The difference between Crystallized Charges and Zonai Charges in TOTK (Zelda Tears of the Kingdom)
These two objects often get confused with each other. While a crystallized charge can increase Link's energy cell, a Zonai charge can be used to replenish that energy once it is used up.
It's helpful to think of Link's energy cell like a bottle of water. When the water bottle is empty, Link's Zonai charges are like filling the water bottle back up. With a small water bottle, though, Link will be refilling often. The crystallized charges basically give Link a bigger water bottle.
Related: How to build an Airbike in TOTK (Zelda Tears of the Kingdom)
Where to find Crystallized Charges in TOTK (Zelda Tears of the Kingdom) - Exact map locations
Crystallized Charges are found in Zonai forges. These are located in all of the abandoned mines in The Depths, with one exception being the Mining Cave in the Great Sky Island. Here is the location of every Zonai forge.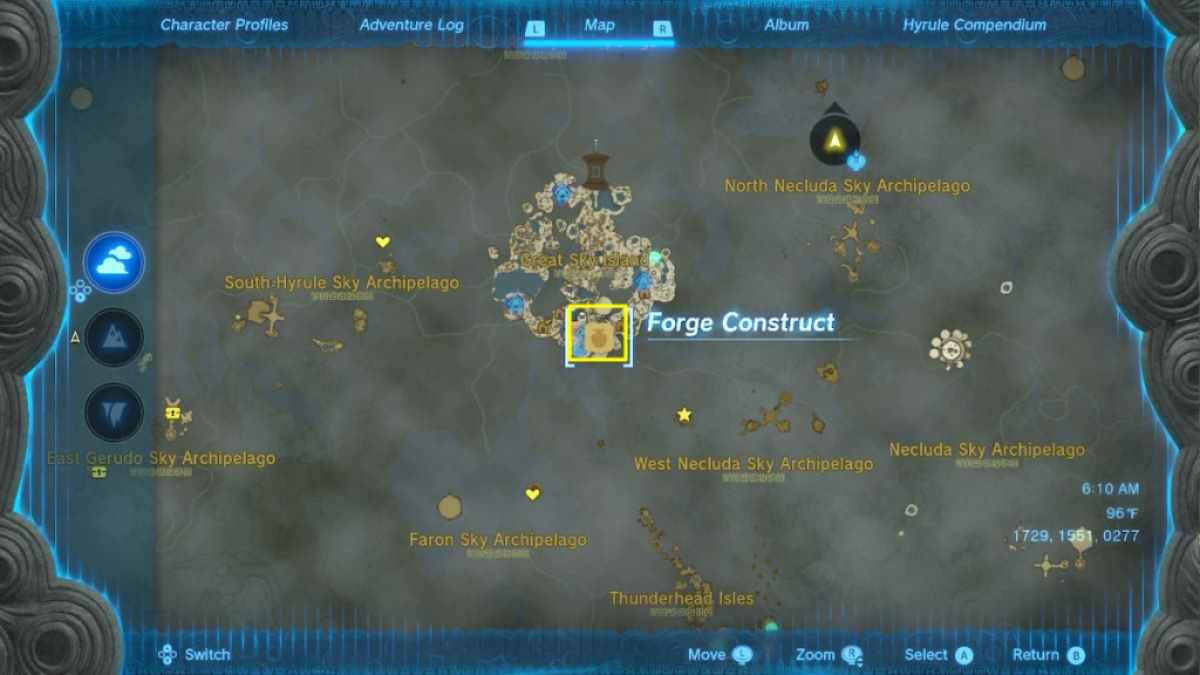 Great Sky Island Forge: at the end of the Mining Cave (coordinates 0463, -1679, 1371)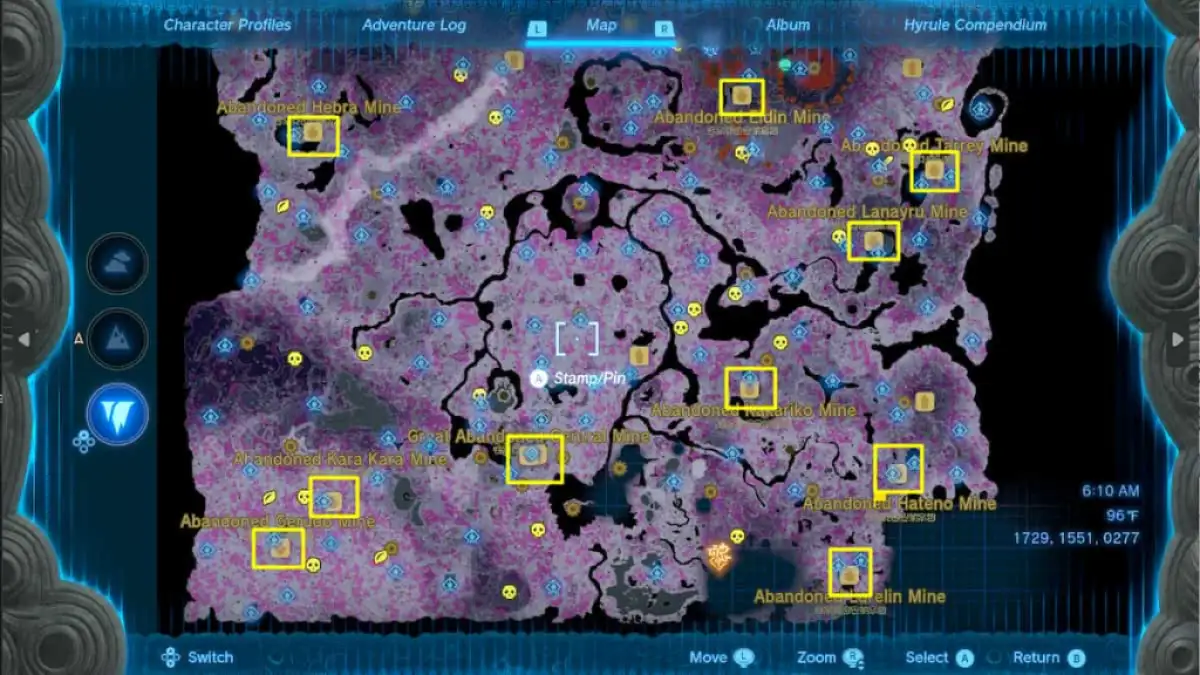 Great Abandoned Central Mine: In the Depths beneath the Temple of Time ruins (coordinates -0851, -1944, -0522)
Abandoned Lurelin Mine: In the Depths below Lurelin Village to the south east of the map (coordinates 2942, -3378, -0452)
Abandoned Kakariko Mine: In the Depths beneath Kakariko Village, close to the chasm in East Hill (coordinates 1777, -1183, -0629)
Abandoned Hateno Mine: In the Depths beneath Hateno Village in the east of Necluda (coordinates 3529, -2914, -0587)
Abandoned Lanaryu Mine: In the Depths beneath Zora's Domain in the Lanaryu Province (coordinates 3253, 0559, -0750)
Abandoned Tarry Mine: In the Depth beneath Tarrey Town, in the south of Akkala (coordinates 3959, 1566, -0576)
Abandoned Eldin Mine: In the Depths beneath Death Mountain, south of the Fire Temple (coordinates 1689, 2387, -0824)
Abandoned Hebra Mine: In the Depths beneath Rito Village in the Hebra Region (coordinates -3463, 1915, -0416)
Abandoned Gerudo Mine: In the Depths beneath Gerudo Town, northwest from the East Gerudo Chasm (coordinates -3815, -2952, -0487)
How to convert Crystallized Charges into Energy Cells in TOTK (Zelda Tears of the Kingdom)
In order to actually get more energy cells, players need to take their crystallized charges to a Zonai refinery. This is located on top of the Great Sky Island right next to Nachoyah Shrine (coordinates 0366, -1650, 2298). When I traveled there, I was able to get two energy cell parts for 200 crystallized charges, so it's safe to say players need 100 charges before they get something substantial out of them.
Want more Zelda Tears of the Kingdom guides? Pro Game Guides has you covered with How to fly on Zonai Wing glider in Zelda Tears of the Kingdom (TOTK).