Adorable Home is a relaxing simulator game where you can collect furniture, spend time with a virtual partner, and take care of a kitty (or 10!) to live your coziest life yet. In this game full of love, gathering hearts is a must to purchase items, from food to luxurious furniture, to amp up your abode.
It can take a while to collect enough hearts to buy what you like in Adorable Home. But if you want to speed up the process, consider redeeming codes to keep up your supply of hearts. We'll keep this article updated with new codes that we discover, as well as codes that expire. If you find a new code that's not on the list or one that isn't working, let us know in the comments below.
If you want to explore other casual games, consider claiming Roblox Starving Artists Codes, Roblox Southwest Florida Codes, Cookie Run: OvenBreak Codes, and Roblox My Hello Kitty Cafe Codes.
All Adorable Home Codes List
May 24
The list of working and expired codes have been inputted below.
Adorable Home Codes (Working)
There are currently no active codes for Adorable Home, but we'll populate this list as soon as a new code is released!
Adorable Home Codes (Expired)
These Adorable Home codes are no longer valid. We keep them here because some players can see older codes and think they are new. As a result, by looking at our list, you know which codes have already worked and which are no longer valid.
uniquefasns
StayAtHome
adorableeenm932
Hearts022luv
AdorableHome40K
adorableeenm785
IloveAdorableHome
AHInstaNCHY
adorableeenm856
adorableeenm538
uniquefasns
Adorable15M
How to Redeem Adorable Home Codes
How to enter Adorable Home Codes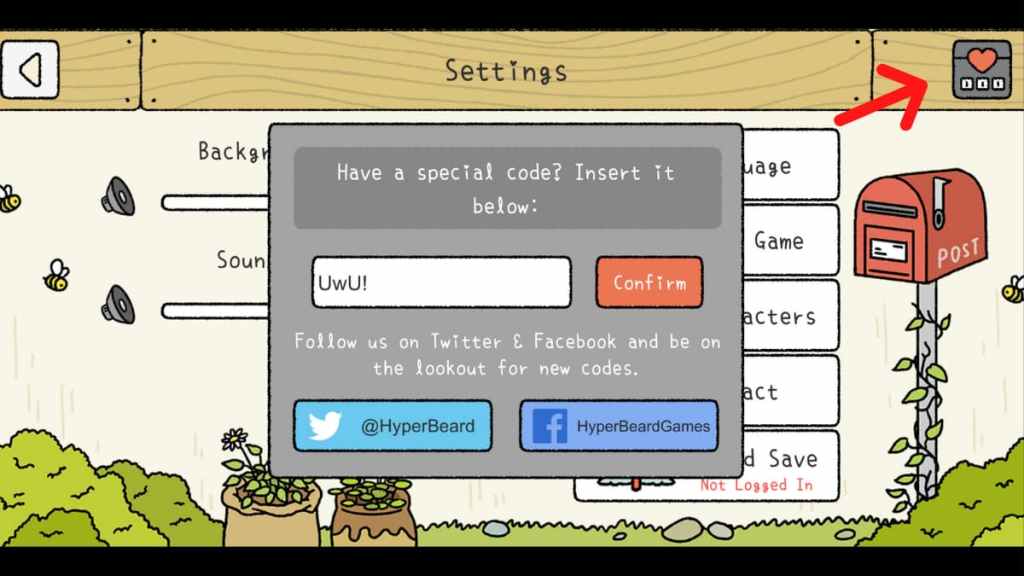 Click on the home icon on the bottom right of the screen.
Head to the settings menu on the upper left of the pop-up screen.
Select the heart icon on the upper right of the settings menu.
Type the code in the text box and click Confirm.
How can you get more Adorable Home Codes?
Developer HyperBeard releases Adorable Home codes from time to time—usually to celebrate milestones and events. Bookmark this page to stay up-to-date with the latest codes or follow HyperBeard on Twitter and Facebook to score codes as soon as they drop.
Why aren't my Adorable Home Codes working?
There are a few reasons why your codes aren't working in Adorable Home. First, you might be entering the code incorrectly. We recommend copying the codes that we provide on your mobile device and then directly pasting them into the game. Codes are case-sensitive and need to be inputted as-is, even if they may seem like they're spelled incorrectly!
Another common reason why codes don't work is that they're expired. Adorable Home codes have a time limit, and you'll get an "Invalid Code" notice if you try to claim an expired or inactive code. Finally, all codes can only be claimed once unless otherwise specified. If you try to claim a code that you've already claimed before, it won't work a second time.
What is Adorable Home?
Adorable Home is a relaxing mobile game by HyperBeard. It features an LGBTQ+ friendly homemaking experience, where players can gather love to furnish their home, prepare food for their partner, and take care of cats and kids. Adorable Home is available for free on iOS and Android devices.
If you love Adorable Home, check out our guide on How to get hearts in Adorable Home to gather even more love to furnish your home.