Cookie Run: OvenBreak is perhaps one of the most deliciously addictive games on Android and iOS. As a runner, you must embark on an endless sprint through a candy-popping world chock-full of sweet treats and baked goods. Along the way, you'll find collectible Cookie characters, obstacle courses, and plenty of challenges to chew through.
Of course, as with any gacha game, collecting characters often involves a lot of grinding. Building that roster of yours can indeed take time, which is precisely why developer Devsisters allows the use of codes to scoot you a little further down the road. That's why we've taken the liberty of collecting all of the most up to date codes, many of which will grant you additional Crystals, Rainbow Cubes, and other perks.
Having said all that, you can always enroll in a number of other adventures outside of Cookie Run: OvenBreak. Plus, if you're in need of a few more codes, then be sure to check out our pages on Roblox Promo Codes, Heroic Expedition, and Collect All Pets.
All Cookie Run: OvenBreak Codes List
Updated May 21

Updated this page! Stay tuned for all the latest Cookie Run: OvenBreak codes.
Cookie Run: OvenBreak Codes (Working)
All of the below codes are currently live and working on Cookie Run: OvenBreak.
HELLOWORLDIMALOE—X300 Crystals
TIKTOKGIFTFORYOU—X1000 Crystals
Cookie Run: OvenBreak Codes (Expired)
The below codes are no longer active on Cookie Run: OvenBreak.
SHININGTREASURES
CHOOCHOOPRESENTS
5YEARSCOOKIERUN5
TIMETRAVELFORALL
HAPPY5THBIRTHDAY
1021ROSELIVEGIFT

HAVEANICECHUSEOK
WOWCOOKIEFASHION
THEDRAGONSCASTLE
RUN2WISHFESTIVAL
HERECODEFROMME2U
COOKIECHICKENRUN
021PLAYSTAYSAFE
AMAZINGKIWICOOK2
GRANDMASTERHOTEL
SUNBACOOKIERUN24
ROBOTVERSUSROBOT
COOKIEFOOLSDAYS2

JUSTLEAVEMEALONE
BEWAREOFDARKNESS
WEREWOLFWANGWANG
ENJOYYOURWEEKEND
CKIERUNTVSCOUPON
LETSWATCHTHESHOW
HIFOLLOWERSLOVEU
NEWYEARSMATTSHEA
WELCOMEBACKLILAC
GETREADY4SEASON6
THEFTINTHEMUSEUM
COOKIERUNTWITTER

INSTACUBESFORYOU
COOKIERUNNTVLOVE
FIRSTCOOKIERUNTV
SWAMPS2COOKIERUN
How to Redeem Cookie Run: OvenBreak Codes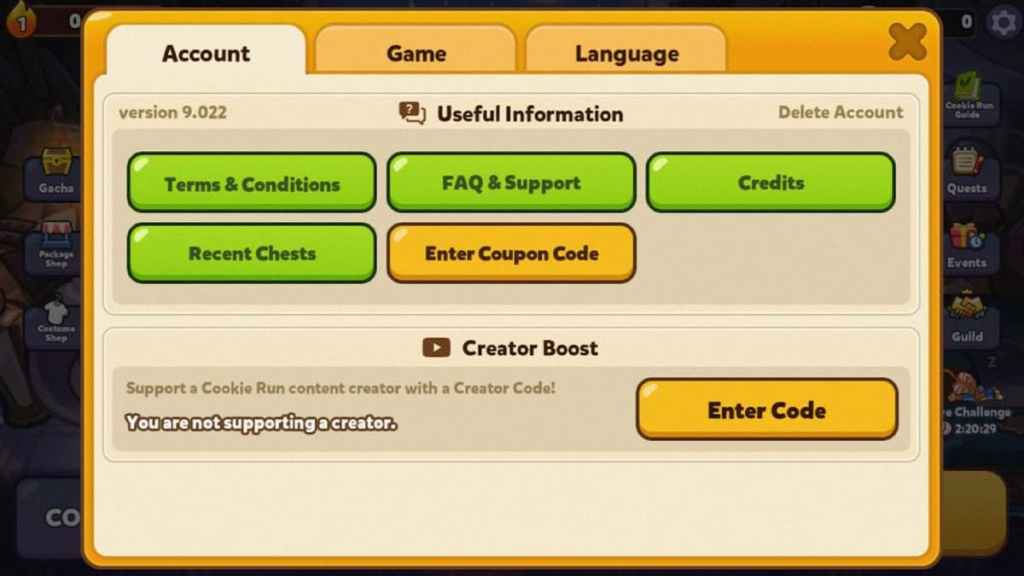 Inserting codes on Cookie Run: OvenBreak couldn't be easier. To start, launch the game, and then follow these instructions.
Tap the Settings icon on the top right corner of the screen.
Click Accounts, and then select Enter Coupon Code.
Copy and paste one of the codes from the list above.
Redeem.
How can I get more Cookie Run: OvenBreak codes?
For more codes, you should aim to join the official Cookie Run Discord channel. If you have time to spare, then be sure to stop by the YouTube channel for regular updates and coupons. We'll be sure to update the list if any new codes release.
Why aren't my Cookie Run: OvenBreak codes working?
If the code you have entered isn't working, then it's likely that the code is no longer active in Cookie Run: OvenBreak. If this is the case, then please let us know down in the comments below. Before doing so, make sure to copy and paste the code instead of entering it manually, as typos are often the cause for rejected codes.
What is Cookie Run: OvenBreak?
Cookie Run: OvenBreak is a side-scroller available on Android and iOS. Like its Cookie Run counterpart, the game has you running through a nexus of levels in search of collectible characters and perks. The game also features a number of modes, some of which can be enjoyed in online multiplayer.
For more codes, be sure to check out our Roblox My Hello Kitty Cafe Codes right here on Pro Game Guides.