If you've been enjoying Among Us like the rest of the world, then you've probably found yourself browsing around the customize menu. While tabbing through this you've seen the color, hat, and even skin option. You might have then been a bit confused why there's a tab for pets! You don't see them too often with people, so what exactly is the purpose and how do you even collect them? Well, we're going to explore this topic further in this guide.
How to Obtain Pets
To get pets in Among Us, you are going to need to spend some money. Yes, unfortunately these can't be earned for free and need to be bought. This goes for both the Steam and mobile versions of the game. While you get some stuff for free that you have to pay for on mobile in Steam, this is not one of those items. Each pet bundle will cost you $2.99 USD, which isn't too bad of a price considering some of the cosmetic prices in other games.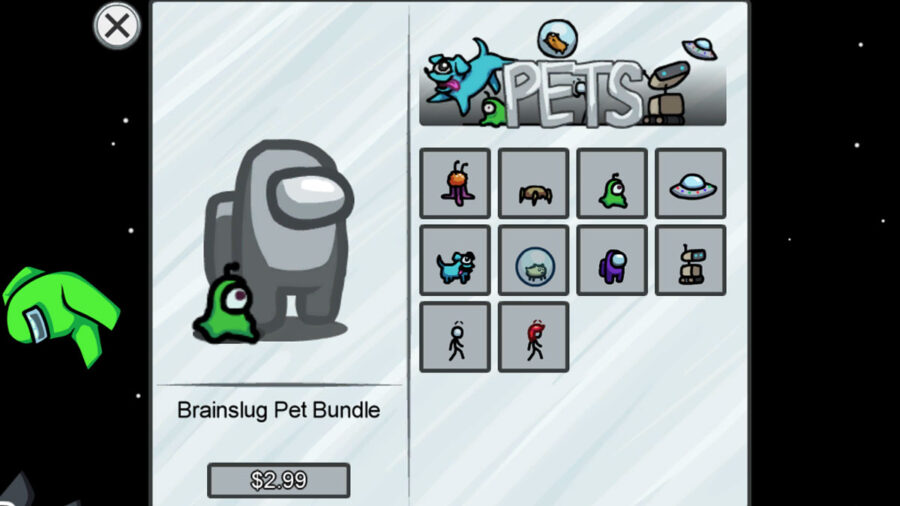 Pet Bundles
There are currently five different pet bundles to choose from. Each of them comes with two different pets, so you'll have a couple of different options to switch things up if you get tired of one of them. There's the Bedcrab Pet Bundle which contains an orange fur ball pet with purple legs and antennas, as well as a small brown crab that kind of looks like a Headcrab from Half-life. There's the Brainslug Pet that gives you a green one-eyed slime and a UFO pet. You can also get the Hamster Pet Bundle, which will give you a blue one-eyed dog pet, as well as a hamster within a clear ball. The Mini Crewmater Bundle will give you a couple of small crewmates, or a robot that kind of looks like Wall-E. Finally, there's the Stickmin Pet Bundle which includes a male and a female Stickmin!
It's important to note that these pets will add nothing but a fun little cosmetic that will follow you around in the game. It will not interact with other players or do anything to help you. You can maybe talk things over with your pet if you're deciding on who to vote as the Impostor, but other than that it's not going to do much for you gameplay wise. All-and-all, they are a pretty fun little cosmetic that you can purchase for pretty cheap that will maybe bring a smile to your face!
If you're just starting out in Among Us, we've got a whole bunch of guides in the Among Us section of our site!