The large fall update for Animal Crossing: New Horizons has launched, and players are super excited to play with all the new goodies that have been added to the game. If you're looking to starting getting festive for Halloween, then you're going to want to create some spooky items and furniture to setup the mood around your humble abode. To do this, we're going to need to gather some recipes to make this creepy objects!
Where to get Pumpkin DIY Recipes
To get pumpkin DIY recipes in Animal Crossing: New Horizons, you will need to first wait until October 1st! Yes, unfortunately the update was a bit early, but at least you will have time to grow pumpkins beforehand. Once the new month is here, you will then be able to either shootdown balloons or talk to villagers who are crafting pumpkin items to receive the recipes! You will also be able to get these on Halloween day by handing out candy to your villagers.
Unfortunately, we don't know yet what you will be able to craft, however, we got a good idea of some of the things from the Fall update video from Nintendo's YouTube. As you can see from the image below, there are many things you will be able to create. It looks like there will be Jack-o-Lanterns, three stacked Jack-o-Lanterns, hanging pumpkin, and even a spooky arch that contains some creepy trees and bats with orange lights!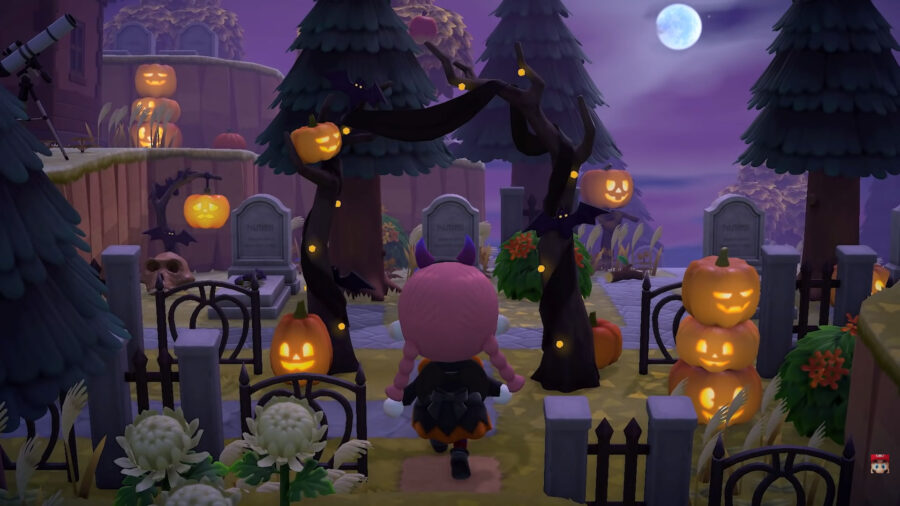 You can also see this awesome looking pumpkin scarecrow, and the Halloween pumpkin candy bucket in the background! You will have all sorts of things to craft that will really get you into the Halloween spirit.
Here's a list of the confirmed DIY recipes that we know of so far:
Spooky Standing Lamp
Spooky Table
Spooky Chair
Spooky Lantern
Spooky Arch
Spooky Candy Set
Spooky Fence
Spooky Lantern Set
Spooky Tower
Spooky Scarecrow
While these items you can craft are fun, there will also be some great new outfits you can purchase from the Able Sister's shop. If you've got Nook Miles burning a hole in your pocket, you can get body paint and colored eye contacts to complete your new look!