The titular city of Baldur's Gate is full of unique NPCs and quests in Baldur's Gate 3. Of these, the most memorable has to be Thrumbo, who you track down on behalf of the powerful necromancer who created him. This quest will have you exploring the entire Lower City...and what lies beneath. Here's how you can find Thrumbo for Mystic Carrion in Baldur's Gate 3.
Thrumbo Location in Baldur's Gate 3
When you first set out to find Thrumbo, Mystic Carrion will tell you that three other zombies of his escaped, and that they might know where he is. These zombies are scattered around the Lower City, and can be identified by their shambling animation and greenish aura. Finding them can be a huge pain, so here's where they're located:
Strange Beggar Morbus: The graveyard northeast of the Elfsong Tavern at X:1 Y:16. He'll let slip that Thrumbo is "down the stairs and across the sand."
Strange Beggar Lumbar: Near the Basilisk Gate waypoint at X:125 Y:-29. He'll tell you that Thrumbo was going to get a boat so they could all escape from Mystic Carrion.
Strange Beggar Sacrum: Southeast of the Lower City central wall waypoint, speaking to a woman at X:-80 Y:-93. He'll say that Thrumbo was looking for an abandoned house to shelter in, preferably one with a wardrobe, as they make for good hiding spots.
Putting these clues together will lead you to Voynan's Home on the beach, northeast of Philgrave's Mansion, pictured below (X:52 Y:-121). Be careful: the first time I approached the house, I was ambushed by a horde of Sahuagin, so the same thing will likely happen to you. Head inside and interact with the wardrobe in the corner; Thrumbo will appear and start a conversation with you.
Deliver Thrumbo's Body to Mystic Carrion
There are two ways to complete Mystic Carrion's quest: you can either kill Thrumbo and return his body as asked, or you can betray Mystic Carrion and kill him, freeing Thrumbo and the other zombies.
Killing Thrumbo is a much easier task, making for a quick end to this questline. Choose "Quite the story. Now, will you die quietly, or are we doing this the hard way?" from the dialogue options. This will immediately initiate combat with Thrumbo, but don't worry; he's weak compared to you and completely alone.
Once he's dead, pick up his body. You may need a character with high Strength to carry him. Go back to Philgrave's Mansion and speak with Mystic Carrion, who will reward you with the Torch of Revocation. This is a bludgeoning weapon that deals 1d4 Necrotic damage.
Related: How to Complete Rolan in the Shadows in Baldur's Gate 3
How to Defeat Mystic Carrion in Baldur's Gate 3
If you decide to help Thrumbo, you'll need to track down Mystic Carrion's heart, destroy it, then confront and kill him in Philgrave's Mansion. This is a lengthy process with a lot of combat involved, so make sure your party is in good health first.
How to Find Mystic Carrion's Basement
Thrumbo will tell you that there's a secret chamber underneath Philgrave's mansion, and you'll need to start there. There are two ways to enter the basement: through a hole located on the southwest end of the beach (X:29 Y:-166), or breaking into it from inside the mansion. The hole is the easier of the two, as you'll enter the basement directly. Druids in Wild Shape, Rat familiars, or spellcasters using Gaseous Form won't have any trouble.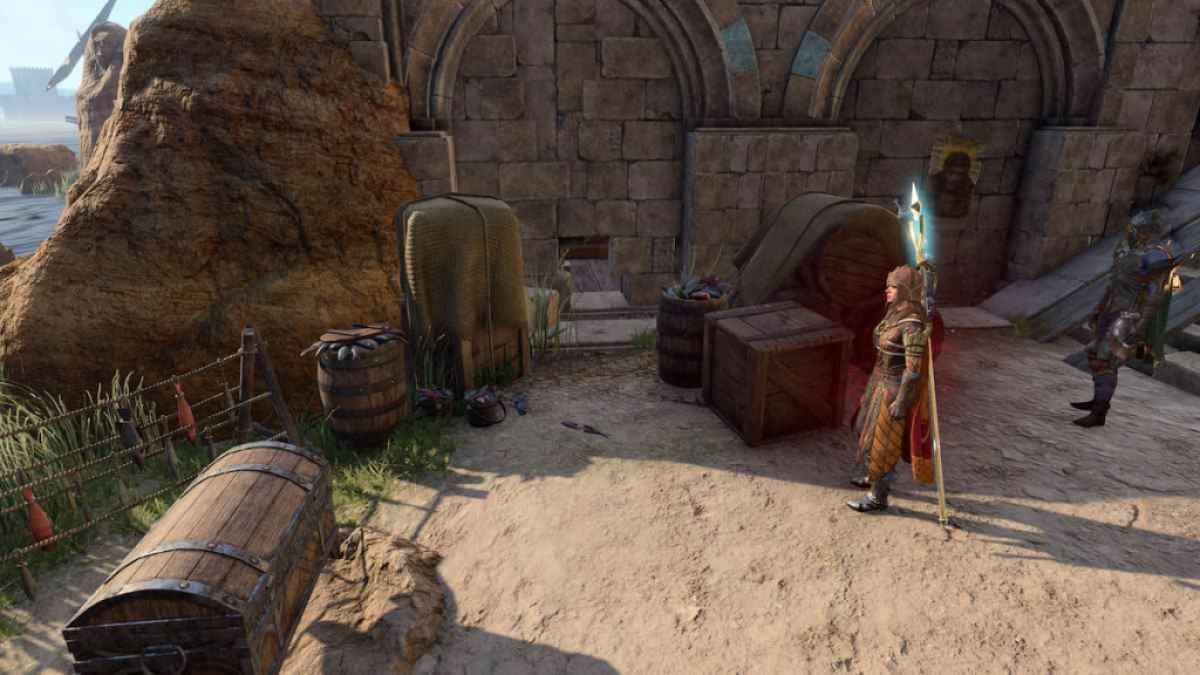 If you choose to break in through the mansion, avoid speaking to Mystic Carrion. He'll sense that you've been near Thrumbo and attack you. The basement isn't easy to find, so follow these steps:
Head up the stairs to your right. Pick the lock on the doors at the top.
Continue forward down the hall, and pick the lock on the second set of doors at the end.
There's a hidden doorway in the wall on the left side of the room. Interact with it to open it.
Head through the doorway and climb down the ladder, then use the hatch at the bottom to enter the basement.
Once inside, find the Mummy's Memories book on a table at X:-1504 Y:-127. The book reveals that Mystic Carrion has a secret lair somewhere in the sewers.
Related: How to get the Githyanki Egg in BG3
How to Find Mystic Carrion's Ancient Lair
The entrance to the sewers is on the western side of Baldur's Gate at X:-251 Y:-87, in the form of a door that reads "Keep Out." Head inside, where you'll find a small, mostly-empty room. You'll need to ungroup your party and have to characters stand at opposite ends of the room, where the torches are. This will open the wall at the back, but you'll only have a few seconds to regroup and walk through it. Use the hatch to enter the Abandoned Cistern.
The cistern is full of Bhaal worshipers who will attack you on sight. You'll need to fight your way through them and head east, until you hit the end of the cistern. From there, turn left and enter the Undercity Ruins; you should grab a waypoint once you reach it. The Ancient Lair entrance will be down the hall to your left, pictured below.
The Ancient Lair is full of chests, but be cautious. The moment you try to open one, you'll get swarmed by undead enemies. If you defeat them, you can help yourself to the loot, but be ready for a fight.
The most important part of the Ancient Lair is behind a hidden doorway in the stone wall on your right. You'll have to pick the lock to get inside. In the corner is a book that reveals Mystic Carrion hid his heart inside Thrumbo. You'll have to speak with him again to learn more.
How to Destroy Mystic Carrion's Heart
Tell Thrumbo that Mystic Carrion's heart is inside him. He'll spit the whole thing up, jar and all, allowing you to add it to your inventory. I highly recommend placing it a safe distance away, then using a ranged attack or cantrip to destroy it. The jar will explode once destroyed, potentially damaging you and your party members.
Once the heart is gone, head back to Philgrave's Mansion and confront Mystic Carrion. Without his heart, he'll be unable to revive himself, allowing you to defeat him for good.
Defeat Mystic Carrion
Mystic Carrion is a powerful spellcaster and will be aided by multiple undead allies in your fight. The best way to defeat him is to use weapons and items that are effective against the undead, such as Holy Fire. Summoning your own allies, such as familiars, elementals, or Spiritual Weapons, can help draw attention away from your party. I found the most success with large AoE spells, and took advantage of Action Surge on Lae'zel to take out Mystic Carrion quickly.
Once Mystic Carrion is dead, Thrumbo and his fellow zombies will arrive at the mansion. He'll give you the Crypt Lord Ring as a reward, which grants its user the Create Undead spell. From here, you're free to loot Mystic Carrion's body, along with the rest of his home.
For more Baldur's Gate 3, check out How to Defeat Grym in Baldur's Gate 3 here on Pro Game Guides.