Black Desert Online is an incredibly complicated MMORPG with tons of moving parts. It can be difficult to navigate and discern exactly what each individual part does. Worse, even part likely does something different for each specific piece of content within the monster MMO. Loot, for example, is such a simple action, but in Black Desert Online, there are a lot of nuances to learn about. One of these nuance features is Agris Fever, a mechanic you probably haven't noticed unless you've really searched around your UI. Here's everything you need to know about it and why it's important.
What is Agris Fever in Black Desert Online?
Agris Fever is a mechanic that rewards you with additional loot drops when you kill an enemy. Looting junk items from enemies is one of the many ways you can make large amounts of Silver in the game. Agris Fever helps you with this by increasing your junk loot Drop Rate by 100% while it is active. I say while it is active because Agris Fever has a limited capacity. This limit depends on how much you've upgraded your Agris Fever, which is a questline in itself. However, the core mechanics for it do not change.
Related: Black Desert Online Redeem Codes
Agris Fever is recorded as a point value, and you receive 15000 points every day at 6 AM server time. You can see how many Agris Fever points you have by holding your cursor over the UI, like so: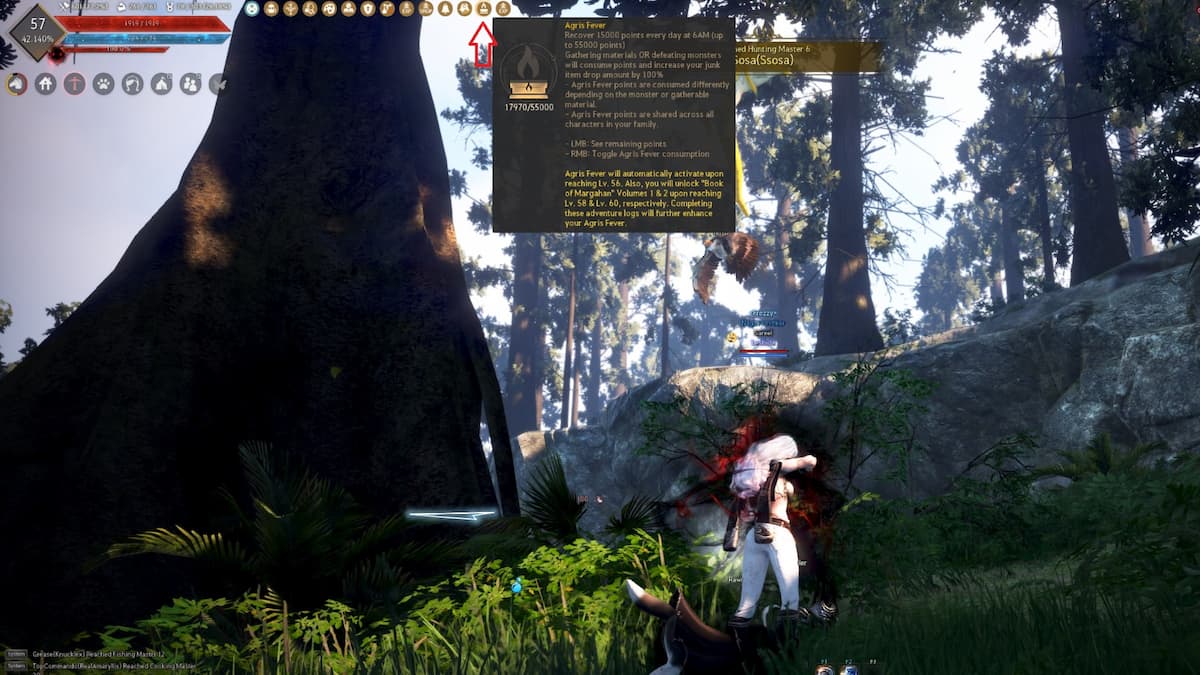 If your Agris Fever icon is not lit up like it is in the image above, that means you have not reached the required level 56 to unlock it. Once Agris Fever has been fully expended, you will lose the 100% drop rate on junk items. However, Black Desert Online is extremely generous when it comes to drop rate boosting items, so it is far from the end of the world if you're trying to farm. Agris Fever is account-wide, and the amount of points consumed depends on what you're fighting or gathering. Yes, you read right. Agris Fever also boosts your junk drop rate from gathering materials around the world as well.
With that, you should now have a solid understanding of Agris Fever. The mechanic is very useful, but largely fire and forget, so don't pay too much attention to it just because you know about it now. Happy farming!
For more quality guides and information relating to other MMORPGs, check out How to get the Blazing Hippogryph mount in World of Warcraft right here on Pro Game Guides.