Our Elder Scrolls: Blades Microtransations and Currency List guide features all of the currently known ways you can have the option to spend money on! If you are looking to fast track your way to success in Blades, then these currencies are likely the way to do it.
Blades has finally hit early access, and with all free games comes currencies and microtransactions. Blades is no different, and you'll find there's plenty of ways to spend your money. Thankfully, at least early on, it appears you can hold onto your cash and play through the game with little standing your way. As always with these games though, if you are looking for speed and convenience, these purchasable items will help give you that.
Blades Currency List
There are currently two currencies in Elder Scrolls: Blade, and those are Gems and Gold! Gold is what you can earn by playing the game, looting, and completing quests. Gems are the real money option, and these are used for speeding things along like opening chests, buying chests, and purchasing decorations for your town.
Gems List & Cost
Gems are your standard pay with cash currency, but you can also earn some by leveling up (getting to level two gets you 30 Gems), looting in dungeons, and completing quests. These are largely used to speed things up for you, whether it's in terms of gear, building, jobs, or opening chests. You can also increase your chests and inventory with Gems. One nice thing is that you get a bonus when you make your first purchase. In the lower tiers it's gold, mid-tier is gold and a Scroll of Revival (brings you back to life with full health), and high-tier (epic or legendary) is gold and multiple scrolls. Once you make that first purchase, you'll get the standard amount of gems with no bonus. This obviously rewards you going for a higher amount of gems, but that's up to you.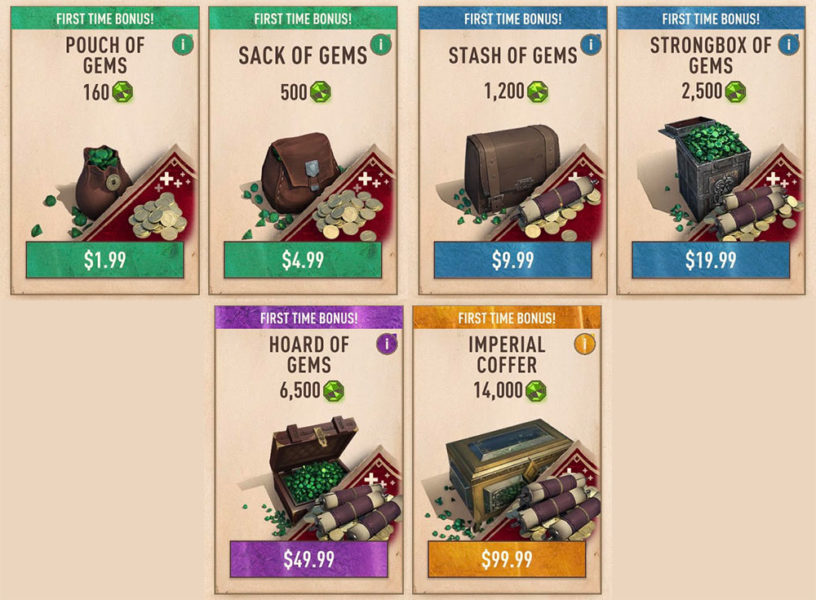 Pouch of Gems: 160 Gems - $1.99 USD
Sack of Gems: 500 Gems - $4.99 USD
Stash of Gems: 1,200 Gems - $9.99 USD
Strongbox of Gems: 2,500 Gems - $19.99 USD
Hoard of Gems: 6,500 Gems - $49.99 USD
Imperial Coffer: 14,000 Gems - $99.99 USD
Gold
Gold is used for various things like repairing your gear, purchasing gear, and building up your town. You can earn this by doing jobs, quests, and looting dungeons.
More Great The Elder Scrolls: Blades Content
Materials
If you are wanting to craft items and build up your town, you will also need various materials. These can be found throughout the game by completing quests and jobs. These materials include Lumber, Limestone, Copper, and many more.
Chests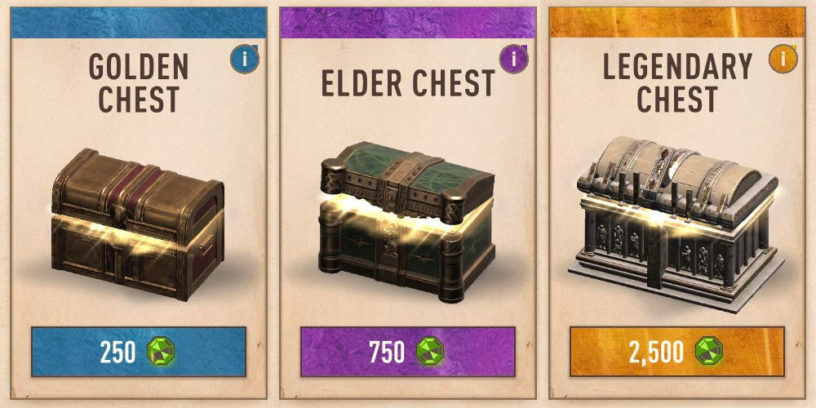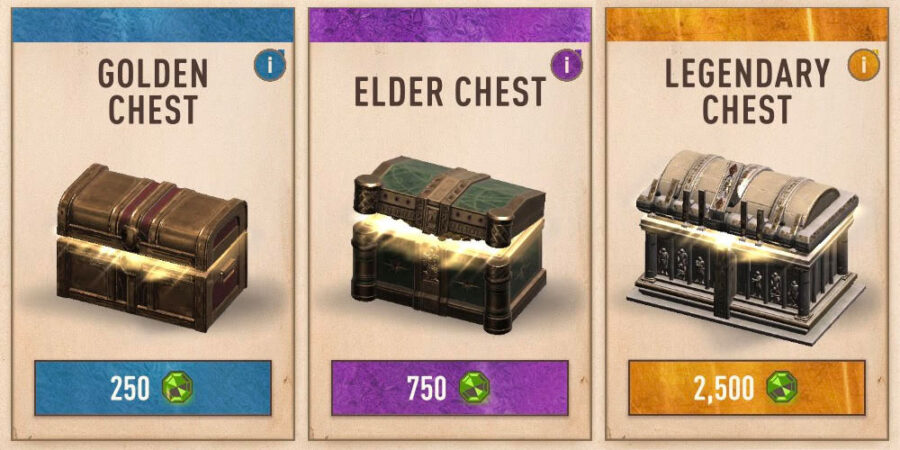 Chests are one of the big things you can spend Gems on. Not only can you purchase chests, you can also speed up the opening of a chest. When you find a chest in-game, you'll obviously want to open it. This takes time, and the more rare the chest the longer it will take to open. You can speed this process along by paying gems.
You can currently purchase three different chests with Gems (percentages refer to the odds you will receive that item or rarity of item):
Golden Chest - 250 Gems

Gold: 390 - 480
Items: 1 Uncommon, 1 Extra: Uncommon (75%) or Rare (25%)
Stacks of Materials: 1 - 3
Potions: 50%
Jewel or Rare Ingot: 50%
Bonus Artifact Odds: 0.1%

Elder Chest - 750 Gems

Gold: 940 - 1,100
Items: 1 Epic, 1 Extra: Rare (90%) or Epic (10%)
Stacks of Materials: 1 - 5
Potions: 2 - 6
Scrolls of Revival: 2 - 3
Jewels or Rare Ingots: 3 - 9
Bonus Artifact Odds: 1%

Legendary Chest - 2,500 Gems

Gold: 2,400 - 3,000
Items: 1 Legendary, 1 Extra: Rare (42.5%), Epic(42.5%), or Legendary (15%)
Stack of Materials: 1 - 5
Potions: 8 - 12
Scrolls of Revival: 6 - 8
Jewels or Rare Ingots: 15 - 25
Bonus Artifact Odds: 5%
Now, those were the chests you can purchase. You can also find chests in-game, but they require time to unlock. A silver chest that is of the uncommon rarity take three hours to unlock.