Resources are difficult to come by in Blue Archive, which is why taking advantage of the game's relatively easy Equipment farming scene can boost your Students' performance by a large margin. Likewise, players don't have to think too hard about gearing up Students as all Equipment and stats are standardized—no RNG involved!
Here's everything you need to know about farming, leveling up, and tiering up Equipment in Blue Archive.
Equipment Basics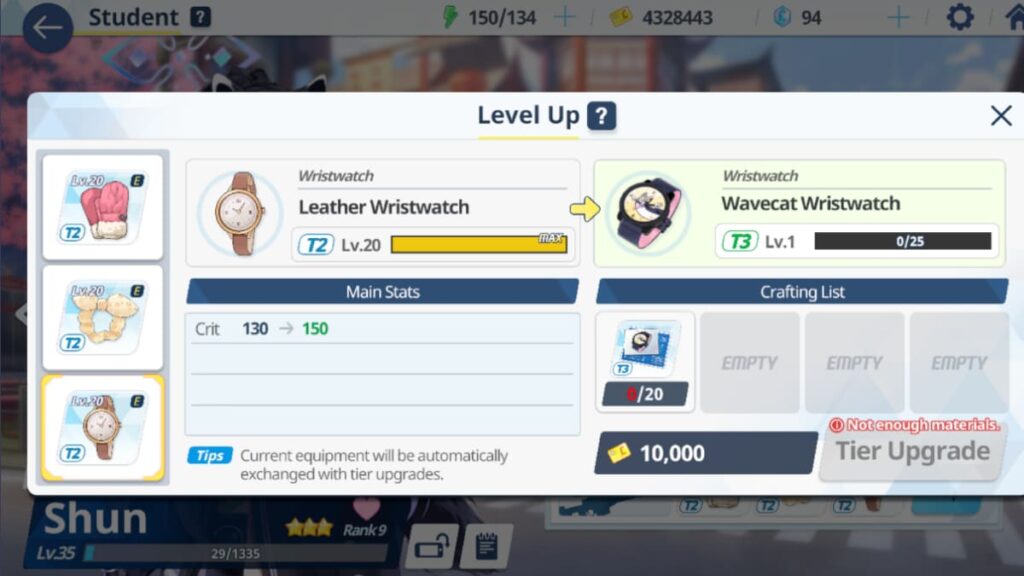 Click the Students menu at the bottom of the screen and select a Student to view their information. At the bottom right, you'll find the Equipment section. A Student can wear three pieces of armor, which unlock at the following levels:
Firepower (Level 1)—Hat, Gloves, Shoe
Endurance (Level 15)—Hairpin, Badge, Bag
Auxiliary (Level 35)—Watch, Charm, Necklace
Each Student is assigned an Equipment type under each category. For example, Shun can wear Gloves on her Firepower slot but can't wear Shoes. Once you equip an item, you can no longer remove it.
Equipment stats are fixed, so it's impossible to transfer a Badge's high HP boost to a Hairpin's lower HP boost. That gives Students paired with ideal Equipment a slight advantage over others.
Where to Farm Equipment and Blueprint
Only the base Equipment (T1) can be farmed as a whole from various stages. Clicking on the item will give you a list of stages that drop it. Meanwhile, getting higher Tier Equipment is only possible by upgrading the T1 base using Blueprints.
Likewise, you can farm these from various stages—simply click on the Blueprint to find all the areas that drop it. It's recommended to farm in stages that drop the most items you need to preserve Energy. You need the following Blueprints to Tier up your gear:
T2—x15 T2 Blueprint
T3—x20 T3 Blueprint
T4—x10 T2 Blueprint, x30 T4 Blueprint
T5—x15 T2 Blueprint, x20 T3 Blueprint, x35 T5 Blueprint
T6—x5 T3 Blueprint, x15 T4 Blueprint, x40 T6 Blueprint
Due to the high cost of higher-Tier Equipment, it's best to focus on gearing up your most-used Students first.
Where to Farm Level-Up Materials
Before you can upgrade Equipment, you first need to level them up using Enhancement Stones. These are the level requirements to max out each Tier:
T1—Level 10
T2—Level 20
T3—Level 30
T4—Level 40
T5—Level 45
T6—Level 50
Enhancement Stones can be obtained through the following:
Normal Shop
Event Shop
Completing Tasks
Check out our guide on How to unlock Live2D in Blue Archive to get amazing art of your favorite Students.